Standard of care therapy for 10,000+ diagnosed with glioblastoma multiforme (GBM) each year in the United States shows a median survival rate of 26.5%, two years following treatment. An initial study of ICT-107, a dendritic cell-based vaccine for the treatment of GBM, showed 80.2% of patients were alive at the two-year mark. ImmunoCellular Therapeutics (NYSEMKT:IMUC), a Los Angeles-based oncology firm and developer of ICT-107, added measurably to clinical results reporting overall survival of 55%; progression-free survival of 38%, among patients with this aggressive form of brain cancer after three years of study (source).
ICT-107, which will look to capitalize on the deference Dendreon's (NASDAQ:DNDN) Provenge created in the immunotherapy space, is designed to extend the dismal survival profile that surgery, radiotherapy, and chemotherapy offer brain cancer subjects - albeit, they are not alone. Genentech, a subsidiary of Roche Group (OTCQX:RHHBY), Northwest Biotherapeutics (NASDAQ:NWBO), and CellDex Therapeutics (NASDAQ:CLDX) pose direct competitive threats – we'll look at each, in a moment.
Interestingly, shares of ImmunoCellular Therapeutics are selling far-below highs set in the early summer months, even as the firm has (1) posted stellar clinical results, (2) successfully raised capital without incurring significant dilution, and (3) continued enrolling patients steadfast in a pivotal Phase II study of ICT-107. Yet we observe an entirely different environment when we pin ImmunoCellular Therapeutics' share performance to that of its peers over the past 24 months.
click to enlarge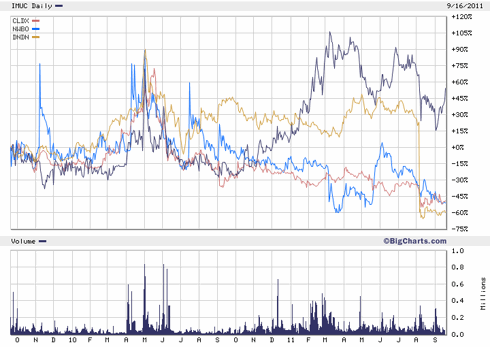 Dr. Joseph Landolfi, Director of Neuro-Oncology at JFK Brain Tumor Center, confirms our suspicions - ImmunoCellular Therapeutics is well-managed and backed by an impressive medical board. In a recent interview with us, Landolfi said he was particularly taken by the firm's scientific rationale, which ImmunoCellular Therapeutics has designed trials around to prove. Adverse events in a preliminary trial of ICT-107 were limited to fatigue, skin rash and pruritus. Conversely, Avastin, Genentech's GBM drug, has been noted to cause stroke, blood clot, hemorrhage, and other serious adverse events. The safety profile, and suggested efficacy of ICT-107 may in large part explain why ImmunoCellular Therapeutics has outperformed its class – the rest, perhaps, is tied to an efficient allocation of resources.
Maryland-based Northwest Biotherapeutics is developing immunotherapeutic DCVax-Brain, which shares a stark resemblance to ImmunoCellular Therapeutics' dendritic cell-based vaccine. Like ICT-107, DCVax returned excellent safety data and a hint of efficacy in treating GBM in a Phase I study. Survival was documented at 68% at the two-year mark; 53% after three years (source (.pdf)).
CellDex Therapeutics reported last month that the company would begin enrolling patients in their Phase III study of rindopepimut for newly-diagnosed GBM in the second half of this year. Results from their ACTIVATE and ACT II trials showed overall survival at 50% after two years, and median progression-free survival close to 15 months (source). In contrast, ICT-107 saw 80.2% survival at the same parameter, and median progression-free survival of 17 months.
We created the following schedule to compare overall survival data of three immunotherapies targeting brain cancer, drawn from early clinical studies:
Overall Survival (OS) at 24 months
ImmunoCellular Therapeutics stated earlier this month that they expect enrollment for their Phase II trial to be completed by Q2 of next year. Northwest Biotherapeutics' last update (.pdf) told investors that 33 of 240 patients were enrolled in their pivotal GBM trial but did not provided guidance as to when enrollment is anticipated to cease or when interim data can be expected.
CellDex's ACT III trial had investors heading for the exits, including Pfizer (NYSE:PFE), who had previously licensed rights to rindopepimut from the company. Summer Street Research Partners best summarized (.pdf) the criticism in noting:
Consultants were not thrilled with the study, noting that the requirement of gross total resection and uncommon EGFR (+) status left the majority of patients ineligible for the vaccine. The heterogeneous nature of EGFR amplification and mutation makes a vaccine based on a single antigen highly problematic.
The research firm also noted Genentech's Avastin is unlikely to warrant approval given its overall risk/benefit profile as a front-line treatment for GBM. Avastin is approved to treat recurring GBM (see Avastin patient info). Regardless of analyst sentiment, Roche (OTCQX:RHHBY) plans to file for Avastin approval in 2013.
Agenus' (NASDAQ:AGEN) prophage and Merck's (NYSE:MRK) cilengitide are other therapies being developed for the treatment of GBM. Merck completed enrollment of patients for a Phase II study of cilengitide in June; Agenus continues to recruit for their planned 50-patient trial.
Provenge, which serves as a benchmark being the first FDA-approved immune therapy, faced headwinds related to its pricing. ImmunoCellular Therapeutics is one among several firms to realize far more efficient manufacturing practices that will lower the price of its immune therapy product, once it reaches the market. This practice would fall in line with the efficient allocation of resources the company is widely known for.
We anticipate ImmunoCellular Therapeutics will continue to outperform its class, and grow in value, particularly given a very light valuation amid heavy catalysts in the foreseeable future.
Disclosure: I am long IMUC, MRK.
Additional disclosure: We have previously served in the capacity of a consultant for ImmunoCellular Therapeutics. Our investment opinion, however, is independent and purely our own.