In my previous SA article I introduced a system for categorizing covered calls into "Oatmeal" and "Red Bull". Oatmeal covered calls involve mature, blue-chip, dividend-paying companies. With these trades I seek a total annualized return of 12-18% (including share appreciation, option premium, and dividends, combined) on options that expire in 3-4 months.

As I can't live by Oatmeal alone, though, I juice my investment palate with occasional Red Bull shots. Red Bull companies are high-octane growth machines that offer great rewards to the call option seller. As these companies tend to be volatile, though, they bring considerable risk as well. When trading the Bull I shrink my option expiration horizon to 30-45 days and expand my annualized yield threshold to 40%.

As I have stated in my previous articles, my goal in establishing a covered call is assignment, i.e.-- I want the shares to be called away. To maximize the likelihood of assignment, I only sell calls that are in the money or just OTM.

In this article I'll describe how I screen Red Bull candidates and offer a slate of recommended Red Bull trades.

Is the Road to High Annualized Yield Paved With Fool's Gold?

40% annualized yield on a covered call trade? You may be thinking, "Hmm.... If I bag a couple of those babies I can take the rest of the year off!"

Not so fast. An options analyst with Morningstar read my first SA article and responded to my enthusiasm for high annualized call yields as follows:
"Many people misunderstand / misapply annualization, sometimes to their great displeasure. Annualization implicitly assumes that you can make the exactly same investment risk without accepting any additional investment risk for each iteration of an investment. In other words, if you have a 5-day tenor investment that will annualize to 120%, what that means is that you assume that you will be able to make that 5-day dollar return continually for the remaining 245 trading days of the year... This is something I describe as 'picking up nickels in front of a steam roller.' "
This is an excellent point, and "Picking up nickels in front of a steam roller" may be the best metaphor ever invented. Do not assume that you will be able to repeat a high annualized yield earned from selling a front-month call. The higher it is, the less sustainable the yield will be over time (conversely, lower-yielding Oatmeal yields are much more sustainable than Red Bull yields). Because of the volatility of Red Bull stocks, the shares will likely either be called away, or the share price will drop. It is extremely unlikely that the share price / strike price / option yield dynamic will remain steady month-over-month.

Here are two examples from my trading experience that illustrate this point (yield figures are net after expenses):

Brigham Exploration (BEXP): I purchased shares in April 2011 at $34.48 and sold $35 May calls for $1.30, earning an annualized yield of 69% if assigned and 53% if not assigned. The shares dropped below $30 prior to expiration and the options expired OTM. In June I sold October $35 calls for $1.35. If assigned, I'll earn 17% annualized for the two options combined, and 15% if not assigned - respectable figures but significantly below my original 69 / 53% yields. BEXP is presently priced at $30.26.

Freeport-McMoRan (NYSE:FCX): I've been in and out of this copper miner a few times and felt comfortable purchasing shares in December 2010 at $57.42, especially since FCX offered a 38% yield if assigned (49% if not assigned) on the January 2011 $57 calls. Soon after establishing this position FCX hit the skids along with the price of copper and my options expired OTM. I have since sold FCX calls four more times, and I am presently short January 2012 $59 calls. If assigned, I'll earn 11.93%. If not assigned, my yield will be 9.62%.

Be mindful of the limitations of annualized yield as you contemplate covered calls, especially the Red Bull variety. And:
Always have a plan for reinvesting the proceeds if your shares are assigned. Keep a list of covered call candidates and recalibrate your calculations as market conditions change; and
Do not establish a covered call unless you'll welcome the shares into your portfolio beyond expiration, as your relationship with those shares may last much longer than you bargain for.
Red Bull Screen

Here is how I screen for Red Bull covered calls:

First, I exclude two broad classes of stocks:

Chinese stocks: I have nothing against China (notwithstanding that its government manipulates currency, hoards rare earth metals, and responds to peaceful protesters with tanks and bulldozers. However, I completely distrust the Enron-style finance that the CFOs of many Chinese company appear to favor. Chinese companies often have splendid fundamentals (no debt, miniscule PEs, strong growth outlook, etc.) and enticing option yields, but the accounting is way too opaque for me.

Biotech stocks: I recently read a financial blog that offered the following advice for investing in the biotech sector: Buy call options in a basket of ten biotech names and hope that one of them hits. That's the best advice I've heard for biotech, which in my view is precisely akin to a craps table. Biotech stocks often offer scintillating call option yields, especially leading up to FDA reviews, but can go horribly awry if the FDA gives a thumbs down.

Here are the criteria I apply to the remaining universe of stocks to call out the strongest Red Bull covered call candidates:
Share price greater than $15
Projected EPS growth of 15% or greater for the next five years
PEG under 2
Forward PE less than 25
Market cap greater than $2 billion
Short interest less than 10%
Annualized yield of about 40% (assigned or unassigned).
I also require at least moderate option liquidity. I check liquidity informally by scanning the options table for each candidate company, and eliminating those with volume under about 500 open contracts across a range of strike prices and expiration dates. With Oatmeal companies, I look for contract volumes in the thousands. Because they are generally not as highly traded as Oatmeal companies, Red Bull companies typically feature lower option liquidity.

Based on September 16, 2011 closing market data, about 70 companies satisfy my Red Bull criteria. For each, I calculated the annualized yield if assigned, and if not assigned, averaged the two yields, and selected the top 20, which I'll list here in descending annualized yield order.

1. Deutsche Bank (NYSE:DB)
2. NXP Semiconductors (NASDAQ:NXPI)
3. Textron (NYSE:TXT)
4. Chicago Bridge and Iron (NYSE:CBI)
5. Skyworks Solutions (NASDAQ:SWKS)
6. Crocs (NASDAQ:CROX)
7. Abercrombie & Fitch (NYSE:ANF)
8. Nabors Industries (NYSE:NBR)
9. Arcelormittal (NYSE:MT)
10. FMC Technologies (NYSE:FTI)
11. Carbo Ceramics (NYSE:CRR)
12. Fossil (NASDAQ:FOSL)
13. Juniper Networks (NYSE:JNPR)
14. Deckers Outdoor (NASDAQ:DECK)
15. Cabot Oil & Gas (NYSE:COG)
16. F5 Networks (NASDAQ:FFIV)
17. Weatherford International (NYSE:WFT)
18. Brigham Exploration (BEXP)
19. BE Aerospace (NASDAQ:BEAV)
20. Wynn Resorts (NASDAQ:WYNN)

Here is more information for each of these stocks:
Click to enlarge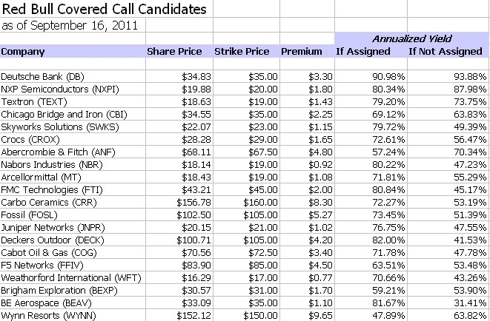 Notes and Nots:
The calculations reflect purchasing 100 shares and selling one call contract expiring October 22, 2011.
The annualized yields listed are after expenses, using my broker's fee schedule:

$6.99 commission
$.50 per contract fee
$19.99 assignment
For 18 of the 20 stocks I selected the first OTM strike price. For WYNN and ANF I selected ITM strikes, as these met my yield requirements (with the added benefit of slight downside protection.)
I usually avoid selling options going into earnings, even if a juicy option yield is available. A poor earnings report can sink a company's share price, especially with highly volatile Red Bull company. Two of the top 20 Red Bull names, TXT and WFT, will report earnings prior to expiration (October 21).
Some of these stocks are especially volatile (e.g. the betas of BEXP, TXT, and WYNN exceed 2.5).
Arcellormittal (MT) offers a sweet 4.5% dividend yield. The only other two companies in the list that pay a dividend are COG (.17% ) and WYNN (1.31%).
Do not make these trades while operating heavy machinery or administering or receiving a root canal.
Do not make these trades on an empty stomach. Eat a light, healthy, PH-neutral meal at least four hours prior to trading in order to ward off gastric distress. (I usually eat oatmeal.)
If you experience dizziness, double-vision, or arousal lasting more than four hours (this can happen if one of these trades goes your way), stop trading immediately and contact your physician.
Consider this list only as a starting point for your own due diligence. Be careful - the Bull has horns!


Disclosure: I am long BEXP, FCX.