The Federal Reserve's Open Market Committee (FOMC) is scheduled to begin their conference on Tuesday and conclude Wednesday. The anticipated, yet unknown, FOMC actions have provided uncertainty to the bond markets and the mortgage real estate investment trust (mREIT) markets. Agency mREITs should come out of the FOMC meeting relatively unscathed and ready to continue to deliver significant dividends. Here are a few FOMC actions which could directly impact investor mREITs:
Anticipated FOMC Actions
1. Home Affordable Refinance Program (HARP) Extension
The Federal Housing Finance Agency (FHFA) has been reevaluating (.pdf) HARP for potential actions to allow more mortgage holders to refinance. Presently HARP allows refinancing to Freddie Mac (OTCQB:FMCC) and Fannie Mae (OTCQB:FNMA) mortgages. Mortgage loans must have originated prior to June 2009. Current HARP programs require home owners to be current on their mortgages and the loan-to-value ratio (LTV) must be between 80% - 125%.
The FOMC could support the following HARP enhancements:
work with banks, Freddie Mac, and Fannie Mae to address origination costs, and closing costs,
work with banks, Government Sponsored Entities to widen the LTV percentage range.
Agency mREIT Impact
If FOMC supports HARP changes which result in further refinancings, then agency mREITs like Annaly Capital Management, Inc. (NYSE:NLY) could incur additional prepayment risk. The HARP extension would have mitigated prepayment risk impact to agency mREITs when compared to a nationwide refinancing plan.
2. Implementation of "Operation Twist"
Operation Twist is likely to be implemented on a certain level. We will have to wait for Bernanke to comment on his degree of commitment. Operation Twist would flatten the yield curve in an attempt to stimulate the economy. This plan could be used in conjunction with HARP modifications to provide lower long-term refinancing interest rates.
Agency mREIT Impact
The agency mREITs will incur some prepayment risk with lower long-term rates. The agency mREITs book values per share (bvps) will improve. The net yield spread could decline due to the flattening yield curve.
3. Quantitative Easing 3 (QE3)
Investors have learned Bernanke is not unwilling to utilize quantitative easing as necessary. This would be around QE3 if he decides to pursue this tool in moderate or full-speed usage.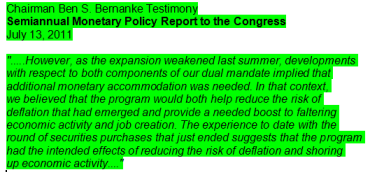 Chairman Bernanke, in his July 13th testimony, stated "additional monetary accomodation" (QE2) was used to address 2010's summer deflationary pressures and a weakening economy. Based upon the August 2011 unemployment numbers, the economy does not appear to be turning around. A QE3 strategy would be familiar territory to the Federal Reserve.
Agency mREIT Impact
Implementation of QE3 will be beneficial for pure agency-mREITs Hatteras Financial Corp (NYSE:HTS), ARMOUR Residential REIT (NYSE:ARR), and CYS Investments (NYSE:CYS). Hybrid mREITs Chimera Investment Corporation (NYSE:CIM) and Invesco Mortgage Capital Inc. (NYSE:IVR) should continue to do well in an increasing monetary supply environment.
Summary
We will find out the official FOMC statement at approximately 2:15 PM ET on Wednesday. The rationale for a two day meeting was to discuss a "range of tools that could be used to provide additional monetary stimulus".
I believe changes to HARP will assist some homeowners to refinance. I believe the agency mREIT prepayment risk will be muted. I also believe a QE3 will be implemented on some level. Deflationary pressures, such as declining home prices, and a weakening economy continue to persist. QE3 should have a minimal impact upon agency mREITs.
In my opinion, Bernanke will support the above 3-tools. Unless a major nationwide refinancing plan, such as the Congressional Budget Office's "An Evaluation of Large-Scale Mortgage Refinancing Programs" draft (.pdf), is implemented agency mREITs will remain immune from Federal government intervention. The agency mREITs will potentially incur a moderate level of prepayment risk, but the solid dividends should continue.
Impacted mREITs:
click to enlarge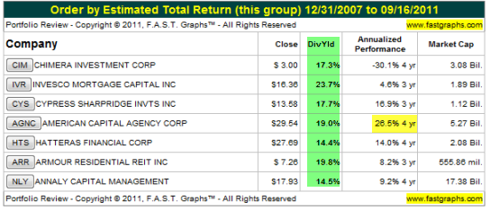 Click to enlarge