Corning (GLW) traces its origins to a glass business established in 1851. The present corporation was incorporated in the state of New York in December 1936. The company's name was changed from Corning Glass Works to Corning Incorporated on April 28, 1989.
Corning is a global, technology-based corporation that operates in five reportable business segments.
Display Technologies segment manufactures glass substrates for matrix liquid crystal displays (LCDs).

Telecommunications segment produces optical fiber and cable, and hardware and equipment products.

Environmental Technologies segment manufactures ceramic substrates and filter products.

Specialty Materials segment manufactures products that provide more than 150 material formulations for glass, glass ceramics and fluoride crystals.

Life Sciences segment is a developer, manufacturer and a global supplier of scientific laboratory products.
Before we get to the valuation we'll take a look at a few metrics. The first graph is a history of revenue vs gross margin (GM):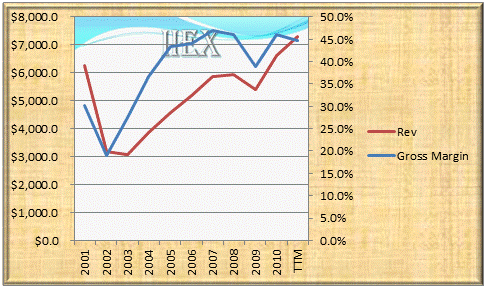 Revenue has rebounded from a dip in 2009. The TTM gross margin dipped slightly but is still hovering around 10 year highs. On September 8, 2011 the CFO (James Flaws) gave the following insight on the longer term margin outlook at the Citi Technology conference. The information is in the section of their presentation titled, "Path to $10 Billion".
Expect continued strong GM% over this time ultimately tied to the mix of segments.

Display GM% remains consistent

Telecom GM% is up on a mix of higher margin products

Environmental GM% is up on improved manufacturing performance.

Specialty Materials GM% is up due to Gorilla Glass GM is higher than the corporate average.

They expect operating margins to increase over time.
The next graph reveals any trends among the business segments: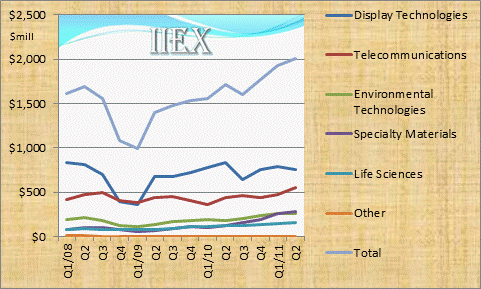 The display technologies' short term trend is flat to slightly down while the other units are in an uptrend. They expect the other segments to do more than pick up the slack, and to provide growth to ten billion in sales over the longer term per this comment by the CFO on the July conference call:
I think we have increased confidence in Telecom and Environmental that allows us to believe that we definitely could hit the $10 billion even with the weaker Display numbers.
They are seeing 2011 LCD retail purchases by consumers up 12%-15% but glass shipments to panel makers are up only 5%-8%. This is due to compressed supply chain inventory levels of 17 weeks at the end of Q2 to an expected 14 weeks by year end. In 2009 the inventory dropped to 13 weeks, but this created shortages in the supply chain according to the CFO so any weakness should stabilize by 2012. Management expects the glass market to grow at least 30% in 2012, driven primarily by growth of smartphones and tablets.
There has been some recent insider buying by the CFO. In August, James Flaws purchased a million dollars of stock for an average price of $13.52 (75,000 shares). Overall, we believe solitary trades are unreliable. A better indicator is when a group of insiders buys. This concept is explained in more detail here. The trade is mentioned since some believe any insider buying may be significant.
VALUATION
Here is one fair value view based on management's financial track record focusing on the financials as they relate to fair value, followed by possible risks.
Fair values are based, in part, on the following: discounted cash flow, a modified Graham's intrinsic value formula and a P/E analysis. The valuation model consists of two parts.
The discounted cash flow and the modified Graham's intrinsic value are blended to arrive at a fair value.

A P/E analysis based on historical adjusted values.
Fair value used is the minimum value of the two parts.
Part 1: Discounted cash flow and the modified Graham's intrinsic value.
Longer term earnings growth estimate: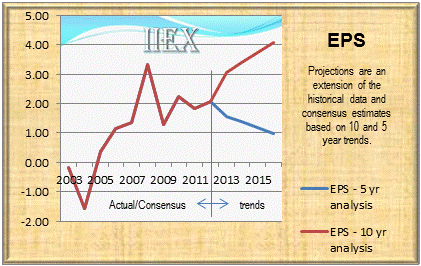 Projections (for EPS and cash) are arrived at by calculating the statistics for a trend line using the "least squares" method. This determines the line that best fits the historical data. Projected earnings growth through 2016 averages about 1.9% based on a combination of the 10 and 5 year trends.
Analysts are much more optimistic for longer term earnings growth than our analysis, projecting 11% despite the graph depicting lower growth through 2014. (Source: nasdaq.com) We should note the below graph is as of September 15, 2011.
Analyst consensus earnings growth projections: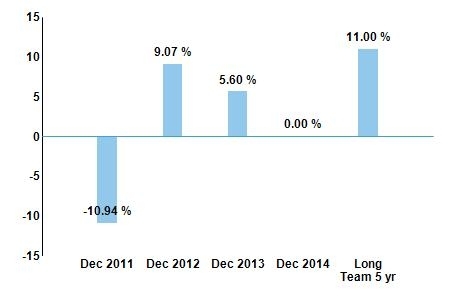 Longer term cash flow growth: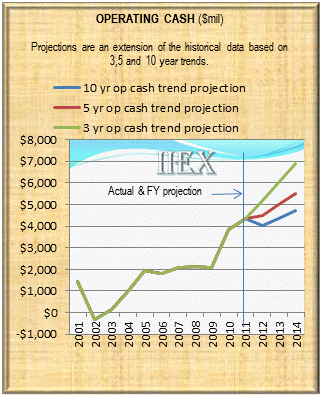 Projected long term cash flow growth calculations are 11.7%. Management has performed well, growing the cash side of the business. This represents a weighting of the 3, 5, and 10 year trends using 2011 as the baseline. The CFO expects free cash flow to exceed $7 billion through (not in) 2014. Our FCF growth rate generates $7.22 billion through this period.
The board will also discuss cash distribution options later in the year since the current net cash is in the $4 billion range. I would like to see the dividend raised. The dividend free cash flow payout ratio is approximately 17%. This leaves them more than enough room for a dividend increase.
Estimated long-term EPS and cash flow rates going forward are 1.9% and 11.7%, respectively. Running these projections through our pricing model produces a fair value of $19. Needless to say, the result is sensitive to changes in these growth rates as illustrated below.
| | |
| --- | --- |
| GLW | |
| EPS & Cash Growth rates | FV |
| EPS-3.86%; Cash-13.70% | $22.00 |
| EPS-2.86%; Cash-12.70% | $20.00 |
| EPS-1.86%; Cash-11.70% | $19.00 |
| EPS-0.86%; Cash-10.70% | $17.00 |
| EPS-(0.14%); Cash-9.70% | $16.00 |
| EPS-(1.14%); Cash-8.70% | $13.00 |
Part 2: P/E Analysis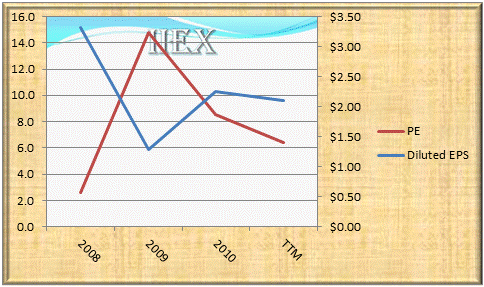 The pricing model produces a P/E of 10.5, yielding a fair value of $19.
Final fair value is the minimum of the two methods. In this case, both calculations produce the same fair value of $19. The stock is trading at a 27.9% discount at the time of this writing. S&P has a 12 month target price of $19, Goldman Sachs-$16, JPM-$14.50, Citi-$16.50, Sterne Agee-$24, UBS-$20 and the consensus median price on Yahoo Finance is $20.
RISK
The largest risk at this point is macroeconomic events that would negatively affect not only Corning, but all financial markets. Uncertainty about current global economic conditions poses a risk as consumers and businesses may continue to postpone spending in response to tighter credit, unemployment, negative financial news and/or declines in income or asset values, which could have a material negative effect on demand for Corning's products and services.
A summary of all financial details used in the analysis can be viewed here.
Disclosure: I have no positions in any stocks mentioned, but may initiate a long position in GLW over the next 72 hours.