Several days I wrote an article on a fantastic stock, General Moly (NYSEMKT:GMO). General Moly is in the home stretch of being given a permit. The Record of Decision is drawing to a conclusion and while the water rights were approved, they were appealed. When the town had a hearing on the appeal they had about two hundred chairs to make sure everyone that wanted to attend would be comfortable. Well, two ranchers showed up and as it turned out their ranches are not in the vicinity that would be impacted by the mine. I can only conclude that they see money and want some.
General Moly is a U.S.-based mineral company engaged in the exploration, development and mining of molybdenum ("moly"). The company has two world-class assets, its 80% interest in the Mt. Hope project and the Liberty project. Both are located in central Nevada. These assets are two of the best primary molybdenum development properties in the world. Once production commences at Mt. Hope and Liberty, General Moly is expected to become the world's largest primary moly producer.
While General Moly has endured more than its fair share of problems, I remain firmly committed to this stock as the management team has met every obstacle with complete transparency and integrity.
Last week, Hanlong mining chief executive Mr. Steven Hui Ziao, was prevented from leaving Australia after being accused of insider trading allegations. He is suspected of being guilty of insider trading activities in relation to Bannerman Resources (OTCPK:BNNLF) and Sundance Resources (OTC:SUDCF). It should be duly noted that Mr. Hui Ziao has been terminated from the Hanlong Company.
Coincidentally, yet unrelated, General Moly announced that Nelson Chen, Chief Operating Officer of Hanlong Mining will replace Steven Xiao, Managing Director of Hanlong Mining Investment as Hanlong (USA) Mining Investment's designee to the General Moly Board of Directors, pursuant to the Hanlong transaction announced in March 2010. Mr. Chen will serve on the Technical committee.
Mr. Chen has 11 years of audit and M&A transaction advisory experience. He was involved in a large number of financial due diligence and acquisition advisory transactions with a focus on leading engagements servicing Chinese clients. He has extensive experience in many industries including mining, manufacturing, consumer products, financial services, real estate.
CEO, Bruce Hansen said (.pdf),
I am pleased to welcome Nelson Chen to our Board as a Director. Nelson has been one of the key Hanlong personnel with whom we have worked with since announcing the Hanlong transaction in March 2010 and he is extremely knowledgeable of our business and our financing transaction.
Please see the chart below.
click to enlarge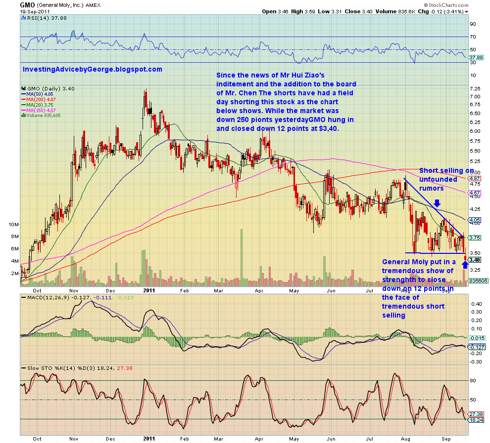 Click to enlarge
As a look at the chart above will show, since the announcement of insider trading by Mr. Hui Ziao and the announcement of Mr. Chen to the board of General Moly these two unrelated incidents have caused the short sellers to do everything in their power to break the resolve of General Moly.
In conclusion, and as far as I know, these two gentlemen have never met. Mr. Hui Ziao was dismissed as an employee of Hanlong and Mr. Chen is a prestigious representative of the Hanlong Company. The fact that General Moly has held up to the barrage of short selling for the last week is a testament to the strength and resiliency of both the management team and the massive mountain of molybdenum that General Moly represents.
While I myself have a stake in the company, there are many investors that have believed in this company through thick and thin and I believe after having done a careful analysis of the company that General Moly is as close to being a sure thing as there can be in the world of stock market investing. I believe that General Moly is the ultimate confidence stock.
Disclosure: I am long GMO.