Silver is both a monetary metal and an industrial metal. However, in recent months it has acted more as a monetary metal than an industrial metal and has attracted capital seeking a safe haven against all the turmoil in the world, including multiple wars, sovereign debt fears, US credit downgrading, and market selloffs, just to mention a few.
During recent months other industrial metals have done poorly while silver has held up pretty well. Silver is currently in a trading range around $40, which may serve as a base for a future breakout. Ben Davies, CEO of Hinde Capital, and a frequent quest on King World News, predicted both the explosion in silver that took the price from $15 to almost $50 in less than a year as well as the crash in silver this May. He now suggests that silver will take out the $50 level by next quarter and then quickly be pushing into the mid 60's. The current trend on the chart seems to agree with Ben Davies suggestion.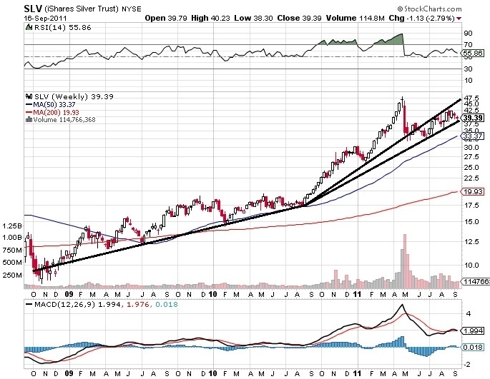 When will silver make new highs?
Silver have had many violent rallies and corrections thought out this bull market. The most recent correction took place back in May when silver made a 32% correction and fell from $49.79 to $32.65. To determine where prices are heading in the future it may be helpful to look at past performance. Although the past is not indicative of the future it can give some helpful guidance. The chart shows how long it has previously taken silver to make a new high after a significant correction. Historically it has taken anywhere between 7 months to 17 months for silver to make a new high after a major correction, and now five months after the lows of May, silver is again showing bullish signs. (The chart shows the magnitude of the correction (%) and how long it took to make a new high)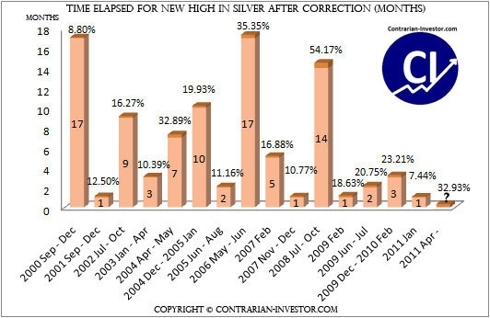 Silver has bullish fundamentals.
Silver is used both in industry and bought as an investment. The industrial elements of silver may suffer in a recession but the growing investment component of silver will likely pick up the slack in such an event. The chart shows the different components of silver demand and the overall trend is up.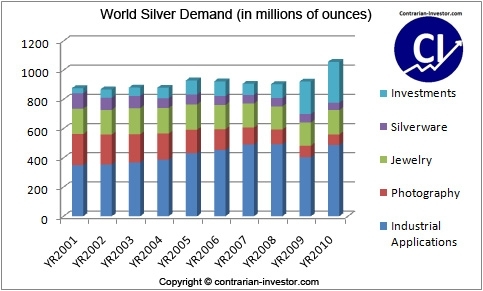 Supply of silver from mine production has been increasing over the past decade due to a ramp up in production as a result of higher silver prices. In spite of an increase of supply from mining, production alone can't meet worldwide demand, and the supply gap has come from scrap silver that has been re-melted and entered back into the market.
Although recycled scrap silver is currently able to supply the gap left by a shortage in production, many applications that use silver are difficult and expensive to recycle. The vast majority of silver in electronics such as phones, televisions, computers and household appliances end up in landfills without ever being recycled, while other applications such as solar panels are in service for decades before they can be recycled. To put it simply, a large part of the silver that is consumed won't be returning to the market any time soon.
The chart shows the shortfall of mine production vs. demand. The gap is mainly made up from scrap metal coming back into the market along with some government sales.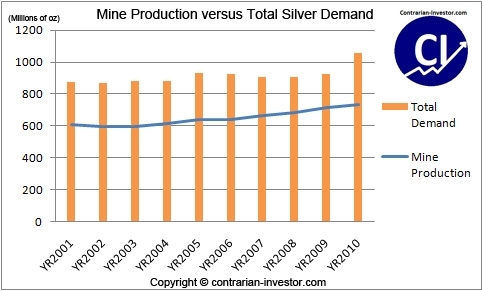 Investment Implications
There are multiple ways to participate in the ongoing bull market in silver, including ownership of physical silver, ETFs and stocks. The following investment vehicles are popular among silver investors.
iShares Silver Trust (SLV)
ETFS Silver Trust (SIVR)
Global X Silver Miners (SIL)
Silver Wheaton Corp (SLW)
PowerShares DB Silver (DBS)
UBS E-TRACS CMCI Silver ETN (USV)
ProShares Ultra Silver (AGQ) (leveraged 2X)


Disclosure: I am long SLV.