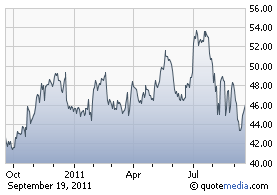 Darden Restaurants (NYSE:DRI) is the largest casual dining operator in the world. DRI operates 1900+ restaurants under the names Red Lobster, Olive Garden, Longhorn Steakhouse, Capital Grille, Bahama Breeze, and Seasons 52. The company serves over 400 million meals a year to customers throughout the US and Canada.
Darden yields 3.8% with a payout ratio of 0.44. The dividend increased 34% since last year and 273% over the last five years. The company started aggressively increasing its dividend in 2006. Earnings rose steadily for the last ten years, except for a minor decline of $0.06 a share in 2009. P/S, P/B, P/E and P/CF are significantly better than the industry standards. Darden's margins are above its main competitors and growing slightly. Increased food and operating costs have put some pressure on its operating margin, which stands at 13.5%. Darden has 42% of capital in debt, but coverage seems likely due to significant cash flow. The company owns the land of 51% of its restaurant locations.
Management is working hard to improve same-store sales. Olive Garden and Red Lobster experienced declining same-store sales in 2010 by 1% and 4.9% respectively. Instead of neglecting old stores in favor of expansion, Darden worked closely with successful marketing firm Grey Group to improve its current models. A few cosmetic changes at Red Lobster, costing $350,000 a store, improved same-store sales by 4%-5%. This strategy shows Darden is preparing for strong competition when the market becomes saturated.
Darden is branching out with its successful LongHorn branch to the Mid-West and Western U.S. This aggressive campaign will put Darden in position to deal with the heavy competition that is headed for the casual dining industry. Management also created a new "synergy" restaurant, combining two different restaurants (Red Lobster and Olive Garden) in the same building. Each will share the same kitchen and management team, reducing operating costs. While long-term benefits are unknown, it shows management is on the offensive, looking for ways to position itself as leader of the pack.
There are several risks facing Darden and the industry as a whole. The casual dining growth rate is expected to be 3% compared with historical rates of 4%-7%. This slowdown is going to intensify already heavy competition. For new growth opportunities, Darden is expanding overseas in less competitive areas. As lower consumer prices become more important, Darden's margins may suffer if it cannot successfully hedge itself against food inflation.
In 2008 the stock price declined 65% despite performing well fundamentally during that time. This may have been reflective of fear that people could not afford to eat out anymore. This price volatility is something to consider when investing in Darden. A strategy of buying half at $40 - $42 with the intention of adding at a lower price would create a margin of safety on this very appetizing company.
Disclosure: I have no positions in any stocks mentioned, and no plans to initiate any positions within the next 72 hours.