Shares of Odyssey Marine (NASDAQ:OMEX) finished up 10% September 19th on no apparent news.
Or is there?
Actually, yes. While the company has yet to issue a press release, both of the company's search vessels have come back to harbor earlier than expected over the weekend. Here's the story.
In its most recent quarterly earnings release, management explained that they were using the Russian vessel Yuzhmorgeologiya to search for the SS Gairsoppa and the Odyssey Explorer to work on another undisclosed shipwreck project.
Keep in mind, the Gairsoppa is said to have had 7,000,000 ounces of silver (worth $280M at current silver prices) onboard when she was torpedoed by a German U-Boat in February 1941. According to OMEX, "The U.K. Department for Transport awarded Odyssey, through a competitive bid, the exclusive salvage contract for the cargo of the SS Gairsoppa in 2010. Under the salvage contract, Odyssey will pay the U.K. Government 20% of the value of the cargo. Timing of the recovery operation will depend on the physical disposition of the shipwreck and weather."
On September 14, the Odyssey left Cork Harbor in Ireland and headed towards the Gairsoppa wreck site to join the Yuzhmorgeologiya.
Within 3 days, both search vessels were headed back to Cork Harbor. On September 18th, Odyssey docked near Ringaskiddy Terminal and the Yuzhmorgeologiya docked at Horgan's Quay. Yesterday morning, the Odyssey joined the Yuzhmorgeologiya in Horgan's Quay, actually taking the exact spot where the Yuzhmorgeologiya was docked (and the Yuzhmorgeologiya was moved a short distance away).
On September 19th, the Yuzhmorgeologiya left Cork Harbour with Kalinigrad, Russia listed as the destination. It appears OMEX is returning the leased ship.
The questions:
1. Why did the Odyssey Explorer join the Yuzhmorgeologiya at the Gairsoppa worksite?
2. Why did the Yuzhmorgeologiya return earlier than expected? (Original ETA in Cork, Ireland was September 26)
3. Why did the return to harbor occur over the weekend while the markets were closed?
4. Why is the Yuzhmorgeologiya being returned to Russia?
Put simply, either something went wrong that required both ships at the worksite and then a swift return (more than a lack of supplies that the Odyssey could have brought when she joined the Yuzhmorgeologiya), or something has gone very right.
How to track the vessels
MarineTraffic can help investors track OMEX ships that are within range of one of MarineTraffic's Automatic Identification System (AIS) receivers.
To start tracking vessels, go to the MarineTraffic website and set up an account. This will enable you to set up a "My Vessels" tracking list.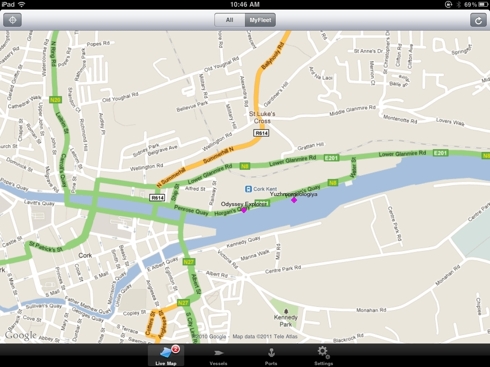 (Click to enlarge)
To locate each vessel, type its name in the search box on the Live Map tab. Then click the vessel's current location for more information. Then click the "All Actions" link, and find "Add to My Fleet." Under "All Actions," you can also click "Itineraries History" and see where the vessel has been.
Now we wait for official news from OMEX.