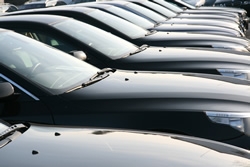 AutoZone (NYSE:AZO) reported Tuesday that fiscal fourth quarter profits rose 12% as higher retail prices on commodity-based products drove higher merchandise margins.
For the three months ending August 27, the retailer and distributor of car parts and accessories in the US, reported net income of $301.5 million, or $7.18 per share, compared to $268.9 million, or $5.66 per share, in the year ago period.
Net sales jumped over 8% to $2.6 billion during the fourth quarter. Domestic same store sales, or sales for stores open at least one year, a key metric to gauge a retailer's health, increased 4.5% for the period, as customers opt to repair their vehicles in the weak economy as opposed to buying a new one.
According to a survey by FactSet Research, Wall Street analysts expected AutoZone to earn $6.98 a share on revenue of $2.62 billion.
"Our fourth quarter performance was a strong conclusion to a record breaking year for AutoZone," said chairman, president and CEO, Bill Rhodes.
Gross margins rose to 51.2% from 50.5% a year earlier, attributable to lower shrink expense, and higher merchandise margins, the company said. Retail price increases on commodity-based products drove the higher merchandise margins, which were partially offset by increased penetration of commercial sales.
Operating expenses as a percentage of sales also rose due to higher self-insurance costs and fuel costs, partially offset by higher sales volumes.
The company's inventory increased 7.0% over the same period last year, driven primarily by new store openings, it said. During the quarter, AutoZone opened 68 new stores in the U.S. and opened 18 new stores in Mexico.
As at the end of the quarter, the company had 4,534 stores in 48 states, the District of Columbia and Puerto Rico in the U.S., and 279 stores in Mexico.
Each store carries products for cars, sport utility vehicles, vans and light trucks, including new and re-manufactured automotive hard parts, maintenance items, accessories, and non-automotive products. Many stores also have a commercial sales program that provides commercial credit and delivery of parts and other products to local, regional and national repair garages, dealers, service stations, and public sector accounts.
The company's shares were down nearly 1% in pre-market trade on Tuesday, to $328.75.
Disclosure: None