I recently was asked what my thoughts were on Bank of America (BAC) and if this was a good time to consider buying the stock. I naturally said no and said that I thought there were better run banks out there that were trading at a discount relative to their value that ultimately would provide a better long-term value. After thinking more about this question I felt that Bank of America could provide for a potential option trade.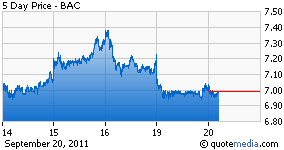 Bank of America has a market capitalization of $70.50 billion and a book value of $21.92/share, considering its current stock price of $7/share it appears to be a good deal. Unfortunately, Bank of America's stock has been under a great deal of pressure since the financial crisis of 2008. The majority of this concern has been centered around the management of the bank, the amount of debt on the balance sheet, overall mortgage default risk, and ultimately the bank's overall solvency. Due to all of this pressure the stock price, which traded in the $12 - $13 range just months ago now trades for around $7/share.
To most outsiders the stock looks incredibly cheap. Not to mention the recent injection of capital from Warren Buffett, which has created a huge vote of confidence. All of these factors have created a great deal of public attention centered on the company and the notion that a lot of money could be made with this stock.
Even with all of the attention on the stock and potential for big gains the main question that must be asked is: Is Bank of America worth the risk and potential reward? I would say that it depends on how you want to try to capitalize on the potential upward movement in the stock. Buying and owning the stock outright is a risky bet and in my opinion not the best use of your capital in this sector. Considering that Bank of America is only offering a dividend of $0.04/share (or 0.60%), compared with competitors like U.S. Bancorp (USB) or Wells Fargo (WFC), which are offering attractive yields of 2.10% and 1.90%. With Bank of America you are not getting paid well to wait for the stock to rebound.
I feel that the best way to attempt to capitalize on any potential upward price movement in the stock while still limiting your downside is to use Call options. The use of call options will help create a bullish position that enables the investor to not only capitalize on any upward potential, but also does not tie up as much capital as buying and holding the stock outright.
There are a variety of ways to use call options in this situation. I like the idea of buying and holding a call option, but I would prefer to have a bit of a hedge with my overall position. I would suggest buying the January 2013 $10 strike for $1.00/share while simultaneously selling the January 2013 $15 strike for $0.30/share. This strategy allows you to capitalize on the upside movement of the stock while limiting your upfront cost. I also like this trade because the stock over the past 12 months has not traded above $15/share, so the call that is sold will not only act as a hedge on the trade but if the stock breaks up through the $15/share level it will allow us to sell the stock at a 12- month high.
This trade will cost $100 (debit to your account) for each $10 call option that you purchase, while you will receive $30 for each $15 call option that you sell (credit to your account). Total net cost of the trade is $70 for each $10 call option bought and $15 call option sold; [$100 (long $10 call) - $30 (short $15 call)].
Buying calls at the $10 level gives the buyer the right to control stock for a fraction of the price. The Bank of America Jan 2013 $10 strikes are trading for $1.00/share. This comes out to be $100/contract to control 100 shares of Bank of America that are currently trading at $7/share. In other words you could control 100 shares of stock for $70 with the call options or buy 100 shares of stock out right for $700. Come January 18, 2013 these contracts expire and will become worthless, but until then the buyer has the opportunity to capitalize on any upward movement in the share price.
This trade has three possible outcomes come expiration in January 2013.
If at expiration the stock is at or below $10/share both calls will expire worthless and you will have lost $70.

If at expiration the stock is between $10 - $15/share you can close out your long $10 call option for any appreciation that may have occurred while your $15 call that was sold will expire worthless and you will keep the entire premium that was received for selling the call.

If at expiration the stock is at or above $15/share you will have to sell the corresponding number of shares at $15, but will be able to buy the stock at $10, thus creating a $5/share profit (50% return).
This trade is far from perfect but it allows the trader to capitalize on any potential upside movement in the stock with a limited upfront cost while allowing for a significant amount of time to be right on the trade.

Disclosure: I have no positions in any stocks mentioned, and no plans to initiate any positions within the next 72 hours.