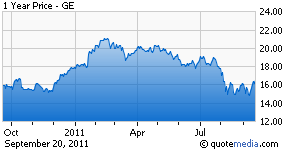 General Electric (NYSE:GE) is a diversified technology and financial services company ranked as the 6th largest corporation in the United States and the 14th most profitable by Fortune magazine. As such, the company receives a considerable amount of media attention. Before I provide my projections, it is thus important to offer this one caveat: the market prices this stock more rationally than most other stocks--minimally effected by information asymmetry and quickly arbitraging any behavioral anomalies. Indeed, this is the value investor's dilemma when finding a truly undervalued mega-cap company.
This maker of everything from aircraft engines to medical imaging devices might just fit the mold. It is currently trading at 12.5x and 10.1x past and forward earnings, respectively, and has PEG of 0.91 while offering a dividend yield of 3.71%. Although dividends have recently been raised a few times, I expect management to bring them back to historic levels soon. Nevertheless, the stock does appear undervalued on a multiples basis.
General Electric is composed of a few key segments: (1) technology infrastructure, (2) energy infrastructure, (3) GE Capital, (4) a 49% stake in NBC Universal, and (5) Home & Business Solutions. Below I forecast what I expect 2011 revenues to look at by segment ($147.2B total)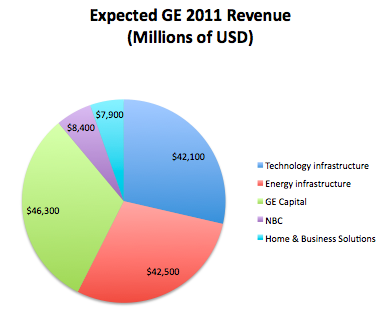 Technology Infrastructure
I forecast revenue growing by 11.2% to $42.1B in 2011 and then by 9.8% and 10.8% the next two years. This segment will experience some of the fastest growth in transportation and roughly consistent growth between aviation and healthcare.
Energy Infrastructure
I forecast revenue growing by 13.3% to $42.5B in 2011 and then by 11% and 15.1% for the next two years. This segment will experience some of the fastest growth in oil and gas, but also strong growth in other energy fields.
GE Capital
This segment will perform relatively weakly in relation to the other segments. I forecast revenue growing by 3.8% to $46.3B, decreasing by 3.7% the next year, and then increasing 1% the year after that. Many of the divisions in this segment, I anticipate, will see sales declines--particularly in real estate and consumer products. Lending and leasing, as more of an exception, will experience mild growth.
NBC Universal
I forecast revenues decreasing by around 5.2% in 2011 to $8.4B and then increasing by 6% and 6.8% for the next two years. Operating margins are likely to decline by around 4 percentage points to ~4% in 2011.
Home & Businesses Solutions
This segment will be the most volatile for this year. I forecast revenues growing by 251.4% to $7.9B and then decreasing substantially thereafter. Home & Businesses and NBC Universal are the only two segments where I anticipate declining margins
Conclusions
Overall, I find that General Electric will experience strong growth in the years ahead and will see operating margins improve from 16.9% in 2007 to 17.8% in 2013. Strong competitors will likely see diminishing market shares under such projections from the market leader. Indeed, perhaps what the media has not emphasized enough about GE is how vulnerable it has made the competition.
In the immediate future, I see the new A320NEO and 737NEF engines being substantially positive for air traffic and, accordingly, boosting transportation growth for GE. I am slightly concerned about the negative effects that rising interest rates can have on GE Capital, but believe that the company is capable enough of weathering this storm through other segments at the very least. Continuous R&D will need to be deployed, as the corporation faces intense competition in all facets of its business, but I do not foresee any liquidity problems.
On a final note, most analysts rate GE a "buy." Consensus EPS projections are bullish with 20% growth in 2011 to $1.38 and then 14.5% and 18.4% growth in the following years. I am only slightly less bullish on the company, but find myself attracted to this strong brand's favorable risk/reward.
Disclosure: I have no positions in any stocks mentioned, and no plans to initiate any positions within the next 72 hours.