Warren Buffett once said, "It takes 20 years to build a reputation and five minutes to ruin it. If you think about that, you'll do things differently."
Netflix (NASDAQ:NFLX), though only in the 14th year of its existence is learning the value of a good reputation and how such an asset can be easily eroded. The stock was hammered last week after revealing that it lost one million subscribers during its revised estimates. It is remarkable how a company that seemingly could do no wrong can now appear to not get anything right. The graphic below reveals what only resembles a downward spiral, but the obvious question now is, where will it stop?
(Click graphics to enlarge)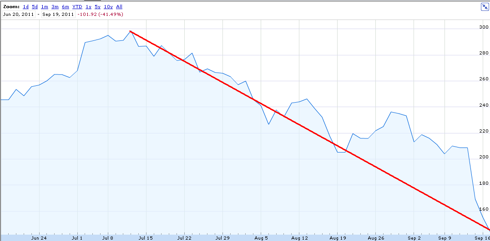 Last week, I told you how that I felt Sirius XM (NASDAQ:SIRI) had blown an opportunity by not raising rates high enough; essentially (from an investor standpoint) I felt that the company had not seized its opportunity to earn what it rightfully deserved. I was beaten up for this opinion; one that spurred several good discussions. But my premise continues to surround the issue of "value" – something that Sirius clearly presents in its offerings. I am elated that the company now has what it calls pricing elasticity, but I remain curious to see how far it will stretch; as some have suggested that Sirius just might raise rates on an annual basis – something that I don't think will help with public relations, although the cable companies have seemingly been able to get away with it for years.
Speaking of public relations; I received a "personal" email yesterday from Reed Hastings, CEO of Netflix. As Warren Buffett mentioned above, Netflix realizes that it needs to restore its reputation. The email stated the following: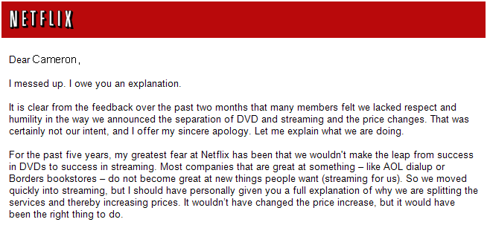 To be honest, every Netflix subscriber received this email. But I have to admit, it caught me by surprise. I appreciated the honesty and what I felt was a sincere apology. But the cynic in me believes that this email would not have been sent had it not been for the drastic drop in the company's share price. That and also the competitive attack that is under way from Amazon's (NASDAQ:AMZN) streaming service, Coinstar (NASDAQ:CSTR), as well as Google (NASDAQ:GOOG) and Apple (NASDAQ:AAPL). Google is the most interesting player here because of its recent acquisition of Motorola Mobility (NYSE:MMI). Regarding the latter point, in a recent article, the following point was made:
I've talked extensively about Google's hardware conversion and its impact on its partners, but there are some significant advantages as well that must be considered. Clearly the hardware and software advantages are known; not to be overlooked are the numerous Motorola patents that Google will now own. But has anyone realized some of the initiatives that Motorola has started that will now fall into the hands of Google? I'm sure Netflix understands what these are and has become concerned about these possibilities.



You see, as with Apple, Google had developed Google-TV. Although not initially successful, one can't underestimate the potential for Google to leverage Motorola's successful cable box business to make Google-TV a standard in streaming and other home entertainment content. Google immediately becomes ubiquitous in homes and can make a successful transition into a market where Cisco (

CSCO

) could not with its attempt in its

acquisition of Scientific Atlanta

.
In regards to Mr. Hasting's email, I can't help but realize that Netflix has become clearly concerned regarding its competitive advantage; one that immediately made Blockbuster appear as a dinosaur. There were more revelations in Mr. Hasting's email - the company explained that its traditional DVD only business will now be a wholly owned subsidiary called Qwikster. In addition to DVDs by mail, it will now offer video games as well. Its streaming-only service will preserve the Netflix name, but Qwikster will be the brand for its DVD-only business.
Summary
At current prices, I can't ignore the belief that Netflix has been seriously oversold. Value investors should consider taking a long look at its current valuation while at the same time making sure that its subscriber losses is not a trend. The reality is that the company is now a long-term buy in my opinion; at least until Google and Apple can become a dominant force in home streaming. So far that is not the case. Investors have to also consider that (just as with Sirius), a good percentage of Netflix' churn will be offset by higher subscription revenue. Although the company looks pretty downtrodden at the moment, it may be time to look at it from another angle.

Disclosure: I am long SIRI, CSCO.