A company's decision to repurchase its stock is a strategy that can be viewed in several ways. One is that demand created by the buyback in conjunction with the eventual reduced stock supply will increase the share price and the company's market capitalization or value.
Another perspective is that a company is in essence exchanging valuable cash for stock certificates that have no attached obligations, except for declared dividends, and unlike interest payments, they can be cancelled anyway.
(Click chart to expand)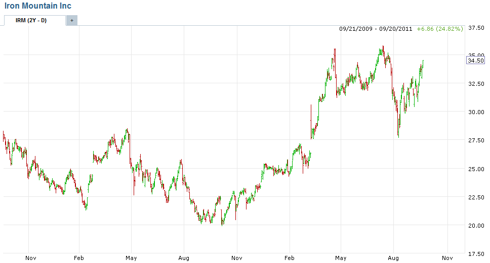 In May of this year Iron Mountain (NYSE:IRM) announced that it was raising its stock buyback plan by $850 million. The initial announcement took place in February of 2010, as reported by Mass High Tech.
Iron Mountain Inc. will be doling out cash dividends to its stockholders for the first time in the Boston-based company's history, under a new program that will begin April 15. At the same time, the company said it will be buying back $150 million worth of its own common stock. The planned annual dividend payout amounts to 25 cents per share, and the first quarterly dividend of 6.25 cents per share will be payable on April 15 to shareholders of record on March 25.
But the company's financial statements raise a lot of questions as to why the company would embark on a share repurchase adventure in the first place, since its debt load of close to $3 billion is quite significant, and the tangible book value is negative $755 million, or -$3.72 per share. Furthermore, the negative tangible book value has persisted since at least 2006.
In addition, at the end of 2009 the company had 203.55 million shares outstanding, which was then reduced to 200.06 million by the end of 2010. But as of June 2011, outstanding stock jumped by 2.81 million shares for a total of 202.87 million shares – or almost back to square one -- and insiders are more than happy to unload their stock certificates as shown by the "Planned Sales" table below, according to moneycentral.msn.com. In addition, the bulk of the sales are dated around the $850 million stock buyback announcement.
| Latest Filing | Name | 12 Mo. Total Quantity | 12 Mo. Total |
| --- | --- | --- | --- |
| 08/30/11 | LAMACH MICHAEL W | 12,611 | $408,071 |
| 07/07/11 | BODEN CONSTANTIN R | 40,146 | $1 Mil |
| 05/31/11 | DAUTEN KENT P | 556,261 | $19 Mil |
| 05/25/11 | MCKEON BRIAN P | 332,550 | $11 Mil |
| 05/11/11 | BRENNAN ROBERT T | 495,988 | $16 Mil |
| 05/06/11 | BAILEY CLARKE HIGGINS | 16,416 | $523,893 |
| 03/07/11 | EBBIGHAUSEN HAROLD E | 10,325 | $263,900 |
Which brings us to the reason why I chose to write about this company in the first place. Today MarketWatch reported that Iron Mountain is offering debt to the public.
Iron Mountain Incorporated announced today a proposed public offering of $300 million in aggregate principal amount of Senior Subordinated Notes due 2019. The Company intends to use the net proceeds from the offering for general corporate purposes, including funding a portion of its shareholder payout commitments and possible future acquisitions and investments.
Funding shareholder payout commitments? The argument always is that rates are low and borrowing is justified. But on the flip side common stock doesn't carry interest expense and the company's credit rating is far from stellar, according to Moody's on May 31, 2011.
Moody's Investors Service changed Iron Mountain Incorporated's ratings outlook to negative from stable and lowered its liquidity rating to SGL-2 from SGL-1. Concurrently, a Baa3 rating was assigned to a proposed $1.35 billion senior secured credit facility. All other ratings were affirmed, including the Ba3 Corporate Family Rating ("CFR") and the B1 rating on the senior subordinated note issues.
We also know that the company has abandoned its foray into the digital document storage segment and sold its online backup-and-recovery, digital-archiving and eDiscovery solutions to Autonomy (OTC:AUTNF). And apart from an increasingly consolidated physical storage industry, I am not sure what investments are there on the horizon.
Keeping up with some companies and their "strategies" is without a doubt a full-time job.
Berkshire Hathaway (NYSE:BRK.A) closed out its position of 8 million shares during the third quarter of 2010, according to a 13-F regulatory filling in September of 2010, and maybe Warren Buffett started to question the logic behind the stock, although he sold out at the low point.
But as the fundamentals yell "Sell," the market as a group continues to say "Buy," and as I've said before, the market wins every time, irrational as it may be. Efficiency and markets don't mix.

Disclosure: I have no positions in any stocks mentioned, and no plans to initiate any positions within the next 72 hours.