Energy Partners Ltd. (NYSE:EPL) Quick Look
Here's a quick look at one of the last remaining Gulf of Mexico Shelf pure plays.

Focused Oily, Low Cost Operations: EPL's assets are concentrated in the shallow waters off Louisiana, largely East Bay, South Tim, West Delta, South Pass, Main Pass, all long time stacked pay, highly over infrastructured areas. A lot of these are large-cap and Major legacy assets with plenty of pay behind pipe, plenty of underfunded/neglected properties and numerous missed and by passed pay opportunities. In February the company closed on an acquisition of oily properties (the ASOP acquisition) along these same lines for $24.77 per proved BOE. But they should be able, if the track record is a guide, to reduce that figure by half over time. Operating costs are in line with peers and provide comfortable cash margins after recent substantial cuts to G&A and LOE expenses.
Their game plan is a true "acquire and exploit" model, focused on oily properties where they can quickly cut costs through efficiencies and boost production via low/no risk recompletions of up hole zones, followed by exploration. They hold a large 3D library over their leasehold covering 11,825 square miles, less than 10% reprocessed now, but already yielding both convention depth and deep Shelf targets. Ultra deep Shelf potential is there as well, but it's not the focus for now as they plan to stick to their game and wait to see how others (McMoRan (NYSE:MMR)/Exxaro (EXXI)/Stone Energy (NYSE:SGY)) fare in that more costly and technically challenging market. Look for more drilling in the deep shelf (14,000 to 20,000 feet) zones first which have been largely untouched on their acreage as early as late this year.
... And An Oily Production Ramp Underway: Production ramp in progress from low cost exploitation activities and eventually more exploration including deep shelf opportunities. More importantly, in recent years, production has been allowed to slip in aggregate as they focus on increasing oil volumes. When you strip away the gas a rapidly growing oily E&P emerges. See table above and graph below. Their oil prices are tied to HLS and LLS meaning they are getting close to $30 over WTI and a bit better than Brent prices at present.
Click to enlarge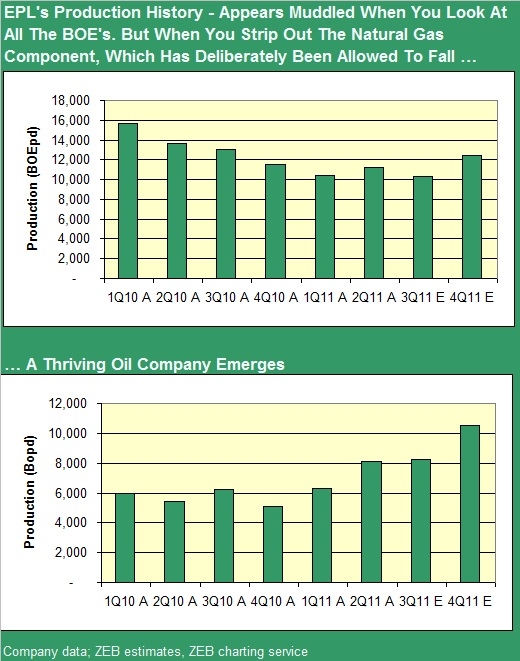 A Strong Balance Sheet: By the end of the quarter they should have $85 mm in cash on hand, and they should be able, at their current rates of spend, to grow cash by at least $10 mm per quarter in the near term with bigger adds to the balance sheet as their oil production increase (see below). At 20% net current debt to cap their debt service is more than easily managed by cash flow and they will continue to eat away at net debt on a per barrel basis as well.
Click to enlarge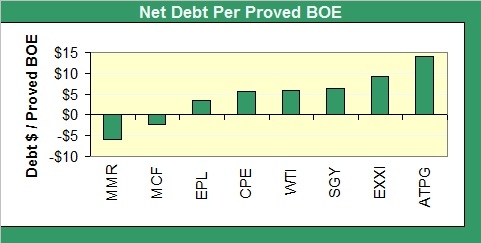 Given a drilling budget of $90 to $105 mm, an exploration budget of only $20 mm, and a plugging and abandonment budget of $24 mm they are well short of their self projected $210 to $250 mm EBITDA for the year. Note that they are getting their P&A work done ahead of schedule and in 18 to 36 months should be largely caught up at which time this piece of the budget should shrink dramatically. All of this easily allows room for $20 mm current buyback program.
A Good Value: Appears chaep on a flowing barrel of production basis at $59,400/BOE vs. most E&Ps, although this makes it only "middle of the road" relative to its depressed shelf peer group. Still, historically, this is quite a low number.
Click to enlarge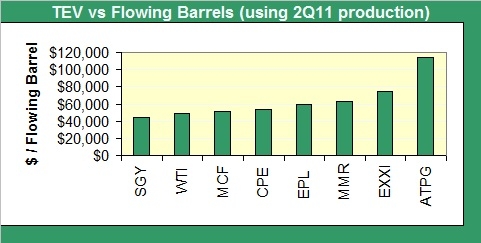 Also cheap on proved reserves at $18.72/BOE, and cheaper by a long shot if you add in their post acquisition probable reserve estimate of 12.2 mm BOE, taking them down to $13.93 / BOE on 2P reserves.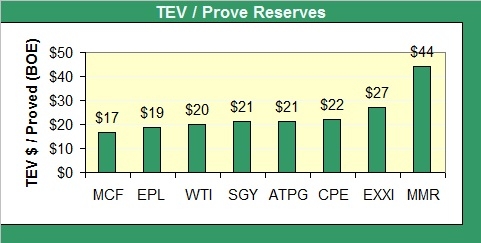 And lastly, cheap on forward CFPS at 2.1x 2011 and 2.6x 2012 estimates vs the E&P universe … middle of the pack to its offshore peers.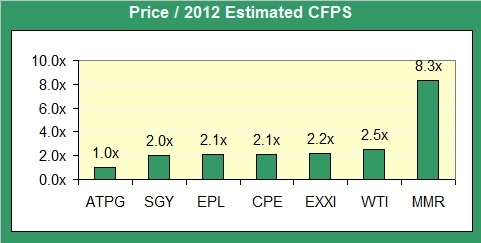 Catalysts
4Q expected oil ramp off exploitation activities on new acquired properties
4Q also should see the first deep shelf test in the East Bay Field
Early 2012 look for a number of oil target exploratory tests also on the new acquired properties
Longer term the ultra deep play may come into focus here as well
Nutshell: Essentially this is an oily, pure play Gulf of Mexico "acquire and exploit" low cost operator that is kicking off substantial amounts of free cash flow and yet is trading at a sharp discount to the E&P universe like the rest of its Gulf of Mexico peers. They've recently added a small share buyback to signal that "yeah, we know we are cheap and we think one of the best values out there is an investment in our stock," but so far that signal has not been really noticed by the market. But I think it's worth noting that they are very oily and rapidly getting oilier while at the same time getting close to a $30 premium to WTI (and a few dollars over Brent for that matter) and that the substantial underspend of cash flow this year will only continue into next year, meaning the buyback will actually happen even as the balance sheet continues to swell with cash. Perhaps the market, in its simple quest for production growth, is missing the shift in just how much oil is in those BOEs at EPL.
Disclosure: I am long EPL, MMR, EXXI.