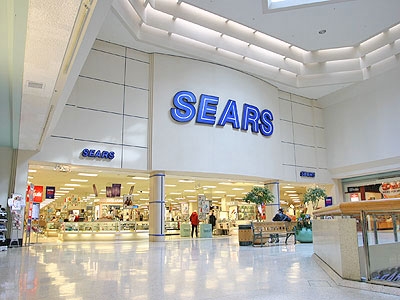 Finding Low-Risk, High-Reward Stock Sales
I've got a very low-risk -- and if it works out, very high-reward -- short-sell stock pick on Sears Holdings (SHLD) this week. I'm seeing major resistance on the SP 500 at 1,223.98 to 1,235.08 currently, and possibly moving up to 1,258.00. At these bear-market resistance price levels, I see the potential for a lot of new short positions coming into the market again for another leg down to lower lows or possibly holding at the 1,100 level in the SP 500 for another bounce back up.
We will just have to wait and see how it works out, but September historically has always been a negative month for returns in equity markets, so be careful going long. My best suggestion: Don't be afraid to sell-short this week or next.
Earnings Estimates Miss Big

Sears announced a second-quarter loss of $1.13 per share on August 18, which missed analysts' earnings estimates expectations by 76.56%. The Zacks consensus estimate for the current year slipped to a loss of $1.67 per share from $1.02 per share in the last 30 days, as next year's estimate dipped 30 cents per share to a loss of 54 cents per share in that time span.
Terrible US Economy and Company Balance Sheet
With the US economy the way it is, and Sears D+ balance sheet right now, I don't see any upside there, but rather all downside for the time being, especially if the broad market sells off, which I think is coming again very soon. The retailing business is always a difficult business model to be in, and with the compounded economic problems for the US consumer sector, the US retail industry is going to have a tough time making money for shareholders for the foreseeable future.
Attractive Sales Increases?
Existing Sears shareholders might have been holding out that its new Kardashian Kollection would increase some sales, but in these austacious days, not even sexy celebrity clothes seem to arouse profitable sales and new long stock positions.
Selling Kenmore Wherever It Can
Rumor is that Sears is seeking a chief marketing officer for its appliance line, whose responsibilities will include promoting appliance purchases through external groups such as Costco Wholesale (COST), which recently struck a deal to carry the Craftsman line. This possible action by Sears looks to me as an act of desperation to sell its finest brands anywhere it can get the sales, which could end up being a disaster for the company in the long run. As we all know, Kenmore is a high-quality Sears brand -- along with Craftsman tools and Diehard batteries -- but with the housing sector in a toilet that looks like it's going to get flushed again, appliance sales don't look to good for the time being.
Too Little, Too Late
If Sears can sell some of its assets, maybe it can it start to straighten out its balance sheet, but who's going to be interested in these types of retail assets in this market environment unless it's a full-blown fire sale? And at fire sale prices, are the proceeds going to be enough to help Sears' balance sheet?
Sell Short Sears Holdings
Sell Entry: 60.34
Stop-Loss: 63.22
Take-Profit Areas: 46.42 to 44.09; 36.00 to 34.24; 21.63 to 20.67
Company Profile
Sears Holdings Corporation operates as a retailer in the United States and Canada. The company's Kmart segment operates stores that sell merchandise under Jaclyn Smith and Joe Boxer labels, as well as Sears brand products, such as Kenmore, Craftsman, and DieHard. Its stores offer consumer electronics, seasonal merchandise, outdoor living, toys, lawn and garden equipment, food and consumables, and apparel. Kmart also sells its products through its Kmart.com website.
The company's Sears Domestic segment operates stores that offer home appliances, consumer electronics, tools, sporting goods, outdoor living, lawn and garden equipment, and certain automotive services and products, such as tires and batteries, home fashion products, as well as apparel, footwear, jewelry, and accessories. Its stores also sell health and beauty products, pantry goods, household products, and toys.
In addition, this segment provides clothing, accessories, footwear, and soft luggage; appliances and services to commercial customers in the single-family residential construction/remodel, property management, multi-family new construction, and government/military sectors; premium appliance and plumbing fixtures to architects, designers, and new construction or remodeling customers; and parts and repair services for home appliances, lawn and garden equipment, consumer electronics, floor care products, and heating and cooling systems, as well as provides home improvement services. The Sears Canada segment conducts retail operations in Canada, and offers apparel and other softlines.
As of January 29, 2011, the company operated approximately 1,307 Kmart stores, 894 full-line stores, 52 Sears Essentials/Grand stores, and 1,354 specialty stores in the United States; plus 122 full-line stores, 361 specialty stores, 20 floor covering stores, 1,822 catalog pick-up locations, and 108 travel offices in Canada. Sears Holdings Corporation was founded in 1899 and is based in Hoffman Estates, Illinois.
(Click chart to enlarge)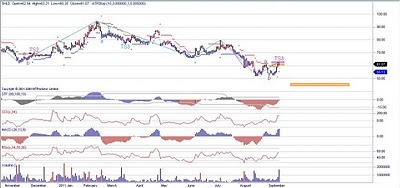 Disclosure: I have no positions in any stocks mentioned, but may initiate a short position in SHLD over the next 72 hours.