By Justin Dove
Last week, David Fessler wrote about the British Geological Survey's 2011 Risk List. He highlighted some of the bigger miners that are benefiting from shortages and monopolies in supply. Companies like BHP Billiton (NYSE: BHP), Vale (NYSE: VALE), Rio Tinto plc (NYSE: RIO) and even Molycorp (NYSE: MCP) certainly stand to capitalize on growing demand and shrinking supply.
But a couple of the metals near the top of the risk list may also offer some hints at smaller companies to watch – in particular, antimony and niobium.
Antimony, Antimony, Antimony
Say that three times fast…
Antimony is a little-known metal used in the manufacture of fire-retardant material. It's not extremely pricey or rare, but 90 percent of its production is controlled by China. As we've seen with many rare earth metals, China won't hesitate to restrict exports and manipulate a market. They've already done so regarding antimony twice between 1974 and 1998.
The USGS explained three of the spikes in the above graph.
1970 – High demand and short supply worldwide, resulting in a price spike.
1974 – High demand and short supply from China, resulting in a price spike.
1994-95 – Severe short supply from China, resulting in a price spike.
So just as companies spring up to combat Chinese monopolies in rare earths, expect mining companies to focus more on antimony going forward. Some antimony consumers may even choose to pay a premium for antimony from more stable sources just to avoid supply disruptions.
One small mining company already, and likely to continue, benefiting from this is U.S. Antimony (NYSEMKT:UAMY).
In June, a Forbes headline, Is Tiny United States Antimony the Next Molycorp?, poses an interesting question. After growing almost six-fold from March to July, the stock's ascension has since leveled off. Some of that may be due to the slumping market as a whole. Because it's clear the volatility hasn't really hampered U.S. Antimony as it has other stocks.
One red flag however, is an astronomical P/E ratio in the 300s. With a very small market cap around $150 million, it's not the safest investment. But the BGS listed the material the riskiest for a reason. One big disruption in supply and U.S. Antimony could be in for a windfall of business.
Get Your Hands Off My Niobium!
The sixth element on the 2011 risk list is Niobium. Niobium is a rare earth found in alloys and used in the manufacturing of touchscreens. Niobium demand has grown at a 10-percent annual clip over the past 10 years, and the forecast calls for the steady rise to continue.
While touchscreens are prevalent in developed nations, they still have a ton of market to acquire in emerging economies. Televisions and automobiles already incorporate touchscreens, and the trend will only keep expanding.
Production is densely concentrated, making it a risky metal like antimony. But instead of China, niobium mining is concentrated in Brazil.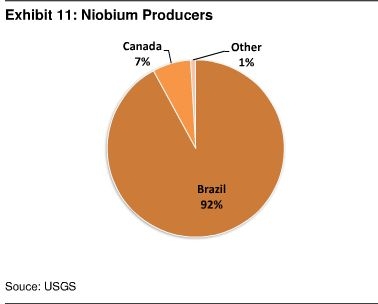 (Courtesy USGS)
Niobium is also dominated by three major mining companies, which produce 85 percent of the world's supply.
Companhia Brasileira de Metalurgia e Mineração is a state-owned Brazilian company that operates a U.S. subsidy in Pittsburgh called Reference Metals Company Inc.
Anglo American plc (OTCPK:AAUKY) is a large-cap British mining company that operates niobium mines in Brazil.
IAMGOLD Corp. (NYSE: IAG) is a Toronto-based mining corporation with a market cap of about $7 billion, and the third of the major niobium producers in Brazil.
The British Columbian Alternative
Although Brazil has been stable politically for some time and gained plenty of publicity as an emerging market, the possibility of mayhem still remains. Any time 85 percent of the world supply of something is concentrated in one area of the world, bad things can happen.
That's why British Columbia-based Taseko Mines Ltd. (AMEX: TGB) could be an interesting company to look into. Like U.S. Antimony, Taseko shares trade around $3.50. However, Taseko has a market cap of $683 million and its P/E of 24.04 is much more palatable. Taseko recently announced it believes that its Aley Niobium Project has 159 million metric tons of recoverable niobium.
Better yet, Taseko is in the initial stages of another project called New Prosperity. It's one of the largest undeveloped copper and gold mines in Canada. According to its feasibility study, Prosperity contains one billion metric tons of recoverable gold and 5.3 billion pounds of copper.
It Pays to Pay Attention
It's always a safer bet to go with the big mining companies. They're more powerful, profitable and can handle severe disruptions in commodity prices. However, they all started somewhere. While smaller mining companies can prove risky, situations such as supply shortages and disturbances can make smaller companies more relevant.
Pay attention to the markets for these risky materials, as there could be some solid opportunities ahead, such as the companies listed above.
Disclosure: Investment U expressly forbids its writers from having a financial interest in any security they recommend to our subscribers. All employees and agents of Investment U (and affiliated companies) must wait 24 hours after an initial trade recommendation is published on online - or 72 hours after a direct mail publication is sent - before acting on that recommendation.