On Tuesday, September 20, a JP Morgan analyst slashed his price target on rare earth producer Molycorp (NYSE:MCP) from $105 to $66. This reduction in upside from 100% to 25% helped plunge MCP to a one-day 22% loss. Only the 2011 lows stopped the stock from dropping any further.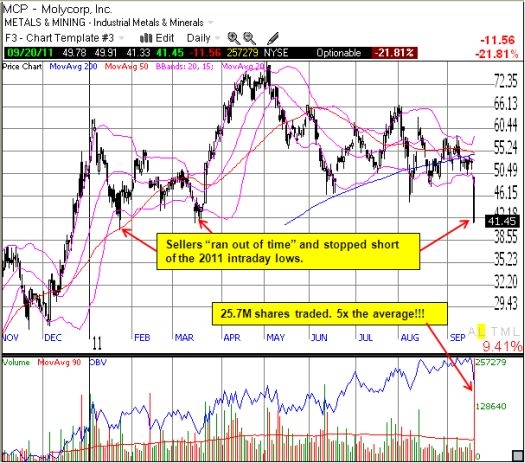 click to enlarge
Massive selling takes MCP back down to 2011 intraday lows
*Chart created using TeleChart
The upshot to this calamity is that instead of a 25% upside potential, now MCP offers intrepid investors an even more attractive 61% gain according to JPM's own analysis. After hours, Morgan Stanley also realized the opportunity and recommended buying MCP here with the following rationale:
The stock is pricing REOs at ~$28 per kg (vs. $111 spot) and no credit for downstream. A key concern is cerium and lanthanum prices, which are down ~50% to $80 per kg each. An unsubstantiated report in Metal Pages suggested cerium and lanthanum may be exempted from the next export quotas, increasing supply, given rising customer concerns…Prices are expected to stabilize in the fourth quarter as China continues to come down hard on illegal mining.
The palpable cause for the panicked scramble for the exits is fear that rare earth prices have only increased because of stockpiling and speculation in China. The JP Morgan analyst also explained that IMCOA, the Industrial Minerals Company of Australia, dropped its forecast of 2011 ex-China demand for rare earths from 60,000 to 40,000 tonnes.
I suspect that JP Morgan's analyst is also reacting to a NY Times article from September 16th titled "China Consolidates Grip on Rare Earths." It is a fascinating story about how the Chinese government is methodically taking control over its rare earth industry and consolidating market power on the supply side. Buried at the very bottom of the article is an almost innocuous reference to stockpiling of rare earths in China. At the time I read it, I was a bit alarmed by how the market would interpret such claims, but I was not quite prepared for a 22% one-day drop in MCP!
"Hedge funds and other speculators have been buying and hoarding rare earths this year, with prices rising particularly quickly through early August, and dipping since then as some have sold their inventories to take profits", said Constantine Karayannopoulos, the chief executive of Neo Material Technologies, a Canadian company that is one of the largest processors in China of raw rare earths.

"The real hot money got into the industry building neodymium and europium inventories in Shanghai warehouses," he said.
These market dynamics in China make Molycorp CEO Mark Smith's large purchase of stock at $59/share last month seem even more strange. Was he not aware of the speculation, and the market's likely eventual reaction? Apparently, he was aware, but he clearly thinks it is a short-term phenomenon. In an interview with CNBC's Fast Money in the wake of MCP sell-off, Smith informed the audience that this inventory hit the market in August and has already made its way through the system. Prices dropped during this process but have now stabilized and are beginning to increase again.
Moreover, Smith has sated several times in the past that he expects China to become a net importer of rare earths by 2015. As a friend of mine put it, if the U.S. is not doing its own stockpiling of rare earths into a strategic reserve by then, Molycorp will certainly sell its product to China who would presumably be the highest bidder on the global market. Smith has a chance to make this case Wednesday morning when he testifies before the House Subcommittee on Asia and the Pacific at a hearing titled "China's Monopoly on Rare Earths: Implications for U.S. Foreign and Security Policy."
Here are the rest of my notes from Smith's interview on CNBC (all paraphrased from Mark Smith's commentary and responses):
We were made aware of speculative buying in Shanghai earlier this year, and it may have caused prices to rise. Some release of the materials in August has caused prices to drop. The supply and demand fundamentals of REEs have not changed. Remain bullish on prices of these materials. Experiencing highest margins in company's history.

We get this information from discussions that we have had with Chinese government leaders and experts at a conference last week. There is reason to believe that most of impact of speculative prices already in the system since prices are already recovering and increasing. Market will get back to supply and demand fundamentals.

We do not have plans to issue additional equity in the market because we are fully funded for Phase 1 and Phase 2 with project Phoenix.

What we're trying to do about volatility in the stock is performing what we say we're going to do. We are on time and on budget. Selling materials very readily into the market. Meeting and exceeding earnings estimates for 2nd quarter and looking at a good 3rd quarter. I sincerely hope that performance will out-rank news flow which has been the biggest source of volatility for the stock.

Very [likely] that the U.S. will have a strategic reserve for rare earths. We are in discussions literally weekly just surrounding issues on that particular program.
Disclosure: I am long MCP.
Additional disclosure: I am also long MCP puts and calls.