First, let's make no mistake about it: Andy Zaky is not only the authority on Apple (AAPL) at Seeking Alpha, but also across the financial media. Here's part of what he had to say on August 26th in "Apple: Sitting At The Precipice Of A Massive Move Higher":
At the current moment, an enormous symmetrical triangle is forming on Apple's 60-minute chart. This indicates an immediate move up to the $430 level on a short-term basis on a breakout. I believe Apple could trade above $430 just before or after its fiscal Q4 earnings which are due out near the end of October.
And going forward:
If we breakout to the upside, we're going to see $450 before year's end. There's no question about that. Yet, if we see a breakdown, it probably means the market has failed, and we're in some sort of an extended bear market. In fact, I believe if we see a breakdown, investors can expect to see Apple re-test $310 and we might even see a short-lived sub-$300 print putting Apple below a 10 P/E ratio and freaking out investors.

Notice, that this is a major "if" because I don't believe we're going to see a breakdown. In fact, I'm putting my weight behind a breakout. The reason for this is simple. I think the market is about to turn around and I think September will end up being a massive month for technology stocks.
Wow. Even though the jury remains out on a little bit of what Zaky had to say, it does not get much more spot on than that.
The question then is how to play it. Of course, you could always go long the stock directly through a purchase of shares. However, AAPL recently tagged at new 52-week high -- $422.86 -- and it closed Tuesday's session at $413.45. This could make some investors weary. While I do not see any reason to be concerned -- I think AAPL trades for $500 in 2012 -- it does make sense to explore different ways to play the stock.
If you have forty-some-odd-thousand dollars burning a hole in your pocket, you could just snag 100 shares of AAPL at the open. If, however, you expect a pullback between now and options expiration day in October, you could sell an AAPL put, collect some beefy premium income and go long the stock, assuming it does indeed pull back.
For instance, as of Tuesday's close, the AAPL October $400 put would generate roughly $9.90 (that's $990 income, not factoring in commission charges). If AAPL closes below $400 come options expiration day, you'll likely ending up owning 100 shares at $400 apiece. Because of the income you received for selling the put you would effectively pay $390.10 per share. And because you have the cash sitting in your account, you do not have to use margin to secure the trade.
In case you had not noticed, the AAPL January 2014 options have hit the market. If you believe that AAPL will continue to dominate for the foreseeable future, playing these LEAPS beats the heck out of buying the stock, at least from a capital outlay standpoint.
Check out the premiums, as of Tuesday's close, courtesy of Schwab's StreetSmart Edge (click to enlarge image):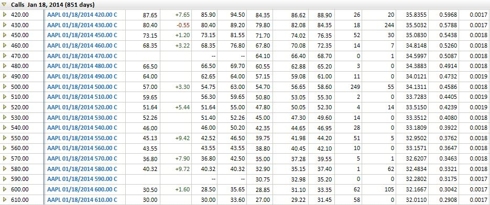 Obviously, you risk much less money if you're an ardent AAPL bull buying out-of-the-money LEAPS than you do buying the stock outright. And, just like with a stock trade, you can close the call position if the trade turns against you or your view of the company changes going forward.