Morningstar published a report last week highlighting 13 possible buyout targets, including current portfolio holding, American Eagle Outfitters (NYSE:AEO). Well-run retailers often feature in buyout rumors since many of them have consistent cash flows and healthy balance sheets which can be financially engineered to deliver returns to private equity firms. Following on the Morningstar report, I reviewed nine retail stocks for possible opportunities, even if a buyout never occurs.

Prices as of 9/18/2011
Click to enlarge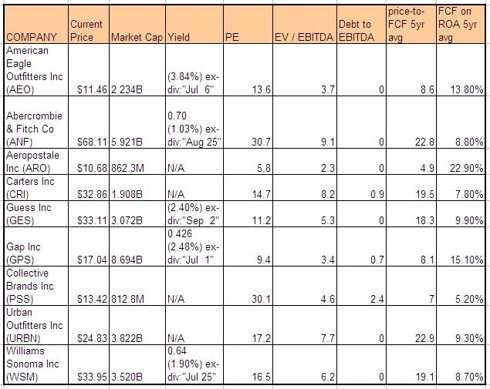 Click to enlarge

View the full table, including my fair value estimate, in spreadsheet format here.

Because I am looking for cheap stocks and not trying to predict industry winners / losers, I have assumed zero growth for all 9 companies -- plainly undervalued stocks will reveal themselves even at 0% growth assumptions. If we should find cheap stocks with growth to boot, all the better. These stocks share the characteristics mentioned above: copious free cash flows (FCF) and stellar balance sheets, with over half the list carrying no debt. Let's break down the list:

Cheap, Cheap, Cheap: AEO, ARO, GPS, PSS

American Eagle Outfitters, Inc. (AEO) sells apparel and accessories via more than 1,000 retail stores in the United States, Canada, and online at ae.com. Selling at less than 4x EV/EBITDA and below 9x price-to-average-free-cash-flow (last 5 years), AEO looks dirt cheap. Throw in over $2 cash per share and a dividend yield near 4%, AEO shares look enticing even if a buyout fails to materialize. Shares have moved lower with same-store sales remaining sluggish, but not dropping off a cliff.
American Eagle built its brand on value-conscious fashion, but competitors like Forever 21 offer trendier clothes at good prices while higher-end peers like Abercrombie & Fitch (NYSE:ANF) are discounting their wares, so AEO is getting squeezed by both ends of its market. Margins have come under pressure due to this as well as increased commodity costs. Nevertheless, AEO has averaged $252M FCF annually since 2006, which equates to intrinsic value of $17 per share. Even if TTM FCF of $159M becomes a baseline FCF run rate, AEO would be worth roughly $11 per share before $2 net cash on the balance sheet, so it looks like we have a good margin of safety here. I opened a position in mid-August, selling AEO $10 naked puts expiring Nov 2011 at $0.70 per contract, a 6% premium to the trading price at the time. Note: if I am exercised on the options, my actual cost basis will be $9.30 per share.

Aeropostale, Inc. (NYSE:ARO) is a mall-based, specialty retailer of casual apparel and accessories. Its flagship Aeropostale stores target 14 to 17 year-old young women and men and its P.S. from Aeropostale stores are aimed at the 7 to 12 year-old market. At first glance, ARO looks even cheaper than AEO, with shares trading at 2.3x EV/EBITDA and below 5x price-to-average-FCF (5yrs). Aeropostale also has no debt and averaged an unbelievable 23% FCF return on assets since 2006. These metrics are so ridiculously cheap as to suggest that the market envisions a marked deterioration for ARO going forward, which is certainly borne out in the Q2 earnings report. Aeropostale reported 14% decline in same-store sales and 1300 basis points lost on gross margin, figures almost as unbelievable as its cheap financial metrics. Given consumers' fickle taste in a cutthroat fashion industry, investors cannot be assured of a turnaround here but with a market cap below $1B and ~$1 cash per share on the balance sheet, ARO could make a tasty morsel for some private equity firm.

The Gap, Inc. (NYSE:GPS) offers apparel, accessories, and personal care products for men, women, children, and babies under the Gap, Old Navy, Banana Republic, Piperlime, and Athleta brands. GPS currently trades at 3.4x EV/EBITDA and 8x price-to-avg-FCF (5yrs). With a market cap of $8.7B, it is the largest company on this list and may be too large for a private equity firm to swallow, considering tight credit markets and the premium needed to close the deal as insider ownership is high at 35%. Some analysts have expressed concern that GPS is too large and perhaps too oblivious on fashion trends to drive growth anymore. Still, with annual FCF return on assets averaging 15% since 2006, The Gap looks like a cash cow. $1 net cash per share and a 2.5% dividend yield warrants more than a second look for investors. I would seriously consider GPS around $15 per share.

Collective Brands, Inc. (NYSE:PSS) is a producer of compelling lifestyle, fashion and performance brands for footwear and related accessories to consumers worldwide. Most consumers probably know it best via its Payless Shoe Source brand. At less than 5x EV/EBITDA and 7x price-to-average-FCF (5yrs), PSS looks to be trading fairly cheaply. But some caution is warranted here-- PSS is the only stock to carry a substantive debt load at 2.4x debt-to-EBITDA; none of the other companies sport a ratio over 1. Collective Brands' FCF figures were also the weakest among the nine stocks as the company generated 5% FCF return on assets while the others returned near ~8% or above. Perhaps most disturbingly, PSS currently registers 37% short interest which suggests heavy bets against the company, so investors would do well to investigate the stock thoroughly before taking the other side.

Fairly Priced: GES, WSM

Guess?, Inc. (NYSE:GES) designs, markets, distributes and licenses apparel and accessories for men, women and children. Of the nine companies, Guess? is the only one who generates a sizable portion of profits from licensing its brand. The company fits the buyout profile with no debt and cash holdings equaling 14% of its market cap, but with 32% insider ownership, any acquisition would require buy-in from insiders. Currently trading at 5.3x EV/EBITDA but 18x price-to-avg-FCF (5yrs), shares are probably fairly valued.

Williams-Sonoma, Inc. (NYSE:WSM) sells products for the home via brands like Williams-Sonoma and Pottery Barn. The housing crash has somewhat deflated previously robust margins for Williams-Sonoma but the company has handled the downturn quite capably, still generating loads of free cash flow in the last 5 years. At 6x EV/EBITDA and 19x price-to-avg-FCF (5yrs) though, WSM isn't necessarily bargain-priced.

Overvalued: ANF, CRI, URBN

Abercrombie & Fitch Co. (ANF) is a specialty retailer that operates stores and direct-to-consumer operations selling casual sportswear apparel, targeting a young adult demographic. It is considered best-in-class among the teen apparel operators, generating growth even as competitors like American Eagle and Aeropostale report sales declines in a difficult environment. As such, its shares are priced at a premium, trading over 9x EV/EBITD, the highest of all the stocks in this report. Like most of the others, it sports virtually no debt and carries over $5 net cash per share but based on its demonstrable free cash flow, shares are priced too rich at this time.

Carter's, Inc. (NYSE:CRI) is a branded marketer of apparel for babies and young children in the United States via two brand names, Carter's and OshKosh. Carter's has been the subject of buyout rumors since rival Gymboree was taken private by Bain Capital last year. The buyout possibility looks already baked into CRI's stock price which, at 8.2x EV/EBITDA, is trading above the 7.7x Bain paid to acquire Gymboree. The company currently pays no dividend and is overpriced based on an analysis of its cash flows. While not overly alarming, an 11% short interest suggests some caution is warranted.

Urban Outfitters, Inc. (NASDAQ:URBN) is a lifestyle specialty retail company that operates under the Urban Outfitters, Anthropologie, Free People, Terrain, Leifsdottir and BHLDN brands. Along with Abercrombie & Fitch, Urban Outfitters probably has the most cachet with young consumers and the market may be valuing these stocks accordingly, with URBN trading at 7.7x EV/EBITDA and 23x price-to-avg-FCF (5yrs). Based on free cash flow analysis, I find URBN too richly valued. It was also the only company on this list to register negative free cash flow during a given 12-month period. Currently, URBN shows a 12% short interest.

Keep in mind, I assumed zero growth for all stocks on this list for the sake of identifying cheap stocks. It was not a prediction of these companies' prospects, but rather a convenience that allowed me to forsake predicting growth rates for these companies-- a tenuous task even for professional retail analysts. My goal was to identify cheap stocks based on historic performance and reasonable signs that such performance can continue. So while ANF, CRI and URBN may indeed grow into their valuations, it is hard to justify current prices from a value investing perspective or foresee a buy-out firm coughing up even bigger premiums than the ones already priced in.

Disclosure: I have no positions in any stocks mentioned, but may initiate a long position in GPS over the next 72 hours.

Additional disclosure: I am short AEO $10 Nov 2011 naked puts.