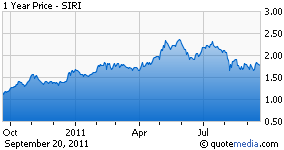 As we approach the start of the fourth quarter, investors in SiriusXM (NASDAQ:SIRI) will be anxiously anticipating additional information including the results of Q3, more complete guidance for 2012 and more insight into the use of the growing cash balance. At the Bank of America Merrill Lynch investor conference on September 14th Mel Karmazin, SiriusXM CEO, issued 2012 revenue guidance of $3.3 billion, EBITDA of $860 million, Free Cash Flow guidance of $700 million and announced that the base subscription rate was increasing $1.54/ month from $12.95 to $14.49.
In a prior article I noted the 2012 revenue guidance was extremely conservative and expected that it was likely that it would be exceeded. Today I would like to take a closer look at the price increase that will help drive the revenue growth. The price increase is less than I expected, it seems to be inconsistent with some previous statements by Sirius management and it's an unusual amount.
I was expecting an amount of about $2 per month (perhaps $2.04) so that the monthly rate stays below $15 month. Not only would that have some psychological benefit on a monthly basis, but it would also keep the quarterly billing rate, including the $1.40 per month Music Recovery Fee (MRF), below $50 and the total annual rate below $200. Fifty cents a month may not seem like a big difference, but if it is being paid by 17 million self-pay subs, this is as much as $100 million per year of lost revenue.
During the Q&A session of the earnings conference call that took place at the end of the first quarter there was the following exchange between Karmazin and Barton Crockett of Lazard Capital Markets LLC about the anticipated price increase:
Crockett - ... Your statement that you believe that if you -- the government price restraints come off, that you will be raising rates. Can you give us a sense of the magnitude that's in your mind? Is it -- do you think it's right to think about this as kind of an inflationary low single-digit type of thing or is there an opportunity to do more because consumers love the service so much, and you've gone so long without really raising the basic kind of price? ...

Karmazin - Okay, so we obviously have not made a final determination on exactly what or when our price increase will kick in, but you should assume that it will not be something that looks like inflation, but it would be something that would be compensating the company for its investment in content. Mentioned that we have not raised our prices. We added a lot of premium content to our service. It was very expensive. We haven't adjusted it. We were financing it by keeping the price the same. So though we certainly are sensitive to the economic conditions around, but you shouldn't think about inflation. You should think about a number more than that.
So, what inflation rate should we have been looking at? The three year period from the merger to the expiration of the prize freeze? The 40 month period from the merger through the end of 2011? (Actually I can't forecast the end of 2011 without creating controversy, so this one will be ignored) At the Bank of America Merrill Lynch investor conference Karmazin noted that Sirius began service at $12.95 in 2002. What about the period from the end of 2002 to August of 2011? I chose to go to the U.S. Department of Labor, Bureau of Labor Statistics and look at the Consumer Price Index for All Urban Consumers to take a closer look. Here are the relevant figures:
December 2002 Index = 180.9
August 2008 Index = 219.1
August 2011 Index = 226.5
The inflation from the end of 2002 through the end of August of 2011 was just over 25%. The increase from August 2008 to August 2011 was only 3.4%. The increase of just under 12% that Karmazin chose was near the middle of the two inflation rates.. Was Karmazin referring to the three year period since the merger? Was he prepared to raise prices by 25% last May? Had the economic environment deteriorated to such an extent since the spring that he chose to back away from that "more than the rate of inflation position?" Karmazin did state that he was sensitive to the "economic conditions" and it's possible that he just changed his mind.
The Sirius pricing announcement took place not long after Netflix (NASDAQ:NFLX) announced price increases of as much as 60%. Perhaps Sirius management became concerned after observing what happened with Netflix, noting both the negative press coverage and customer reactions. Did they take a cue from the Netflix pricing debacle and choose to take a more customer friendly approach?
Perhaps. Or perhaps there will also be an increase in the MRF. During the first quarter conference call referenced earlier, David Frear noted: "Well, if the price of the service changes, it's likely that the Music Recovery fee will change as well." Will they raise the MRF from $1.40 back to the prior level of $1.98? What will Sirius do with the other price points?
There certainly are a lot of questions that will be answered in the next few months. I will be looking to see what type of subscriber growth will be projected. I will be looking for more information on 2.0 and the used car, Internet and smart phone initiatives. And, I will be looking for information about the family plan, Internet and a la carte pricing.
Karmazin re-iterated his frequent statements about the service being the best value on radio and that the cost was less than fifty cents a day. He also seemed to like being able to say that the increase was only a nickel a day. Maybe it's really that simple and the "it's only a nickel a day" phrase will be part of any script that the customer service center will use when subscribers call up to complain about a price increase. It's not much of a marketing campaign, but I guess this company has to start somewhere.
$1.54 per month isn't my idea of an increase that's more than inflation and it might be the right move in this economic climate. But this investor is Siriusly disappointed.
Disclosure: I am long SIRI, BAC. I have $3 January 2012 covered calls against most of my Sirius position. I may initiate (or close) a buy stock/sell option position discussed in another recent article at any time. I have no position in Netflix.