How do you destroy a well-established brand name that dominates the hearts and minds, and ordering patterns of movie renters? Well, one way is to ignore all the fantastic accomplishments that have forged an admirable image over only a decade's time, and completely change your name haphazardly. I first wrote about Netflix (NASDAQ:NFLX) in January, and recommended the shares here on Seeking Alpha, but as you'll find in this report, I also warned of risk tied to the management team and roughly called a valuation top that nearly matched an important peak in the stock's chart.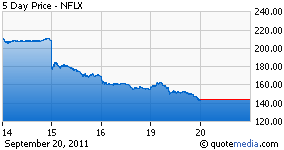 It appears Netflix is guilty of over-thinking it, after determining to split its novel streaming business from its novel and iconic mail-in DVD rental operations. Now the brand everybody knows for DVD by-mail, Netflix, will only apply to the company's second visionary endeavor into online streaming. Once loyal customers seeking DVDs by mail will now have to retrain their minds to a different brand, and a hard one to swallow at that – Qwikster. The company's reasoning for this is to facilitate advertising. However, the main result is that what was once simple has all of a sudden gotten complicated. Thus, almost as quickly as the idea was developed, blogged about and filmed for YouTube distribution across the universe, it was rejected by an overwhelming number of dejected critics and customers, who were still spoiling over a recent price hike.
Netflix's founder and visionary, Reed Hastings, may be suffering from river blindness, a disease that causes blindness due to infection by a parasite. The successful man who found an easier way for people to rent films, and turned Blockbuster upside down in the process, has a fear of following the path of his predecessor. With online film streaming apparently the way of the future, Reed is understandably concerned by the risk of being surpassed by other technology giants. The list of parasitic rivals includes the likes of the dangerously important DISH Network's acquired Blockbuster brand (Nasdaq: DISH), Amazon.com (Nasdaq: AMZN), Apple (Nasdaq: AAPL), Wal-Mart (NYSE: WMT), Google (Nasdaq: GOOG), Comcast (Nasdaq: CMSCA), Time Warner Cable (NYSE: TWC), Yahoo (Nasdaq: YHOO), AOL (NYSE: AOL) and every major movie and media house in the business. There may not be enough repellant to keep Netflix free of such danger, and so Reed is determined to keep the pace of progress up so that the bugs don't bite.
The result seems to be a stumble due to the company's frenetic pace. Once loyal customers of the DVD rental operations will now find a new unknown brand to supplant the national icon they helped to the top. In my view, the company is taking a reliable friend of the deal seeker, the "Netflix" name, and replacing it with something that will more easily bleed market share to rivals like Redbox. It's a branding blunder, period, if you ask me.
I reviewed many of the comments below recent articles and under the YouTube video posted by the company, which mostly reflected distaste among the customers of Netflix. There was one particular point made that echoed in my own heart, that this divisional break between the businesses did not have to include such a significant name change for one of them. It would have been digestible had the company just maintained the Netflix name and logo, and added a couple words behind it reflecting the nature of the divisions. For example, Netflix Streaming or Netflix Online would have worked fine for the streaming business, and Netflix By-Mail or Netflix DVD, would have worked wonders for the transition. In fact, Netflix had the potential to dominate movie rentals so that its name could have followed the likes of Xerox with copy making in the American lexicon. Similarly to how people once said, "I have to make a Xerox," they might have said, "I Netflixed that film last week." It still may happen, but it is less likely now that the brand has been so diluted, in my view.
The argument Mr. Hastings made with regard to the name change, which was that it would make it easier to advertise, is wrong in my view. It makes it harder to sell! Though I'm sure the advertising copy will read something like, "Qwikster, by Netflix," it's just unnecessary and confusing. Many a Netflix subscriber, and shareholder, valued the simplicity of the business model. Suddenly, in its place are two websites, which will not be integrated, so that customers who use both streaming and DVDs will need to log in twice. The reviews of film followers, something many find enriching, may be left at just one of the sites. Subscribers to both services will find two charges now on their credit card statements, and it's unclear if this will impact the company's expenses by creating duplication of effort.
I feel like the management team has simplified its operations for its own control, helping it to see and operate its businesses more effectively. However, in the process, I believe management has complicated the offerings and hurt its growth, market presence and brand value. I believe one did not have to impact the other.
This move follows the July pricing changes (pdf), through which subscribers to both streaming and DVD found significantly higher charges this September. Because of the pricing change and recently reported bleeding of subscribers (pdf), Netflix announced changes to its guidance in mid-September. While the company believes its financials will be unchanged, it sees its third quarter subscriber count down from previous views. The revisions took expectations for streaming subscribers to 21.8 million, from 22.0 million seen in July; and forecasts for DVD subscribers fell to 14.2 million from 15 million. These estimates include overlap and subscriptions to both DVD and streaming, and so is a double-counting. Due to the company's price hike, so that subscribers to both will now pay twice what they were paying previously, either customers will drop service or will choose between the two. I suppose some who may be price insensitive may keep both services, but it would seem likely to be a small number of people who would fit into that group these days.
Just like subscribers, investors are none too happy with the company's curious maneuvering. That much seems clear, considering that the stock is down 56% from its July 13 close of $298.73 to its September 29 close of $130. When I recommended NFLX shares for aggressive portfolios on Seeking Alpha in late January of this year, well before it reached its peak (it rose 42% from there to peak), I warned that the company's unseasoned management might someday prove problematic. Here's what I said specifically, "Still, I would say that the trouble with the forecasting we saw this quarter, which resulted in a wildly positive surprise and stock surge, might someday lead to a bad miss or reflect a poor decision."
I basically laid out the risk you are now seeing unfold in your portfolio. Because I do not follow this company on a daily basis as an analyst, and as I once might have as a successful stock-picker on Wall Street - following Emerging Growth stocks, I'm only writing on it for the first time since then. That said, I would likely have recommended exit from the shares somewhere between $246 and July's price hike, based on my metrics seen in the article above. By the way, my implied price target about perfectly matched the stock's closing price on February 14, not even a month after the article was published. And that day marked a significant peak on the stock's chart that stands well above today's price.

Disclosure: I have no positions in any stocks mentioned, and no plans to initiate any positions within the next 72 hours.