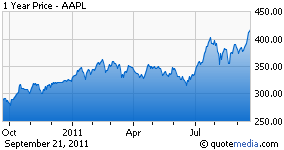 Seven years ago, the iPod was all the rage. Then Apple's (AAPL) iPhone took the world by storm, and last year the Cupertino-based technology giant unleashed the iPad, a device still in its infancy that analysts estimate could become a $100 billion dollar business for Apple. Apple is unquestionably the reigning heavyweight champion when it comes to mobile computing hardware, and no challenger has come away unbloodied. Just ask Research in Motion (RIMM) or Nokia (NOK). Compared to the deluge of cash generated by Apple's hardware products, its software and service sales seem like just a drop in the bucket, but investors should expect this part of its business to grow bigger in the coming days. Much, much bigger.
Analysts and pundits have been so mesmerized by Apple's heartstopping hardware revenue figures that few realize the potential lying dormant in Apple's software business. Therein lies the company's hidden possibilities, which differentiate it from fellow hardware specialists like Intel (INTC). Apple understands that software engineers and consumers naturally gravitate towards the most popular, robust, and accessible platform. Control the hardware, and you control the software. Apple's margins for the iPhone may seem impressive, but they don't hold a candle to the near 100% margins the company earns from the cut it charges third party developers for App Store sales. Investors look at Apple's products and forecast the company's future growth based on the available (and relatively small) market for consumer electronics, but underneath it is a staggeringly large software market, one with a vast sea of potential that's barely been tapped.
The reason the majority of this potential is still unrealized is because Apple's products, while cutting edge, are all still in the early stages of their technological lifecycle. In their current state, the lion's share of the software consumers are willing to pay for simply cannot run on them. But this won't be true forever. Remember when Bill Gates said that no one will ever need more than 637 kb of memory for a personal computer? Whenever technology becomes more advanced, two trends occur simultaneously. The first is that devices become smaller. This trend we know, because Apple rode it to become the largest company in the world. The second is that the utility provided by different dedicated devices slowly consolidates into fewer and fewer multifunctional devices, until eventually you have one master device that does everything. We're just seeing the first waves of this second, less obvious trend, but the waves that follow are the ones that are going to magnify Apple's software business by a factor of ten, if not more.
The iPhone and iPad are fantastically useful gadgets that are becoming more and more central to our everyday lives, and they're taking that spot in the center by subtly pushing out all the other devices that used to be staples. Watches are now worn for fashion rather than function. Pocket secretaries are antiques. MP3 players still have a pulse, but they're bleeding to death slowly, but surely. Even the unstoppable Apple is watching the sales of its own iPod be cannibalized year after year by the runaway success of its iPhone.
Still, the core functionalities of Apple's gizmos are already integrated on shipment, and the software products sold in the App Store are just cherries on top that most people can live without. I own an iPad, but I can count the number of apps I've downloaded on one hand, and I don't even need a single finger to count the number of apps I've paid for. Apple has made over $1 billion from App Store sales since its inception, so there are obviously many people willing to shell out cash to juice up their devices. However, these apps comprise only a miniscule percentage of the total paid software market. The bulk of the money to be made in software remains in traditional applications that still require dedicated devices to run them.
These applications are larger, more powerful, and much more functional than the bite-sized baby apps in the App Store, the howitzers to their .22s - the big guns that consumers are willing to spend big bucks on. However, the constraints of today's mobile technology make it either inconvenient or outright impossible to run them on a slimmed-down device like the iPad. One example is business productivity software. This business alone accounts for more than half of Microsoft's (MSFT) annual operating income. Microsoft holds a virtual monopoly in that space, and even Google's (GOOG) Google Docs has failed to make a dent in its market share. If Apple wins a slice of the market even a tenth as big as its Redmond-based rival's, it would already make more money than all of its other apps combined.
The software already exists (Apple offers its own iWork suite), but the constraints of the hardware, specifically the input mechanism, make it too unwieldy to use these products for their intended purpose on mobile devices. The iPad, which can only be navigated via multi-touch, is a great platform for content consumption, but a poor one for content creation. Therefore, Microsoft's enterprise business remains comfortably uncontested from its perch on top of the hill. But Microsoft investors need to watch out - in the fast moving world of computer technology, limitations today become breakthroughs tomorrow. Mobile devices may be restrained by their technology right now, but that won't hold true for long. The iPad's touchscreen controls will become faster, more sensitive, more efficient. It will be augmented by new input mechanisms like voice. As the technology improves, the constraints that are impeding Apple's venture into enterprise software will fall away one by one, until one day that multibillion dollar market, long the exclusive domain of keyboard devices, suddenly goes up for grabs.
Another salient example of how technological evolution in hardware can accelerate Apple's sales in software can be found in the gaming industry. Traditional packaged game publishers like Activision-Blizzard (ATVI) are increasingly shifting their delivery models from physical to digital, and from there it's only a matter of time before they go mobile. When they do, Apple will be there to take a cut of the profits. To illustrate what a massive opportunity this represents for Apple, think about this: one of the most popular games for Apple's mobile devices is Rovio's Angry Birds. A year after its release, it pulled in 10 million paid downloads. At roughly $0.99 in revenue per download, that's $10 million in total sales for the first year. In contrast, Activision-Blizzard's Call of Duty: Black Ops raked in $650 million within the first five days. Comparing a blockbuster megahit like Call of Duty to Angry Birds is silly right now, because the current generation of mobile devices simply don't have the horsepower to run system-demanding games like Call of Duty. After all, the iPad is no XBox 360. But then again, it used to be silly to compare a cellular phone to a dedicated handheld gaming device like the Nintendo DS. Ask Nintendo (OTCPK:NTDOY) if they're still laughing.
Companies like Oracle (ORCL), IBM (IBM), and SAP (SAP) generate tens of billions of dollars in revenue from software sales every year. As mobile devices become more technologically sophisticated, the big money makers in software will inevitably begin to migrate to them. When the exodus begins in force, Apple stands to profit handsomely from its position as toll collector. Its business model is the inverse of Microsoft's by nature. Microsoft creates software and charges hardware manufacturers to use it. Apple creates hardware and charges software engineers to use it. Apple is already a $300 billion company, but we've only seen the first stage of its business strategy: dominating the hardware front. It's made only small inroads into the second stage, controlling the software market, but here lies a veritable gold mine.
That mine can't be tapped until mobile technology evolves beyond its current state, but the thing you can trust about technology is that it will always march forward. The beauty of this strategy is that Apple doesn't have to do a thing beyond what it's already doing now: focusing on creating the sleekest hardware on the market. When the time comes, its developers will do all the heavy lifting on the software side...Apple just has to sit back and wait for the checks to roll in.