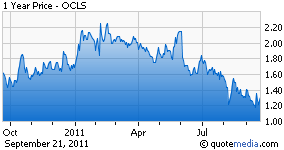 Every once in a while, we find ourselves in the middle of a perfect storm, at least in terms of investment opportunity. That opportunity exists right now with a commercialized healthcare company called Oculus Innovative Sciences (OCLS). This company owns the patent portfolio to a line of products that could redefine the global standards of care in wound treatment, surgical, dermatology, animal healthcare and much more. Wound care is expected to reach over $20 billion a year by 2016.
Oculus has created an innovative and successful business model and is expecting a growth rate of 40% to 80% in 2012. It already has 7 FDA device clearances and is expecting a number more. But here's the best news: Wall Street is not aware of this company yet, and the share price is tremendously undervalued.
Oculus has developed a chemical compound called Microcyn that kills viruses, bacteria, and fungus. To date, over three million patients have used Microcyn with no negative side effects. The beauty of Microcyn is that it mimics the body's natural immune system's response to an infection. Within 30 seconds, it kills Staph, E. coli, and even MRSA. Many infections that are unresponsive to normal antibiotic treatments are eradicated with Microcyn. Not only does Microcyn decrease treatment cost, and reduce patient suffering, but it provides a solution to the growing problem of antibiotic resistance. It also gives doctors a way to treat many difficult wounds that Johnson & Johnson's (JNJ) Neosporin can't handle.
Wounds treated with Microcyn have demonstrated a reduction in healing time by up to 60%. Microcyn increases the oxygen content at the wound site within 30 seconds and maintains that oxygen level for up to 36 hours. More oxygen means faster healing.
Microcyn also reduces chronic inflammation by inhibiting the release of histamines by the mast cells. This also speeds healing time and reduces itch and pain.
In March of 2008, Oculus announced the results of a Phase 2 clinical trial for the treatment of mildly infected diabetic foot ulcers. Anyone familiar with diabetic foot ulcers is well aware that in many cases, the only option is amputation. In this clinical trial, patients treated with Microcyn alone achieved a 93.3% success rate, compared to 56.3% for patients treated with the standard of care: Levofloxacin plus saline. Microcyn has literally prevented scores of amputations amongst diabetics.
Oculus enjoys a strong patent portfolio and an impressive patent pipeline. It has been awarded 12 patents and has 115+ patents pending around the world. In addition, the Company has 14 products to treat topical infections and various dermatoses and nearly 30 in the animal health care space.
Oculus has focused on collaboration which allows the company to generate revenue while passing on most of the costs to their partners. This keeps the burn rate relatively low while shortening the time to profitability.
Their first major partner, Innovacyn, is focusing on the $1 billion animal healthcare market, and the story behind Innovacyn's development is fascinating. One of the major shareholders, Bob Burlingame, had been using Microcyn on his ranch animals with great success. He found it was working better than any of the other products he used. To quote Bob; "I believe we've got our arms around one of the greatest advances in wound care since the discovery of penicillin -- bar none."
He believed the product had so much potential that he decided to create a new company, Innovacyn (formally VetVure), to market Microcyn to the animal healthcare community. He worked out an agreement with Oculus where he would pay for all the sales, marketing, and distribution costs, and then pay Oculus a 20% royalty, escalating to 30% this past July. He took the Microcyn technology and created a new product line under the brand name Vetericyn. There are now nearly 30 Vetericyn products which are being sold in the U.S., U.K, the Netherlands, and now China.
Starting from scratch, within two years, he has created a company that now has over $9 million in revenue. He began focusing on the horse and cattle market, and has since moved into the companion animal market (dogs and cats). He achieved a major coup when Caesar Milan, the "Dog Whisperer," began endorsing his products on the National Geographic Channel.
Vetericyn is now sold in 50% of the 18,000 independent retail pet stores, as well as most Tractor Supply (TSCO) and just starting to sell into the Petco stores. Innovacyn's growth rate is phenomenal. Just take a look at the numbers (calculated by dividing Oculus revenue from Innovacyn by Oculus's stated royalty percentage):
Fiscal 2009 revenue: $26, 316
Fiscal 2010 revenue: $2,731,579
Fiscal 2011 revenue: $9,526,316
Not only has Bob Burlingame generated a jaw-dropping growth rate, but he's done it within such a short timeframe. Having started a few successful businesses myself, I realize the tremendous talent that is needed for Innovacyn's level of success. These guys are good, and I expect stellar performance in the future. Oculus is projecting fiscal 2012 revenue from Innovacyn to be up 70% to 90% over 2011.
When Oculus made this deal with Bob Burlingame, management negotiated an extremely high royalty rate: starting off at 20%, now risen to 30%. With a 30% royalty rate, Oculus is looking at gross margins around 90%. That's a better gross margin than software giants like Microsoft (MSFT), Oracle (ORCL), or Salesforce.com (CRM) are generating.
I'm very impressed with management's decision to follow this business model; keeping the costs low by passing them on to partners while generating royalty rates of 20% to 30%. When Oculus has multiple partners creating revenue growth similar to Innovacyn, Wall Street will be paying attention.
The partnership that Oculus created with Innovacyn is only the beginning. Their newest partners, Amneal Pharmaceuticals, and Eloquest Healthcare, provide outstanding revenue opportunities for Oculus. I've been impressed with both companies, because they are spending substantial capital preparing for the marketing of the Oculus products. One reason Inovacyn has been so successful was that the company was extremely aggressive in their marketing campaign. (They spend a lot of money).
Amneal is a rapidly growing, $300 million a year company. It already has about 35 salespeople calling on dermatologists and podiatrists, and in January the company will start selling the new Microcyn Atopic Dermatitis HydroGel to these doctors, cleared by the FDA in February of this year.
Oculus recently completed a clinical study, and Microcyn proved to be very effective against atopic dermatitis. The current standard of care, cortisone cream, has serious limitations and side effects. Doctors need a better product, and Microcyn could fill that need. I estimate the addressable market to be about $400 million a year. If Amneal can capture 10% of that market, or $40 million a year, Oculus will receive royalties of $12 million per year.
On the podiatry side, Amneal is focusing on diabetic foot ulcers. Given the stellar results Oculus had in their Phase 2 clinical study, doctors should be very open to trying this product. With an addressable market of $350 million per year if Amneal can capture 10% of the market, Oculus will receive royalties of $10.5 million per year.
Eloquest has about 20 salespeople who are selling to hospitals, so it already has good relationships with their customers. Eloquest will be selling Microcyn liquid and gel to hospitals for all types of wound care outside of the surgical suite. Eventually, Microcyn will be approved for surgical use, but that's a year or two down the road.
Eloquest is a significant partner for Oculus, because wound care is largely what hospitals are all about. Once doctors and nurses recognize the healing properties of Microcyn, the revenue potential could be astounding. It will take time, but Microcyn could replace 90% of the antiseptics that are currently used in hospitals. This market is so huge that it's difficult to estimate the revenue potential, but $1 billion a year would be a conservative estimate. If Eloquest can get 10% of that, or $100 million per year, Oculus will receive royalties of $30 million per year.
With the Innovacyn partnership, Oculus demonstrated that their business model works. Both Eloquest and Amneal provide even greater potential, because they are already established in their targeted markets, whereas Innovacyn had to begin from scratch. If Eloquest and Amneal achieve a level of success anywhere near Innovacyn's, Oculus could become a new Wall Street favorite.
But, the story doesn't end there. Oculus is currently in talks with other potential partners, and I expect more lucrative partnership announcements over the next year. Just this week the company announced that it was in negotiations with two potential partners to address the $380 million ventilator-associated pneumonia market. When Oculus has 5 partners, all generating substantial royalty streams, the Oculus share price will be well above today's level. At these prices, I have been a buyer.
Disclosure: I am long OCLS.