By Paul Quintaro
Tuesday morning saw relatively large moves in several currency pairs, as the CHF/EUR spiked sharply lower while he USD/CHF moved higher.
Unconfirmed chatter had been circulating that the Swiss National Bank (SNB) was considering raising its euro-to-franc peg further, setting it to 1.25 up from the previous 1.20.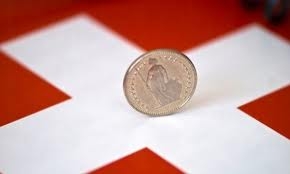 If the peg would be increased to 1.25, that would represent a further weakening of the franc relative to the euro. Why would the SNB follow such a policy?
For the month of August, Swiss exports had declined at a rate of 7% from July.
While the downturn may be partially attributable to a broader slowdown in the global economy, a rapidly appreciating franc may have only exacerbated the decline.
With a stronger franc, Swiss exports may appear relatively more expensive to foreign consumers. Those consumers may then substitute Swiss goods for cheaper domestic goods, or forgo the purchase entirely.
By initiating the 1.20 peg previously, the SNB was vowing to maintain a relative valuation of the franc with the euro. That constant valuation may have protected Swiss exports from an appreciating currency.
The rumor that the Swiss might have to raise their peg further may indicate that the SNB had previously underestimated the effect of the franc's appreciation.
The rumors went unsubstantiated on Tuesday, as the SNB declined to comment. Still, traders may have maintained somewhat of a level of trust in the rumors, as the franc maintained its weakness through most of the morning session.
On Tuesday morning, the EUR/CHF pair was trading just above the pegged level of 1.20, near 1.22.
Can the SNB really maintain such a peg?
As pressures mount in Europe, it may become increasingly difficult for the SNB to maintain a peg of 1.20, let alone 1.25.
On Monday night, the ratings agency Standard & Poor's downgraded Italy's debt rating from A+ to A.
Further, on Tuesday morning, Fitch said that Greece would ultimately default, though the agency believed that the country would remain within the eurozone.
This news may have put downward pressure on the euro, which then depreciated against the dollar.
If the euro continues to depreciate, the SNB will be forced to depreciate its own currency to maintain the pegged level. This could become increasingly difficult.
The SNB may have the conviction to maintain its peg. As the export numbers clearly demonstrate, an appreciating franc can have serious effects on that section of the Swiss economy.
Still, if eurozone pressures intensify, the SNB may be forced to print billions or even trillions of francs to maintain its peg. That could prove too difficult for a bank with a relatively small balance sheet.