There are three kinds of management: poor, good, and great. I believe that the Coca Cola Company (NYSE:KO) fits in that selective third category. Since taking lead around 2006, the now-Chairman & CEO Muhtar Kent has built a sustainable business while restructuring the soda industry as a whole.
The strategy over the last five years has involved vertical integration and consolidation. During this time period, Coca Cola's stock price increased by around 58.4%, while Pepsico (NYSE:PEP) and the S&P fell by 7.1% and 8.9%, respectively.
Bottlers at the time did not prioritize long-term sustainability and quickly became financially troubled. Coca Cola's Bottling Investments Group purchased and restructured these companies and generated substantial cash in the process. In October 2010, for example, the company notably acquired Coca Cola Enterprises' North American bottling operations. Having turned around many operations, the beverage maker is now seeking to sell off some of its assets and boost ROIC through eliminating now-unnecessary capital investments. One such example involved the sale of the company's Norwegian and Swedish bottling operations for $900M in cash in October 2010. I believe that the network and efficiency Coca Cola has created recently through vertical integration will drive stronger profit margins when the company returns to its core business. Below is my estimate of ROIC over the years.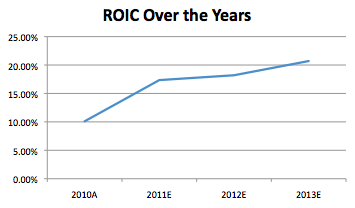 Coca Cola also has a strong portfolio of products. Top sparkling beverages include Coca-Cola, Sprite, Diet Coke, Fanta, and Barq's. Top juices include Minute Maid and Hi-C. Others include Dasani, Powerade, Full Throttle, and FUZE. While these products have made the corporation a strong brand in the United States, beverages are notorious for being popular in one country and, well, nauseating in another. Consequentially, the company cannot rely on selling popular drinks for American consumers to those in emerging economies. At the same time, approximately 3.1% of the 55B beverage servings consumed each day are associated with Coca Cola. It has about a third of the market share, ahead of Pepsico in the soda industry.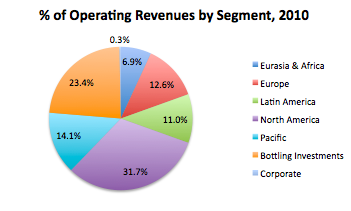 While 394 servings were consumed per capita by the U.S. in 2010, only 89 servings were consumed worldwide, and only 34 servings were consumed in China. The company has a lot to grown in and has been playing conservatively recently. From 2008 to 2010, finished products have grown as a percentage of the beverage maker's revenue and are now only 2 percentage points away from being equal to concentrate products' percentage of revenue.
Consensus estimates for EPS are that it will grow by 10.9% to $3.87 in 2011 and then by 10.9% and 10.5% in the following two years. I forecast revenue growing by 32.4% to $46.5B in 2011 and then by 6.5% and 6.7% in the following two years. The company is currently trading at 13.2x past earnings and offers a 2.7% dividend yield. Given its great management, strong brand, and operational efficiency, I believe the company is a "strong buy" similar to the opinions of most other analysts.
In relevant news, Bloomberg reports that PepsiCo will gain 49% if it splits its soft drinks segment from its snack foods segment. I do not foresee Coca Cola being fundamentally impacted by this move.
Disclosure: I have no positions in any stocks mentioned, and no plans to initiate any positions within the next 72 hours.