Sometimes when you invest in a company things work out as you see them. If you invest long enough you have your fair share of stories about companies that did not work out for various reasons. Every now and again you have an investment that works way better than you ever anticipated. QEP Co. (OTCPK:QEPC) is one of those companies.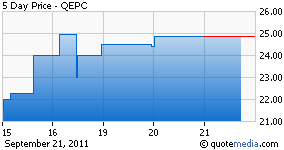 QEP manufactures, markets, and distributes various specialty tools and flooring related products for the home improvement market. The products can be found in the big home improvement centers like Home Depot (NYSE:HD).
A year ago I wrote an article about this company asking if you would be willing to make an investment of $40 million for a company that would generate $12 million in income in 18 months. My accuracy leaves much to be desired. The company has earned $12.36 million over the past 12 months. As a result the company is now an $80 million company.
Since last fall, the company has integrated a small acquisition and recently acquired another small company that should provide another small boost to earnings. Management has been all over squeezing costs from the operations and the margins keep improving. The company has earned more than $1 per share (less a one time charge in Q2 '12) in each of the past two quarters and is on pace to comfortably earn more than $4 per share this year. (No sense being precise when my initial prediction occurred 50% sooner than I expected.) Debt keeps dropping and shares are slowly being bought in.
This is one of those opportunities that modern finance says doesn't exist because investors would have already arbitraged away any price discrepancy. Well here we are again with the shares trading around a P/E of 6 and the company poised to have record earnings again and with a P/S of .3 and …
So I will ask my question again. Are you willing to pay $80 million for a company that will generate $14 million over the next 12 months? That turns out to be an 18% earnings yield. Not too shabby in the low interest rate environment we are in.
I like my odds invested in QEP Co. Managers may even have a few tricks up their sleeves in the next year that will further surprise me. Next time I expect I will be asking if you are willing to pay $120 million for a company. My grin will be even wider.
Disclosure: I am extremely long QEPC and have no current plans to change that position.