Summary
Shareholders should sell Sprott Physical Silver Trust (NYSEARCA:PSLV) because of the high premium to net asset value. Eric Sprott, FCA, is the Chief Executive Officer; Chief Investment Officer; Senior Portfolio Manager of Sprott Asset Management LP. Mr. Sprott provides notable metal and energy conference calls, his press releases, and his precious metal views. Sprott Asset Management has always been respected for its views of how to negate the United States fiat currency issues.
Phone Call to Sprott for Insider Selling Explanation
On September 21st, I called and spoke to Carolyn at Sprott, phone number (888) 362-7172. I asked why there was so much insider selling of Sprott Physical Silver Trust (PSLV). Carolyn advised me that Sprott Asset Management, and perhaps Eric Sprott, were selling because of Sprott Physical Silver Trust's (PSLV) 20% premium to net asset value. I have provided a few of the recent and dated insider selling activities of Sprott Asset Management.
I inquired who was making the money by insiders selling Sprott Physical Silver Trust (PSLV). Carolyn advised me:
Sprott Asset Management (SAM) made money by selling PSLV at a 20% premium to NAV. SAM then bought physical silver and precious-metal-producing equities.
Eric Sprott has a foundation that he provides money to.
Those parties not participating in Sprott Asset Management's insider selling of Sprott Physical Silver Trust include present retail shareholders.
I asked if there was a chance for a secondary. Carolyn said a one-year trading history is required prior to a secondary. Carolyn advised me November 1st would be the first time a secondary could be considered for a Sprott Physical Silver Trust secondary offering.
Prior Sell Recommendation
My sell recommendation, issued on July 24th, was to sell Sprott Physical Silver Trust, which was trading at a 22% premium to NAV. This was based upon the general premise of owning PSLV was due to the U.S. fiat currency being manipulated by the printing of U.S. dollars.
"Sprott Physical Silver Trust is one of the few ways to own physical silver in an equity format. There are alternatives, however, to provide a better substitute to PSLV. The fund displays basic fund attributes that make this equity indefensible to own. Sprott Asset Management, as of March 31st, 2011, held 15,224,615-PSLV shares.
Sprott's SEC 20-F filing shows the fund lacks anything worthy of a 22% premium to NAV. The Sprott website shows the simplicity of the holdings. Sprott holds silver in a bank vault and the silver is audited. Metal investors are conscience of their metal's value and know there isn't any reason to pay 122% of silver bullion's value so the silver can be stored by a third party.
PSLV began trading on October 29th, 2010, and has had an excellent run as silver bullion has broken out on the upside during this time. There is a difference in owning silver bullion at fair market value versus market value plus 22%. Owners of PSLV should sell their holdings immediately. Sprott will issue a secondary offering and the current PSLV shares will drop closer to their NAV. The present scenario is a supply-versus-demand issue."
Sprott Physical Silver Trust ET Mission Statement
It's fairly clear the Sprott Physical Silver Trust was designed for investors with consistent views of the fiat currency outcomes based upon Marc Faber, Eric Sprott, and Australian Economics.
"...The Sprott Physical Silver Trust provides a secure, convenient and exchange-traded investment alternative for investors seeking exposure to physical silver bullion without the inconvenience associated with direct investment..."
There have been insider trades which seem to go against the very principles of Eric Sprott's principles. I can see both sides of the coin. In summary, I believe Mr. Sprott acted in a self-serving action that was ill-timed, ill-advised, and highly inappropriate to PSLV shareholders.
One of the advantages to holding PSLV was the focus upon:
"...The Trust was created to invest and hold substantially all of its assets in physical silver bullion. The Trust intends to invest primarily in long-term holdings of unencumbered, fully allocated, physical silver bullion and will not speculate with regard to short-term changes in silver prices. One of the unique features of the Trust is the ability of Unitholders to redeem their Units on a monthly basis for physical silver bullion..."

Click to enlarge
The creation of Sprott Physical Silver Trust was to create a silver security for regular investors. The focus is to benefit all shareholders. If a security is selling at a premium to net asset value, then the fund may issue a secondary to bring more shares onto the market and reduce the premium to NAV. The fact that the Sprott Physical Silver Trust is selling at a premium to net asset value indicates a secondary may occur. PSLV's premium to NAV is notable amongst its peer group:
Significant Insider Selling of Sprott Physical Silver Trust ETF
Mr. Sprott has sold a significant percentage of his holdings. In the past 5-trading days, he has sold:

Per a SEC 13-D filing, shareholders can see the significant insiders, led by Mr. Sprott, which have occurred over recent months: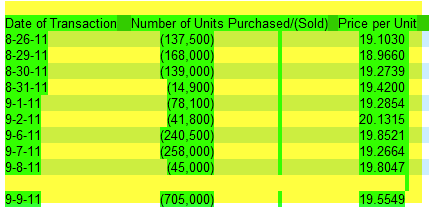 These are not the only PSLV shares which Mr. Sprott has sold via SEC 13-D filings. It makes a PSLV investor wonder why is Mr. Sprott selling for his own gain? If Mr. Sprott is such a silver proponent why would he be selling for his own self-interest financial gain? This is highly suspicious for a prominent Canadian firm to intentionally take advantage of current shareholders who own the shareholders aware of the premium to NAV.
Summary
I have never witnessed an insider, such as Mr. Sprott, take personal advantageous of a premium to NAV on this grand of scale. On July 24th, I did recommend selling PSLV shares due to the 20% premium. Never did I imagine he was selling for self-gain. On most occasions a firm will issue a secondary which will dilute the premium to NAV. Mr. Sprott needs to explain what is going on and why he is taking advantage of current PSLV shareholders.