It's hard to believe that with all that's going wrong with the global economy and the jobs picture on the domestic front that there are some stocks that are still pulling significant gains for investors. But the underlying theme here is that these stocks are still growing their earnings quarter after quarter and this growth is not related to all of the news that is driving the recent market volatility.
Yesterday the market took some major swings and at its peak these three stocks hit 52-week highs. Specifically, Apple (NASDAQ:AAPL) broke the $420 mark, which is significant because it is starting to fulfill the hype off their last earnings, Whole Foods (NASDAQ:WFM) jumped over $73, and Chipotle Mexican Grill (NYSE:CMG) was momentarily at $346 on the opening of its new Asian-inspired restaurant, ShopHouse, in Washington, D.C. Below we will explore some of the reasons these stocks are so strong and examine their charts, which show that their price appreciation is no joke.
Apple – There is really no need to dive into all of the amazing products that Apple offers and why the products are such a dominant force in their respective industries. The iPhone is selling like crazy and consumers are eagerly waiting for its newest release. I personally own one and know several people who have made the leap from BlackBerry (RIMM) in the last couple of months. This of course is no isolated incident considering Research in Motion is down about 67% since February. MacBooks remains a key player in the laptop game, and iPads have proven that they are far and away the best of the tablets.
(Click charts to enlarge)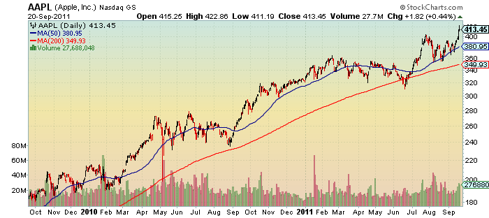 The chart above shows Apple's performance over the last 2 years. As you can see, the bumps in the road have never been too severe, and each quarter it jumps up (check out this article for more on the earnings play) having resulted in this stairway formation. Apple has also persevered since Steve Jobs' resignation, which was monumental not just for Apple, but for all of technology. He of course, still sits on the Board of Directors, [as well as Disney's (NYSE:DIS)] so it's not like he's completely disappeared. Lastly, there are articles, like this one, suggesting that Apple may be considered for the Dow that lend to its credibility as a safe haven.
Whole Foods – Whole Foods has engrained its spot in the grocery market industry by offering an alternative to the traditional stores and the mega-marts like Target (NYSE:TGT) and Wal-Mart (NYSE:WMT). Its locations target young yuppies who enjoy eating organic food and are willing and able to pay. The company has just over 300 stores in the United States, Canada, and the United Kingdom, so there is still plenty of room for growth in that respect.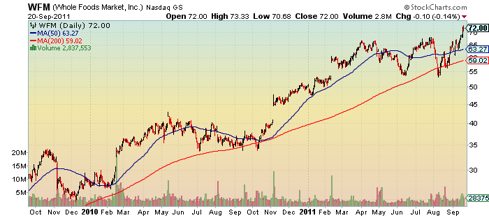 Like Apple, Whole Foods has been impressive over the last two years, more than doubling in price. The earnings growth rate is outstanding and it has been knocking down debt over the last few years. There's nothing to suggest that this price growth is not going to continue.
Chipotle Mexican Grill – This is my favorite stock on the list, and apparently Jim Cramer's as well according to Tuesday's Mad Money. He claims to have been pushing it since $48, and while I cannot verify that, I first recommended Chipotle a year and a half ago at $146. Since then it has never looked back and grown to $346 today before falling back to $333. Despite this it is the basis of a number of (outrageous) short ideas. But such suggestions have been coming out for a while and they probably would not have worked out based on the chart below.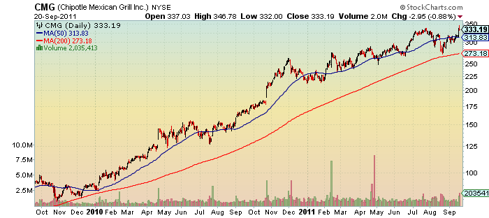 Chipotle's Tuesday jump was due to the opening of ShopHouse in Washington D.C., but the underlying metrics prove that Chipotle is accurately valued with room for growth. For one, it only has roughly 1,100 units and in 2010 it opened its first store in London. What's more important is that all of these stores are company owned. Chipotle does not franchise and the advantage of this is that it must put forth the market research in choosing premium locations. Many of the short advocates proclaim that Chipotle's high food prices are unsustainable if it wants its customer base to keep coming back for more. But in finding locations where people can afford $7 burritos over and over the company will not have to worry about fleeting customers unless the product is inferior to alternatives, and all indications would say that's not the case. The health food initiative is here to stay and it benefits both Chipotle and Whole Foods.
The objective of this piece was to show that buying high-priced stocks is not always as risky as many believe it to be. Sure buy low, sell high has created fortunes for many, but buy high, sell higher can work equally as well. The trick is simply finding the right companies to pull the trigger on and these three should all be prospects.


Disclosure: I am long AAPL.