By Brendan Gilmartin
Tibco Software (NASDAQ:TIBX) is scheduled to report 3Q 2011 earnings after the close on Thursday, September 22. Results are typically released at 4:05 p.m. EST, followed with a conference call shortly thereafter. The provider of infrastructure software is expected to earn Non-GAAP Earnings Per Share (EPS) of $0.21 (high estimate is $0.22) on revenue of $219.92 mln (Source: Yahoo! Finance), up 19.2% from the year-ago period.
Tibco is coming off a string of impressive earnings releases, with Non-GAAP EPS topping estimates by an average margin of close to 12%, while revenues are projected to increase by double-digits over each of the next four quarters. The company continues to benefit from expansion of the data center, cloud-computing, and increasing amounts of customers seeking real-time analytic solutions. Tibco is also widening its product offering and boosting its presence in Asia and emerging economies. The company is procuring government contracts to allow agencies improved real-time decision capabilities. It also provides widely-used low-latency messaging software used across the financial industry. Finally, TIBCO is also a frequently-mentioned takeover candidate, based on its successful business operations.
Despite these positive strides, Tibco is now trading at close to 40x trailing earnings, well above the 5-year average of 29.8x and 4.6x sales, also exceeding the average multiple. In addition, the average Street price target is $32 per share, implying the shares are vulnerable to any missteps when the company delivers 3Q 2011 results.
Sympathy plays: EQIX & RAX. According to Revere Data (www.reveredata.com), Informatica (NASDAQ:INFA) & Progress Software (PRGS) compete in the middleware segment.
Chart Review
After touching a 52-week high of $31.45 in early July, Tibco shares are off about 30%. But since bottoming near $18.50 last month, shares are up close to 25% and holding solid support at the 20-Day SMA. A break above $22 sets up a run toward the 50-Day SMA near $23.50. Support below the 20-Day SMA is $20.(*Chart Courtesy of StockCharts.com.)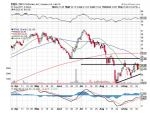 Disclaimer
: By using this report, you acknowledge that Selerity, Inc. is in no way liable for losses or gains arising out of commentary, analysis, and or data in this report. Your investment decisions and recommendations are made entirely at your discretion. Selerity does not own securities in companies that they write about, is not an investment adviser, and the content contained herein is not an endorsement to buy or sell any securities. No content published as part of this report constitutes a recommendation that any particular investment, security, portfolio of securities, transaction or investment strategy is suitable for any specific person.