An exchange traded fund indexed to the shipping sector has been mauled by concerns over the global economy since its launch last year.
Guggenheim Shipping ETF (NYSEARCA:SEA) is down nearly 40% so far this year.
Yet the shipping sector may be coming out of the doldrums as the industry seems to bottoming out and investors begin to jump back in.
Billionaire Wilbur Ross, head of WL Ross & Co., is part of an investment group that will be betting $900 million on ships transporting gasoline, diesel and other refined products, reports Michelle Wiese Bockmann for Bloomberg.
"We're not necessarily at the exact bottom of the cycle, but we think we are relatively close to it," commented Ross.
On the other hand, John Fredriksen, founder of Frontline Ltd., believes it will be another year or two before shipping valuations hit rock bottom.
New refineries in China and India will increase the distance to travel and raise demand for shipping vessels. Additionally, fast growth in the emerging markets will raise demand for transportation of energy commodities. For instance, the U.S. Energy Information Administration is projecting that China will see a 600,000 barrel a day increase in oil consumption in 2012 year-over-year, which translates to an extra supertanker's worth of cargo every three days.
The Baltic Dry Index, which measures the cost of transporting coal, iron ore and grain, hovers below 1,300, well below its peak of 11,793 in May 2008. The Baltic Clean Tanker Index, which shows the rates on routes for vessels carrying refined-oil products, is below 700, compared to 1,509 in June 2008.
Bloomberg analysts calculate that the combined earnings of the 12-member Bloomberg Dry Ships Index will fall 17% for the year as forward-freight agreements remain bearish on the global growth outlook.
"Shipping will be hit hard if there is a new recession as the industry is already facing significant headwinds," said Frode Morkedal from RS Platou Markets AS.
Guggenheim Shipping ETF "offers investors exposure to a portfolio of 25 high dividend-paying firms in the maritime shipping industry," investment researcher Morningstar writes in a profile of the fund. "Although global shipping is inherently cyclical–and has been affected by the global recession–investors may have some interest in investing in this fund as a way to play the recent boom in the global commodity trade."
Guggenheim Shipping ETF
click to enlarge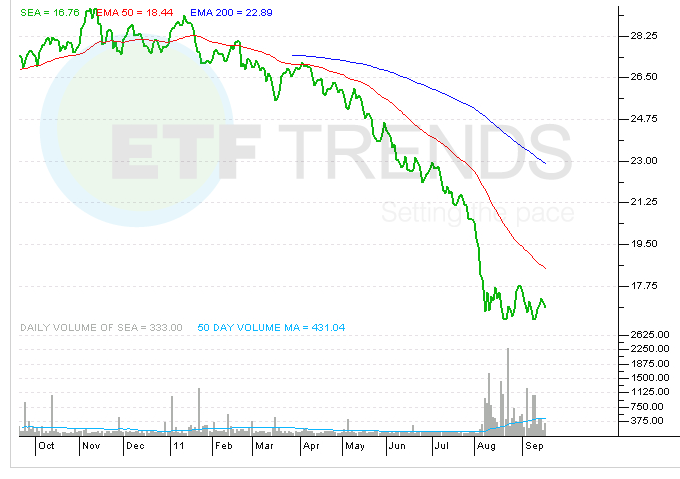 Max Chen contributed to this article.
Disclosure: None