Back on August 15th, I wrote an article entitled Don't Blame Sirius XM's, Netflix's Broken Charts on the Economy. On that day, Sirius XM (NASDAQ:SIRI) closed at $1.90, while Netflix (NASDAQ:NFLX) ended the session at $246.28.

SIRI's chart remains broken, with the stock closing at $1.81 on Wednesday. For NFLX, which ended trading Wednesday at $128.50, the news has been even worse, chart-wise and fundamentally. And no need exists to rehash it. We all know that Los Gatos is burning.

Long-term investors, however, can learn a thing from minding the movements of savvy day and swing traders.

When news breaks, uncertainty often ensues as traders attempt to sort things out. Often, this triggers a considerable move in the price of a stock. Generally, it's best for long-term investors to sit on the sidelines during this activity. Quite frequently, chasing the reactionary crowd -- before "breaking news" gets sorted out -- does not end well if your time horizon is more than a couple of minutes to a couple of hours.

Consider SIRI's intraday chart from Wednesday, courtesy of Schwab's StreetSmart Edge platform:

Click to enlarge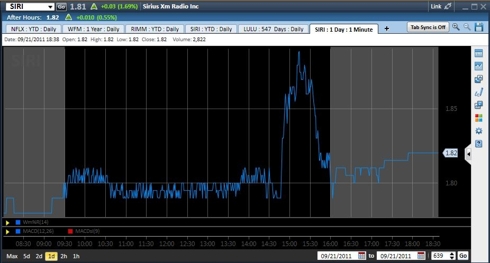 Click to enlarge
It was fascinating to watch the rise and fall of SIRI today. It climbed, in a span of 15-30 minutes, simply because of its association with Liberty Media (LINTA). LINTA, as well as Liberty Media tracking stocks, LCAPA and LSTZA, popped today on the news that the company
scored a victory
in its court case with BNY Mellon (NYSE:
BK
).
As SIRI was rising in connection with this news (Liberty owns a 40% stake in Sirius XM), I am convinced that the people gobbling up shares of SIRI had no actual idea what was happening. This often occurs in these types of situations, particularly when news trickles out slowly, as it did in this case. When the dust settled, SIRI gave back all of its Liberty-related gains, dropping back to where it spent most of the day previously, while LINTA, LCAPA and LSTZA pulled back, but still posted respectable news-related pops of 8.12, 1.49 and 1.46 percent each.
This is what you call a day trader's dream and an unaware long-term investor's nightmare. As SIRI topped at $1.89, it became a clear sure-shot short for any day trader with a pulse. With some size, you could have banked meaningful profits shorting SIRI from at or near its intraday high.
If, as a long-term investor, however, you thought the train was finally leaving the station and followed the volume, you could be left holding the bag, for who knows how long, at around $1.89.
Prepare yourself for what could be a similar fate in shares of NFLX. Some people, for some unknown reason, consider NFLX a value play.
I don't get it
. Nevertheless, these investors might be looking for an entry point.
NFLX experienced a few intraday pops of its own today, albeit not as dramatic as SIRI's. This came on two pieces of news. One, CFO David Wells's
comments
at a conference. And, two,
word
that NFLX and Facebook might hook up on some sort of social collaboration. That word could become official as soon as Thursday when Facebook holds its F8 Developer Conference.
Of course, firm word that this partnership is real will send NFLX higher, just like the Liberty news gave SIRI its temporary spike today. While you could always bank your hopes on future M&A activity, as a long-term investor, you should think twice. Moves on this type of news, which bears very little, if any, relation to a company's fundamentals and current story, tend to favor day and swing traders, not long-term investors with time horizons of more than a few minutes, a few hours or even a few weeks.
If witnessing Research in Motion's (RIMM) recent dead cat bounce did not teach this lesson, hopefully SIRI's experience from Wednesday will. One move benefited swing traders, the other day traders. But neither benefited long-term investors. Consider the NFLX heads up on a potential head fake fair warning.
Disclosure:
I have no positions in any stocks mentioned, but may initiate a short position in
NFLX
,
RIMM
over the next 72 hours.