On September 13, 2011, Intel (NASDAQ:INTC) and Google (NASDAQ:GOOG) made an important announcement: Google is going to begin optimizing their Android mobile operating system for Intel Atom chips.

Let's start with what Intel CEO Paul Otellini had to say
By optimizing the Android platform for Intel architecture, we bring a powerful new capability to market that will accelerate more industry adoption and choice, and bring exciting new products to market that harness the combined potential of Intel technology and the Android platform. Together we are accelerating Intel architecture and bringing new levels of innovation to a maturing Android platform.
Now Andy Rubin, Senior Vice President of Mobile at Google.
Combining Android with Intel's low power smartphone roadmap opens up more opportunity for innovation and choice. This collaboration will drive the Android ecosystem forward.
With this announcement, Intel is addressing a serious investor concern: The fear that Intel can't break out of the stodgy world of Desktop PCs and even, now out of favor, Laptop PCs and into the newest growth darling, mobile computing. Because if Intel can't break through, they may become the latest in a long string of tech darlings who have had time pass them by (Eastman Kodak (EK) anyone?).

Intel's currently low valuations can only be explained by this uncertainty as I've written about before. They've reported quarter after quarter of record profits, a major breakthrough in 3d chip technology, record margins, and sizable dividend raises. And yet, the stock remains stuck in the 19-23 range, despite record low earnings multiples, currently 10X earnings.

However, Intel has made it clear that they won't be going down easily. Quarter after quarter, they have tried to break into mobile chips and the low power lock of ARM's chips with offerings like Sandy Trail, and wording that implies "when" not "if" for their mobile chip breathrough.

The joint Google announcement brings Intel further towards that goal. Android is currently the most popular mobile phone operating system with the highest growth rates, and it is the second biggest tablet OS. Take a look at this graph, and you'll see how strong a presence Android has in smartphones, and how much it has grown year on year.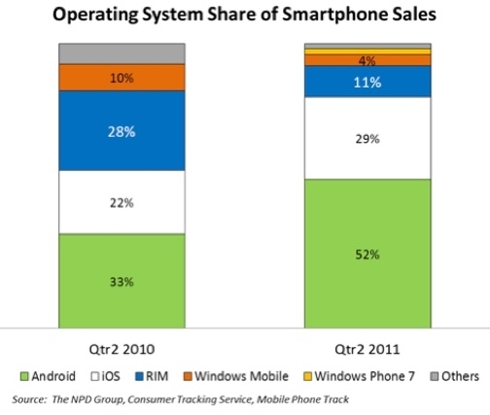 Click to enlarge

Note the wording in the announcement: Android is optimizing for Intel's products, not the other way around. Intel can still maintain their lock on the laptop/desktop world, and now become the chip of choice for Android cellphone manufactures like HTC and Samsung (OTC:SSNLF). I believe this is a major vote of confidence for Intel's mobile chip line, as Larry Page is a notorious hardball player. Intel has wisely aligned itself not only with power player Google here, but even more importantly with "open source". Open source software, by harnessing the power of 1000s of human brains, has proven itself to be incredibly powerful in bringing about innovative, quickly adaptable, and easily debugged software.

Assuming Intel doesn't become the next tech company to be blown away by the winds of change, it is a screaming deal. At 10X earnings and a dividend yield of almost 4% and a strong balance sheet with great cash generation, it's as cheap as you can get a high quality company. Revenue and profits are at all time highs. They've got a near lock against rival AMD (which seems to be nowhere to be heard in the mobile computing revolution) in the arenas of desktop, laptops and servers.

Again, I believe that Intel's mobile breakthrough is a matter of "when" and not "if" and this announcement further cements that belief. Despite falling behind early, Intel has stuck to their plan and slowly improved their chips power consumption and will ruthlessly keep improving until they are the market leader. I recommend you take advantage of the uncertainty and fear surrounding Intel and buy into this high quality company at these unusually low valuations.

For more reasons to buy into Intel, feel free to read my article detailing some of Intel's other growth prospects.

Disclosure: I am long INTC.