Telefonica (NYSE:TEF) has a sexy dividend of almost 11% and appeals to a lot of dividend investors. Its current dividend is 1.4 EUR/share. Cesar Alierta, Telefonica's CEO, confirmed that Telefonica stands by its promise to pay a dividend of 1.6 EUR/share in 2012 and 1.75 EUR/share from 2013 on. What's not to love on this company? Its humongous debt!
Big debt is bad for two reasons. First, a company pays interest on its debt from the same cash flow that could be paid out to shareholders as dividend. The higher the interest, the less can be paid out as a dividend. Second, every debt has to be paid back, eventually. If a company can't roll its debt it may cut its dividend to pay debt or even become insolvent if debt is too high.
Now we know how dividend payments can be endangered by debt taken on by a company, let's have a closer look at Telefonica's debt.
Telefonica reported in the last quarterly report [see transcript] that it had net total debt of 56.42B EUR at the end of June 2011. It paid 1.165B EUR on financial interest in the first 6 months. Its effective interest rate was 4.21%. If we extrapolate this for the whole year 2011, and assume that Telefonica won't take on additional debt, then interest payment for the whole year will be 2.38B EUR. Let's have a look how Telefonica's interest is covered by its cash flow.
Click to enlarge images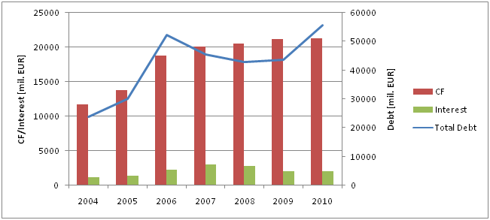 Click to enlarge
From this graph we see that Telefonica's interest payments are safely covered by generated cash flow. Although total debt increased, Telefonica benefited from lower interest rate environment and paid less interest year on year. No red flags here.
How much will Telefonica pay for 2011 in dividends (to be paid out in 2012)? It promises to pay 1.6 EUR per share. Its average share count stood at 4.524B shares. So it will need to pay out 7.24B EUR as dividends. Dividends can be paid out only from free cash flow that is left after paying interest, taxes and capital expenditures.
Click to enlarge
Here a red flag pops out. There is a clear trend in increasing free cash flow payout ratio. In 2010 FCF payout ratio was 89%. This payout ratio means that there is not much room for new acquisitions, debt repayments or dividend increases. It will get worse when dividend increases to 1.75 EUR/share. FCF payout ratio will be 98.8%. At these payout levels the company will not be able to pay down debt, merely roll it over.
Telefonica plans to have 1.75 EUR/share as a base dividend after 2012. I assume it plans to grow out of its debt afterwards. It plans to grow free cash flow and use excess cash to pay down debt. But looking at the current situation doesn't give much credibility to these plans. Its growth in Latin America seems to be offset by decline in Europe. It can't reduce its CapEx and stay competitive. To slash personal expenses it will pay the ridiculous amount of 415k EUR to every laid off employee. Telefonica walks a thin line. Any stumble in revenues, expenses or interest rate level and it falls.
I believe that Telefonica will cut its dividend in the future.
Note: CF is Cash flow from operations; FCF is Net free cash flow after CapEx. All figures are from quarterly reports of Telefonica.
Disclosure: Long Telefonica.