General Motors (NYSE:GM) and Ford (NYSE:F) have lost a significant amount of value over the last 3 months. Yet both companies have significantly improved earnings, monthly sales, and have delivered news that investors would normally find enlightening. However these developments, among others, seem to carry little meaning in regards to performance with both stocks trending lower with every mention of the word recession. Both Ford and GM traded significantly lower on Wednesday after the Fed announced a new $400 billion plan, 3 large banks were downgraded, and fear of another recession was once again sparked. Below is a look at both stocks and the trading patterns over the last 3 months, along with my idea of how to trade these 2 stocks in this volatile market.

The Fed announced it will launch a $400 billion program to rebalance its portfolio. The plan is to sell short term notes so that it can use the funds to purchase long term notes in an effort to boost the economy. Soon after the announcement stocks got hammered as the Dow Jones went from trading slightly below even to a loss of more than 280 points.

The markets could have fallen for a number of different reasons on Wednesday. The $400 billion announcement was slightly odd, or at least the timing was unusual for the Fed, which usually seems so prepared. Maybe investors viewed this announcement as an act of desperation to boost the markets. Or perhaps it was Moody's downgrade of Bank of America (NYSE:BAC), Wells Fargo (NYSE:WFC), and Citigroup's (NYSE:C) debt that scared the markets, which would mean the banks may have to start paying more to borrow money. Or maybe the markets didn't like when the Fed said that "there are significant downside risks to the economic outlook, including strains in global financial markets." Either way, the markets reacted and lost a large portion of value during the second half of trading Wednesday afternoon. Reaction to news such as this has become a trend, as the markets react instantaneously without understanding the full implications behind its meaning.

I can understand the financial sector's loss because several key developments are directly related to the financial institutions. Three of the largest American banks were downgraded and the Fed specifically mentioned "strains" and "financial markets" when giving their speech. The rest is history-- at this point the market trades with little logic, as investors scramble to sell on news to protect their portfolio value. I can't say that I blame them, but as a fundamental investor it bothers me to sit back and watch stocks continue to fall with so many companies showing fundamental improvements.

The example I will use is the automotive industry, and more specifically, Ford and General Motors. Both companies have drastically improved profit margins, increased revenue, watched monthly sells explode, and have given solid guidance-- which includes Ford announcing in its mid decade report that it expects sales to increase 50% by 2015. These two stocks should not be falling, they should be trading near 52 week highs. Yet both stocks came crashing down on Wednesday near 52 week lows when several economic developments affected the markets. As a result, I am throwing out the fundamentals and looking at the trading patterns for both Ford and General Motors during this volatility.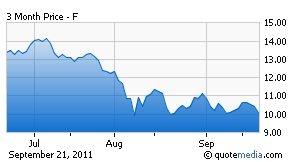 Above is the 3 month chart of Ford Motor Company, which shows the 25% loss this stock has posted during this short period. The Williams %R is posted as well, which verifies that the stock is oversold, which should be no surprise. What I have noticed as I watch this stock is that it's reached $9.90 four times, each time reversing to post short term gains. In this volatile market I am beginning to believe that psychology plays a larger role than any fundamental fact regarding a company.
I believe we can justify this belief by looking at Ford's loss on Wednesday. The stock lost 4.32% of its value and is once again trading below $10 a share, on the same day it was reported that a company executive said that a dividend is expected to return in the near future. Investors have been waiting on a dividend for the last 5 years and the fact that Ford is considering this option should reflect the confidence that executives have in this company. The stock should have gained 4% on this news, not lost 4%, but because the Fed used the word "significant" when speaking about the struggling economy the stock experienced yet another loss. This company has "significantly" decreased its total debt over the last 18 months and has more than doubled EPS during the last quarter year-over-year. Yet, the stock continues to trend lower as we speculate and view the economy with such uncertainty.
It appears that $9.90 is near the stock's low range, and while it has reached $9.81, the stock has shown a tendency to rebound from this level. I believe the meaning behind this price action is that investors believe that at $9.90, or around, Ford is a bargain, but at $11 it presents risk. I do not necessarily agree with this concept but the stock has reached this level 4 times in the last 6 weeks and has bounced back soon after reaching the price. Some technical traders may argue that $9.90 is the stock's bottom, and that it should not trend lower. And while it's impossible to know for sure, I believe that $9.90 will remain the stock's bottom unless something drastic was to occur within the economy, regardless of its direct meaning to Ford Motor Company.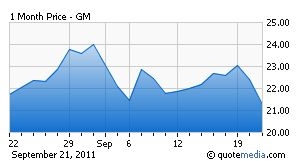 General Motors has shown a similar pattern over the last month. The chart above reflects the one month pattern of General Motors stock. During the month GM has tested the $21.20 range 4 times and has rebounded each time to post moderate gains. The situation is similar to Ford, and I don't know why $21.20 has been the bottom for this stock, but maybe it's because investors feel that GM is a bargain at this price.
Some would argue that General Motors has shown more progress than Ford over the last year, posting significantly higher revenue, income, and monthly sales year-over-year. I believe that GM is a good stock and has the potential to return large gains in the near future, but investors are fearful of its past. Investors of GM lost a large percentage or all of their holdings during the recession, therefore it's human nature to protect yourself against a situation that could be harmful. It may take time for this stock's performance to reflect its financial progress, which means this stock may be best suited for traders that play its lows and highs during this volatile market.

Both companies have drastically changed over the last year by placing an emphasis on fuel efficient vehicles and new technology. GM and Ford are shipping more units and have experienced incredible levels of success from their most fuel efficient vehicles. For some Americans, in this economy a new vehicle is a priority as the price of gasoline remains high and commutes are long, with highways that remain clustered in need of construction. General Motors and Ford have created new vehicles that meet the needs of the consumer with new designs and exceptional technology which contribute to the company's fuel efficient engines.

In 2007 and 2008 neither company was prepared for the high prices of gas that plagued our economy. In 2007 gas prices reached $3 a gallon and then climbed over $4 in 2008. And while I do not believe that high gas prices are the only reason that both Ford and General Motors suffered during the recession, I do believe it played a part. If the economy were to enter another recession I believe the changes that both companies have made will prove to be beneficial as the consumer now views a new vehicle as a necessity and not a luxury, because of better fuel efficiency.

The operational changes of these two companies have resulted in immediate success and strong guidance for the future. Yet with the many questions facing the economy, and with the recession so fresh on the investor's mind, I believe the stock could get worse before it gets better. I don't believe it matters how the companies fundamentally perform, it only matters how the market retrieves economic data, or speeches from political leaders. We have reached a point in our economy where fundamentals and future outlooks carry little merit, with automotive stocks trading lower on irrelevant news that does not pertain to its industry.
Therefore, I believe the best strategy to use when trading these two stocks is buying when the market believes the bottom has been reached. And for these two stocks it's a price to earnings under 6.0 and a point reached on 4 different occasions for each stock. For General Motors the price appears to be $21.20 and with Ford the price appears to be $9.90, however, this price has the potential to change if the economy gets better or worse. However, at this point I feel confident that each stock has provided enough evidence to suggest that this price is the bottom of its range, and that investors believe a solid buying opportunity is present, assuming there are no substantial changes within the economy

Disclosure: I am long GM.

Additional disclosure: As with any investment, due diligence is required. The opinions in this article are not intended to be used to make a particular investment or follow a particular strategy.