NOG Announces Big Mid Year Reserves Update
The July 2011 Reserves Snapshot:
Proved reserves rose 121% to 34.8 MMBOE through the first seven months of the year.

69% proven undeveloped which is not aggressive.

90% of the reserves are oil. Note current production is running about 94% oil (gas being flared) but that prices in the Williston Basin for natural gas are pretty good and NOG plans to capture more of the associated gas in its wells as time goes by.


Reserve replacement (change in reserves/ production) was a seemingly dizzying 2,172%, but this a smaller name and you can see big numbers here as they move up the production hockey stick so while it is a nice number it is less relevant than what follows.

Several items are worth noting here beyond the obvious, "wow, that is some serious reserve growth for any full year, let alone half a year":
1) NOG Employs Top Notch Reserve Engineering Firm Ryder Scott To Calculate The Numbers. Ryder Scott is one of the most conservative, if not the most conservative, reserve engineering company in the business. The chief guy at RS overseeing the reserve estimates for NOG has over 40 years of experience and runs Ryder's Denver office. If you don't buy off on reserves coming from a firm like this and a guy like that, then you should probably have already stopped reading by this point.
NOG has not needed an in house manager until now but as they grow it becomes necessary to flesh out the technical side of the business. Without an in house engineer to "push back" against the 3rd party engineers, the reserve estimates are likely to be more conservative than what you see at the other Bakken players. NOG is on the hunt for an engineer and could conceivably have one in place for a review of the full year 2011 reserve report.
2) Reserves Grew Due To Expanded Drilling, Not Altered Methodology. The growth in the reserve report is a function of the expanding set of wells in NOG's portfolio which is in turn the result of a rapidly advancing rig count in the Williston (old thinking was 200 rigs by year end; we're there now and headed to 250) and does not represent a change in methodology on the part of their 3rd party reserve engineering firm. NOG probably had about 39 net wells included in this report plus adjacent PUDs that could feasibly be drilled within 5 years and will likely have over 50 net wells in the 2011 year end report.
Next year look for them to add another 45 net wells. Notably, NOG's Total Enterprise Value now is roughly the same as it was at the end 3Q10, back when the Street was guesstimating reserves were between 12 and 15 mm BOE and oil prices were roughly the same as they are now...only now we have better differentials.
click to enlarge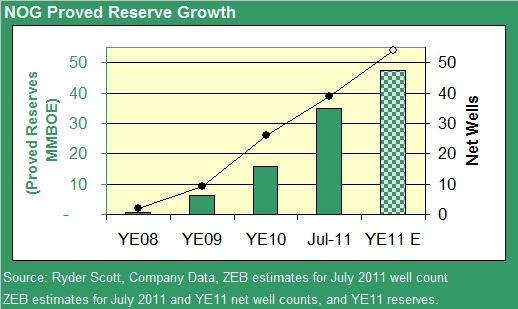 3) Reserve Replacement Costs Remain Low... I'm estimating NOG's drilling capex through the 7 month period was $160 mm, which should be pretty close to a straight line calculation based on the current drilling budget plus a little extra for conservatism. That yields a drilling only replacement cost of about $9 per barrel of oil equivalent which stacks up favorably against the YE10 results for the other Bakken pure (or nearly pure) players BEXP, OAS, and KOG and I'd point out that given inflation this year this is, if anything, sort of an unfair chart to NOG.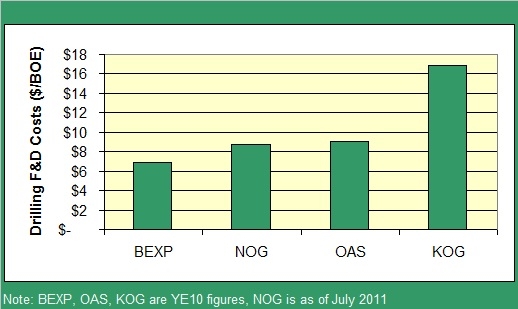 4) ... And Lastly, Production Continues To Hockey Stick. In the reserve's press release they also issued guidance for the current quarter of 30 to 40% sequential growth, the mid point of which puts them in line with my thinking at 5,950 BOEpd for 3Q11. Taken with an expected YE11 exit rate of 10 to 11,000 and comments that they were producing just under 7,500 BOEpd earlier in September, I get to YOY growth of 136%. Not too shabby given the weather impaired first half.
Again, when you examine TEV in the chart below vs historical production you can see an obvious mis-pricing by the market at present. Moreover, when you adjust acreage valuations for the value of their flowing barrels at year end you find acreage trading at roughly $1,700/acre, well under any other Bakken player of their size and good justification for buying their stock back at current levels. I'm a patient guy and growth like this will not go unnoticed.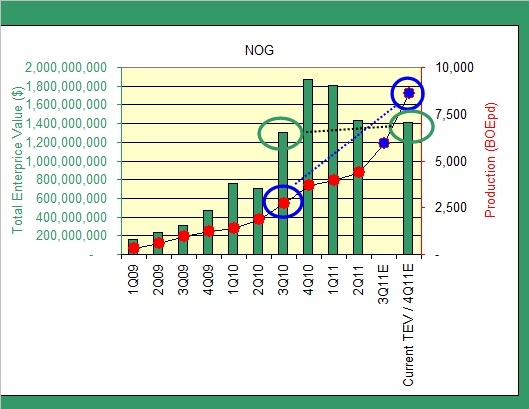 Nutshell: Performing as planned, getting cheap each day the stock sits still. I continue to own the name in the ZLT.