The following two companies are definitely not in sectors known for churning out high-yield stocks. And the banking sector in particular, scares a lot of investors off. We believe the following two companies offer a compelling risk/reward payoff for the more aggressive dividend investor.
New York Community Bancorp (NYSE: NYB):
As I mentioned, bank stocks are a nervous subject for investors these days given the deteriorating situation in Europe and increased regulation going forward…but the market has thrown the baby out with the bathwater and given astute investors in opportunity to pick up a high-yield dividend payer at a bargain basement price. It's important to realize, however, that NYB is a very different company from Bank of America (NYSE:BAC) or Citigroup (NYSE:C) and it pursues a very different business model. NYB is a regional bank whose loan book is concentrated in the New York Metro area. The company's non-performing loan numbers are improving and earnings are expected to increase about 8% next year. The company has sold off recently (along with the rest of the industry) and is trading at 32% off its 52 week high and is currently yielding 7.9%:
click on all charts to enlarge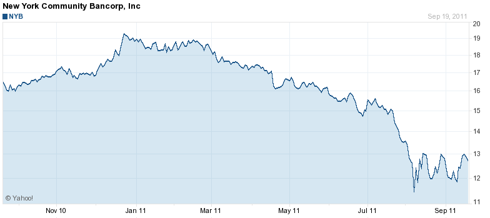 At current prices, the company is trading at a forward P/E of about 10 and is actually trading slightly below its book value vs. 1.5x for the peergroup.
Again, the problem with most financials is that the "B" in the P/B ratio can't be relied upon, but with regional banks that's less of an issue as they tend to have much simpler balance sheets and fewer lines of business. The company hasn't increased its dividend for 7 years but it also didn't have to cut its dividend during the financial crisis (when most of its peers outright suspended them). There has been concern expressed over the relatively large payout ratio (84%) but with earnings expected to steadily grow and the stable capital base, the high payout ratio is really a testament to management's commitment to continue paying the dividend. This is a big comfort (coupled with the great fundamentals) for value-oriented dividend investors. Finally, John Paulson's hedge fund Paulson & Co. owns this stock.
Atlantic Power Corp. (NYSE: AT)
Atlantic Power Corp sells electricity to US-based utilities under long-term contracts. The company is domiciled in Canada (but headquartered in Boston). It operates in unregulated markets and owns 12 power-generation facilities: 8 Natural Gas a hydroelectric, a wind, a coal and finally, a biofuel facility. AT is aggressively acquiring power-generating assets as long as they are accretive to the bottom line. The company is currently in the final stages of purchasing privately held Capital Power Partners LP in a deal that would roughly double its size. Capital Power Partners, LP has "35 facilities in Canada and the United States, totaling approximately 5,100 megawatts of capacity, plus 677 megawatts under construction or in development". AT is also aggressively pursuing completion on a 54 megawatt biofuel plant in Georgia by the end of 2012. This is a growing market and will represent nearly 11% of AT's power output.
The company is currently yielding 7.5% and is committed to providing a steady (and increasing) monthly dividend to investors. This is truly a dividend powerhouse for the next decade.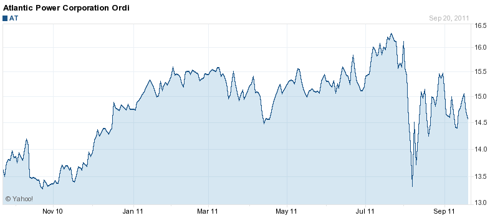 This is a chance to lock in excellent yields on solid dividend payers that can be counted on to grow for years to come.
Disclosure: I have no positions in any stocks mentioned, but may initiate a long position in AT, NYB over the next 72 hours.