Many non-US companies have shares listed on US stock exchanges. For the US investor, this opens up a world of investment opportunity.

Why Invest in US-Listed Canadian Companies?
A US investor that buys a Canadian company that is listed on a US exchange can obtain economic exposure to the domestic Canadian economy (assuming the company does most of its business in Canada). This is an important source of diversification since the Canadian economy is managed and performs quite differently from that of the US.

While Canadian and US equities are both influenced by the changes in global systemic risk aversion, over the long haul there may be some diversification benefits from investing in non-US companies.

Why Not Simply buy a Canadian Equity ETF?
Buying the index may be an ideal solution for some. However, I prefer to stay away from Canadian index ETFs that weight underlying constituents by market cap. Canada has historically been a fairly concentrated market, with a handful of companies making up the bulk of the S&P/TSX Composite Index. During the tech bubble, Nortel (NRTLQ.PK) was a big portion of the index. Before the financial crash of 2008, the S&P/TSX was dominated by RIM (RIMM) and Potash (POT).

I think that many investors might find that an equal-weighted or fundamentals-weighted basket of select Canadian stocks reduces concentration risk.

To get started, I've hand picked three Canadian dividend payers with fat yields. I screened for big companies with a sustainable, 4%+ dividend yield. I also selected 3 companies from different industries. Here's what I came up with:
Sun Life Financial (SLF): an international financial services company known primarily as a life insurance company.
Bank of Nova Scotia (BNS): the third largest bank in Canada by deposits and market capitalization.
Rogers Communications (RCI): one of Canada's largest communications companies, particularly in the field of wireless communications, cable television, home phone and internet with additional telecommunications and mass media assets.
The first two charts below show the dividend yield and payout ratios for each company. SLF stands out as big contender with a whopping yield near 6% and a payout ratio of about 45%. A payout ratio below 50% gives me comfort that a company has enough of an earnings buffer to keep paying dividends throughout the business cycle.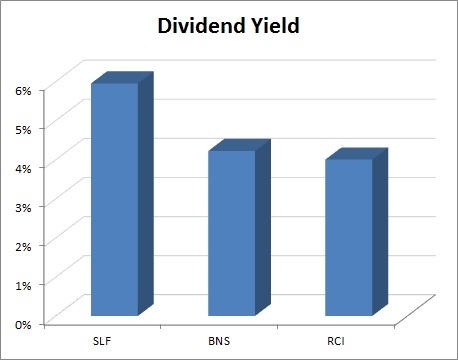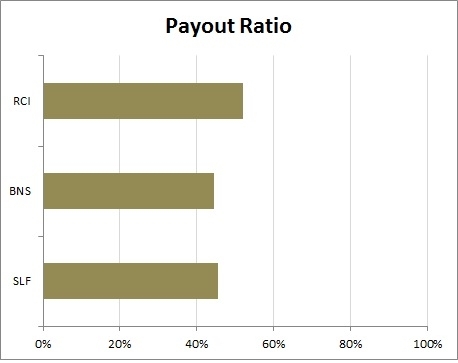 Evaluating the sustainability of a dividend doesn't end with the payout ratio. Dividends get paid out of earnings, and earnings can swing with the business cycle. A business starting from a platform of big profitability may more effectively manage earnings fluctuations.

Profitability in terms of operating margins:
SLF:11.50%
BNS: 39.26%
RCI: 21.62%
Profitability in terms of return on equity:
SLF:11.89%
BNS: 19.38%
RCI: 35.43%
One must also remember that profitability is related to leverage. So while RCI may be more profitable than SLF, its high long term debt-to-equity ratio (see 3 charts below) shows that much of this may be due to leverage.

What leverage gives, it also takes away. While the company may be profitable now, RCI's leverage ratio could amplify a relatively small change in revenues into a loss. As a result, one might conclude that RCI's dividend payout is less sustainable.

Nevertheless, analysts forecast fairly robust EPS growth for SLF, BNS and RCI over the next 5 years, of 9.78%, 9.67% and 10.03% respectively.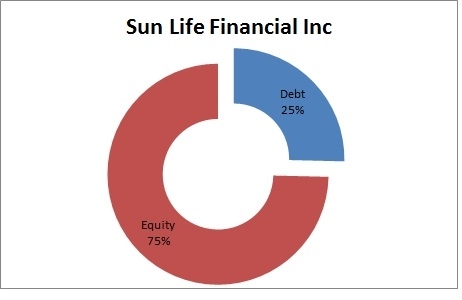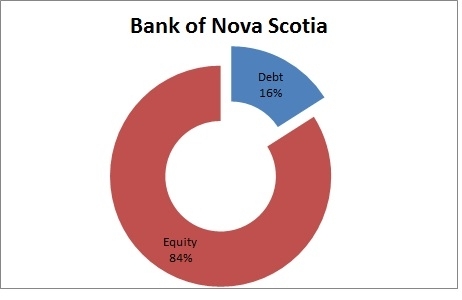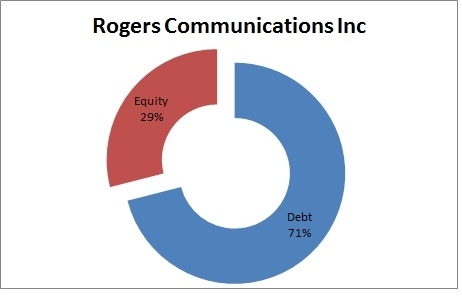 Relative to earnings, SLF and BNS are trading at attractive valuations (chart below). One might (reasonably) argue that SLF and BNS both have greater sensitivity to the markets, which is why they are trading at a discount to RCI. But judging by the second chart below, SLF has dropped in price quite significantly relative to its 200 day moving average, leaving me to wonder how much (or how little) momentum is left in its sellof.

SLF, BNS and RCI are below their 200 day moving averages by 16%, 12% and 1% respectively.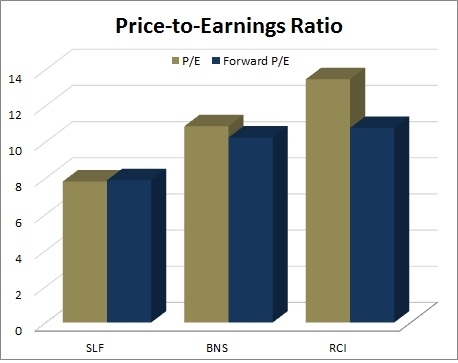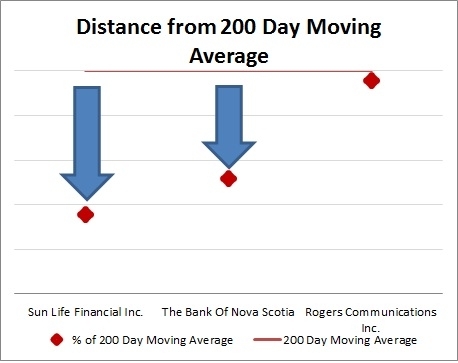 If I was to pick one of the above as my favorite, I'd highlight SLF for it's strong sustainable dividend, low long term debt ratio (within this comparison) and cheap valuation. However, more research is required before anyone makes investment decisions.

Disclosure: I have no positions in any stocks mentioned, and no plans to initiate any positions within the next 72 hours.

Disclaimer: This is not advice. While Plan B Economics makes every effort to provide high quality information, the information is not guaranteed to be accurate and should not be relied on. Investing involves risk and you could lose all your money. Consult a professional advisor before making any investing decisions.