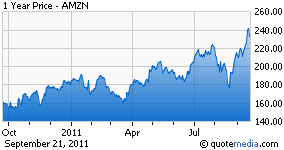 Recent headlines about embarrassing work conditions at an Amazon.com (NASDAQ:AMZN) fulfillment center on the east coast are a serious matter. The newspaper that discovered the truth should be commended for their efforts. But if past high profile stories are the precedent, there should be little effect on the stock price going forward.
In a September 17 article, The Morning Call detailed some disturbing details about work conditions at the Amazon.com warehouse in Lehigh Valley Pennsylvania. The newspaper interviewed 20 current and former warehouse workers for insight into work conditions at the warehouse and the mosaic painted by the collective glimpses includes stories of warehouse temperatures that soared above 100 degrees, a co-worker fainting at the water fountain and paramedics bringing people out of the warehouse for treatment. According to the article, these unflattering accounts are not confined to opinions of former and current employees:
An emergency room doctor in June called federal regulators to report an "unsafe environment" after he treated several Amazon warehouse workers for heat-related problems. The doctor's report was echoed by warehouse workers who also complained to regulators, including a security guard who reported seeing pregnant employees suffering in the heat.
AMZN is not the only major company to face criticism for questionable work conditions. Apple (NASDAQ:AAPL) faced similar negative headlines because of the poor treatment of employees at Foxconn Technology facilities, which manufactures Apple's products. Some may argue that Apple was comfortably detached from the fiasco at Foxconn because of the indirect connection to the Foxconn employees, but it is hard to argue that the headlines cast a stain on a company whose value is very much centered on both their design, function and reputation. Since the story broke, the Apple's stock has continued to trade at higher highs and demand for iPhones and iPads has continued to grow.
SUMMARY
Of course, there are two sides to every story and as such, it would be wrong for investors to cast too harsh of a light on the internet retailer based solely on this story. In the short-term, the Apple precedent with Foxconn tells us the stock market will likely ignore the headlines. But still, the Morning Call article raises serious issues that if true and if left unresolved could have adverse consequences for the company in the long term. Unlike Apple, Amazon.com's stock price is much more exposed to problems involving workplace satisfaction. Like other retailers, they have slim profit margins. During the last twelve months, their profit margin was 2.58%, which trails even Wal-Mart (NYSE:WMT)'s 3.87%. If unsatisfactory work conditions are key to keeping costs low, AMZN may eventually face a difficult choice between diminished margins or diminished sales growth as they raise prices to keep up with labor costs.
We fully expect AMZN to brush off the recent headlines, but high flying stocks are often priced for perfection and as such, any stumble can have outsized consequences for the stock price valuation. Netflix Inc. (NASDAQ:NFLX) is a good example of this. Not long ago, the stock was a darling of high growth investors but following a poorly received decision to increase prices, the company's stock now trades at less than half of the 52 week high. The DVD and online rental company still trades at a trailing P/E of 33.05. Amazon.com currently trades at a trailing P/E of 105.60 and a forward P/E of 74.32. These valuations are a sharp contrast to WMT's trailing P/E of 11.02 and forward P/E of 10.59.
Disclosure: I am long AAPL.