In my first article about ING I mentioned that the company's divesting strategy will lead to a higher stock price.
Of course, I don't know the timeframe when this is going to happen.
ING presented solid, better than expected 2Q11 results. Despite the difficult economic conditions, ING managed to keep the results at the bank largely stable while improving the insurance business, which is being prepared for two IPOs in the near future. Capital ratios remain strong, the exposure to peripheral European sovereign debt is limited, and ING is making huge steps towards finalizing its restructuring process, having recently sold its Latin American insurer and ING Direct USA.
| EUR mln | 2Q11 Act | 2Q11 Est. | 2Q10 Act | 1Q11 Act |
| --- | --- | --- | --- | --- |
| Underlying pre-tax profit | 1977 | 2041 | 1625 | 2123 |
| - Insurance | 673 | 451 | 18 | 428 |
| - Bank | 1304 | 1585 | 1607 | 1695 |
| Underlying net result | 1528 | 1390 | 1319 | 1492 |
| Reported net result | 1507 | 1304 | 1221 | 1381 |
Reuters consensus, company data
Looking at the two businesses, the bank posted stable results with loan volumes, loan losses and the net interest margin largely stable. The cost income ratio dropped slightly to 59.2%, largely thanks to EUR 187million in writedowns on Greek debt. Excluding this, the ratio was stable q-o-q at 54.6%. The capital ratio remains strong, with the core tier one capital ratio at 9.4%, but including the recent disposals it is at 10.7%, far above the sector average. The retail bank was slightly weak thanks to the slow Dutch mortgage market, while the commercial bank was solid. ING insurance was a positive surprise, with the underlying result 45% above expectations despite EUR 123million in Greek bond writedowns. Although the insurance result was largely driven by the strong investment results and cost cutting, fee and premium income was up 3.6%. The solvency ratio remains strong at 252% (264% after recent disposals).
Debt update
"ING Bank's total investment book Asset Backed Securities (ABS) exposure has declined to EUR 19bn from EUR 66bn. The Asset Back Securities of EUR 19bn can be broken down into EUR 13bn non-U.S. Residential Mortgage Backed Securities, EUR 5bn other ABS, and EUR 1bn Commercial Mortgage Backed Securities."

"It should be noted that the US Alt-A RMBS on its own total investments has been entirely reduced. We remain cautious with respect to the ABS market as we believe that there is insufficient appetite for such investments and as such believe that ING will continue to decline its ABS exposure further which is a positive signal."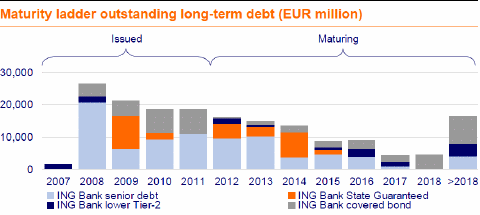 "In addition, ING states that its refinancing need is met for 2011. The company raised EUR 19.5b (31 august 2011) vs. EUR 10.7bn maturing in FY11. We can derive from the figure (see above) that ING has modest long-term funding needs."

"Conclusion & Action: ING's update clearly shows that the company is committed to achieve its restructuring objectives. ING aims to achieve this by keeping track with its divestment program and de-risk the company."
Conclusion
The market is too cautious on ING, which trades at 3.6x 2012 earnings, 0.46x book value and at an estimated 2012 dividend yield of more than 6% (although ING will not pay a dividend now and probably will not start until 2012). This is far below the sector average, and the sector itself looks quite cheap despite the risks posed by the peripheral debt crisis.
The main reason the stock is being hit by the market is because the current market climate and current valuation levels would not be advantageous for the stock to IPO its insurer. However, given its strong capitalization levels, ING still has the option to spin off one-- or maybe both-- of the insurers directly to current shareholders, which would make an IPO unnecessary.
Another reason could be that the Fed decided to organize three hearings about the USD 9bln sale of ING Direct USA to Capital One. With these hearings, the Fed wants to know if the transaction is in favor of consumers and if Capital One, after the deal the fifth bank of America, is becoming too big and a threat to the financial system.
For now, it's difficult to comment on the Fed hearings. There are protests from consumers against the sale, but the "too big to fail" argument is open for discussion considering Capital One's balance sheet of USD 200bln against, for example Bank of America with more than USD 2.300bln on its balance sheet.
In the mean time, Capital One is going forward with the acquisition of ING Direct. It bought an interest rate swap to cover the interest risk of ING Direct and it bought the credit card portfolio of HSBC. The deposits of ING Direct are to be used as funding for the credit card business. However, a 'No' from the Fed would be bad news for ING, meaning there are no strategic buyers left, other than Private Equity firms. This could have a negative effect on the price.
Disclosure: I have no positions in any stocks mentioned, and no plans to initiate any positions within the next 72 hours.