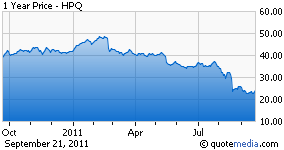 Despite the fact investors have given a bump to Hewlett Packard's damaged stock on word that much maligned CEO Leo Apotheker will be given a pink slip, you might want to think twice about picking up shares of the company, new CEO or not. Word has it HP will replace Apotheker with former eBay CEO and failed California gubernatorial candidate Meg Whitman, who doesn't exactly seem like she'd be a shareholder's first choice.
While Apotheker's hiring was far from a brilliant move on the part of HPQ's board, HPQ had scraped an iceberg well before he took the helm. Revenue growth was slowing and margins were shrinking, as two of its major markets (PC & Imaging) experienced weakness, probably a dual result of maturation and a soft economy. HPQ has indicated that it might spin off the PC business, which given its basically no growth, would be a positive to the remaining divisions.
Meanwhile, the stock has cratered roughly 40% since Apotheker came on the scene, and though it might have arguably done the same if Mark Hurd were still CEO, someone has to take the fall, and since the board can't fire itself (although maybe it should consider doing so), Apotheker is their guy.
The company has taken steps to invigorate growth, for example its pricey purchase of cloud computing concern 3Par , but overall is still playing bogey golf. HP's Cathy Lesjack admitted as such in last quarter's earnings release saying, "Our outlook reflects the challenges that we face across our businesses ... dealing with these challenges will take time, but HP will navigate through the transformation to become a more focused, streamlined company." In more practical terms, we're in trouble, we know it, and don't expect any kind of near-term miracle.
So is current board member Whitman HP's salvation? Don't bet on it. She's had to fix a few servers during the early day eBay site outages, but there's no reason to think she's got the wherewithal to steer this Titanic past future icebergs any better than Apotheker. The company needs a seasoned technology veteran to guide the company from here. Who might that be? They're probably out there, but rest assured HPQ's board won't find them.
Disclosure: I have no positions in any stocks mentioned, and no plans to initiate any positions within the next 72 hours.