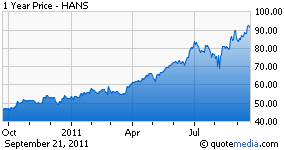 A HANS)%3B+Monster+has+More+in+the+Tank/6802567.html" rel="nofollow">UBS analyst recently reiterated the "Buy" rating on Hansen Natural (HANS) citing continued growth from the Monster energy drink brand. Hansen has done an amazing job competing in the beverage category. Hansen has shown strong growth even in a slowing economic environment.
The UBS analyst says, "We believe Monster will continue to demonstrate double digit top-line and bottom-line growth through 2013. While results may be lumpy, we expect top-line/bottom-line CAGR of 14.4%/20.5% over the next three years to drive further share upside".
I have to agree with UBS and don't see any signs that Monster's growth is slowing. Hansen saw second quarter sales up 26.4% compared to the same quarter in the previous year. Hansen also saw earnings per share increase to $0.90 from $0.69 in the same quarter last year.
Hansen is also starting to see good things from its newly launched non-carbonated Monster Rehab energy drink. This product was newly launched in the first quarter and has already become one of the company's top products in convenience stores and gas stations. I expect to see more growth in the Monster line as more products are released.
Monster continues to see tremendous growth internationally. Monster's sales in Canada increase 41% in the second quarter with market share increasing by 5.7 percentage points over the same period last year. Mexico and Europe saw strong gains in market share as well. I expect to see further growth as Hansen looks to expand the Monster brand into new markets. Monster recently launched in more countries located in Europe and South America. The company has strong growth plans going into the end of the year with planned launches into the Asian market.
I'm bullish on Hansen and expect more upside as the company continues to grow its Monster brand energy drinks. I don't see the company's growth slowing anytime soon so I view pullbacks as buy opportunities.
Disclosure: I have no positions in any stocks mentioned, but may initiate a long position in HANS over the next 72 hours.