Even in these difficult economic times it is still possible for companies to thrive if they are able to offer customers high quality merchandise at a knock down price. This has always been the case. However the current credit crisis has led to new opportunities for companies that offer hard strapped consumers access to credit, where traditional bank facilities are not available, or help them turn no longer wanted items, such as gold and jewelery, into cash.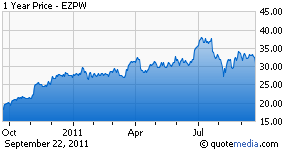 One company that provides all of these services is EZCORP, Inc. (NASDAQ:EZPW), a leading provider of specialty consumer financial services offering pawn stores in the United States and Mexico, as well as consumer loan stores in the United States and in Canada and jewelery scrappage services.
Between 2006 and 2010 the company reported remarkable growth. Total revenues increased 132%, net income increased 232.5% and the average annual rate of EPS growth was 30.1%. As a result EZCORP was included in the 2010 Forbes magazine 100 Fastest-Growing Companies list.
In July the company announced 2011 Q3 results with a further 33% increase in net income and 32% increase in EPS. The company also reaffirmed that it expects adjusted full year 2011 earnings per share to increase by 30% to $2.55.
The business is driven primarily by the US pawn business which generates around 75% of revenues and earnings. This comprises non-recourse pawn loans collateralized by personal property and merchandise sales which consist primarily of pre-owned collateral forfeited from the pawn lending activities. Approximately 64% of pawn loan collateral is jewelery, mostly gold, while consumer electronics, tools, sporting goods and musical instruments make up the rest. There is no recourse to the customer and EZCORP relies primarily on the estimated resale value of the collateral. To protect against loss, EZCORP generally lends less than 65% of the pledged property's estimated resale value.
The business has been highly profitable as the majority of U.S. pawn loans earn 20% per month while the gross margin on forfeited items is typically 40%. The amounts are small and short term with the average U.S. pawn loan amount and term being typically less than $120 and 120 days. However, volumes have increased and pawn service charges have grown by 250% between 2006 and 2010 and by a further 22.3% in the first 9 months of 2011.

Although a much less important driver of profitability, EZCORP also offers a variety of loan products and credit services to customers who do not have access to other sources of credit. Many customers find EZCORP's loan products a more attractive alternative than borrowing from friends or incurring charges imposed when they have insufficient cash to make finance or utility bill payments. Customers can exercise greater control of their personal finances without damaging the relationship they have with their merchants, service providers and family members. EZCORP offers the following loan products:

Payday loans which are small (average $430), short-term loans (generally about 16 days) with due dates corresponding to the customer's next payday.

Installment loans which are typically larger ($525 to $3000), carry a term of five months and are payable in equal installments due every 2 weeks.

Auto title loans are 30-day loans collateralized by the titles to customers' automobiles. The principal amount of an auto title loan can be up to $9,000, but averages about $650. Loan amounts are established based on customers' income levels, an inspection of the automobile and title and reference to market values of used automobiles.
The typical charge on all of the credit products is approximately 20% per month.
The credit products businesses offer a valuable element of diversification. However management needs to monitor these areas closely to ensure that adequate levels of underwriting are maintained. Signature loan bad debt levels have been increasing and this has held back profitability. Consequently management needs to ensure that loan growth only occurs when pricing exceeds operating costs and bad debt charges. The loan book should only be allowed to grow slowly as the business builds one on one customer relationships and as customers build track records. Impairments persisting in excess of 30% of fees would be a warning flag that standards were falling.

The key business driver remains the US pawn business which continues to show strong growth. A sharp fall in the price of gold would have a negative impact on EZCORP but it should be manageable due to its loan to value ratio of less than 65%, its low levels of inventory and its negligible debt. A lower gold price would reduce EZCORP's customers' ability to use their jewelery to raise finance and would probably slow the remarkable rates of growth that we have seen to date. However the success of the pawn industry seems to be a result of a fundamental shift within US financial services as traditional banking facilities have been withdrawn. If this is the case then a correction in the price of gold would only hold back growth for a short time.

With negligible debt, strong earnings growth and trading on a PE of 14.34, EZCORP and its shareholders look well placed to continue to thrive. There is no sign yet of a let up of the economic pressures driving customers to seek pawn store credit products. Nor are there significant competitive pressures driving down margins. In such an environment EZCORP should focus on its collateralised pawn business and tighten the lending criteria and control procedures on the unsecured book. As bankers used to say, giving the money away is the easy part.

Disclosure: The author has no long or short positions in EZCORP nor any intentions of executing any positions in the stock in the next 72 hours.