Financial companies have been down significantly for the year: Goldman Sachs (NYSE:GS) has lost 41.8%; Bank of America, (NYSE:BAC) 52.2%; Citigroup (NYSE:C), 46%; JPMorgan (NYSE:JPM), 28.5%. During the same time period, the S&P only lost 7.2%. Investors are concerned about the volatility, moral hazard, leverage, and bets of these post-recession companies. While the government tries to issue warnings that these companies will face penalties for being bailed out, many feel that this is just superficial talk that will be forgotten in the next business cycle. Moreover, only the size of a future bailout (and terms), not the existence of one, is seriously questioned.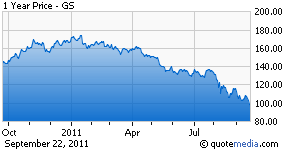 Goldman Sachs, in particular, has been met with criticisms since the start of the recession. It has become largely a whipping boy for industry critics, which is unfortunate given the company's strong fundamentals and cash holdings at nearly 1.7x debt. While the corporation has struggled from a volatile market, overbearing scrutiny, and government red tape, I foresee the firm making a strong comeback with high risk-adjusted returns in the near future.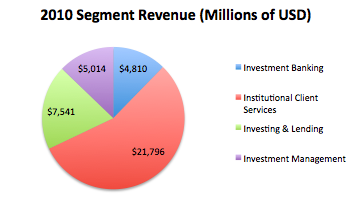 Click to enlarge
(Click to enlarge)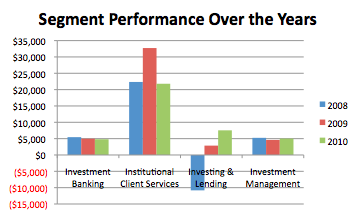 *note: figures in millions of USD
Concerns about the European sovereign crisis and derivatives regulation have accounted for much of this loss in shareholder value. While many financial firms argue that the Volcker Rule will not significantly impact the fundamentals, the market appears to have taken an opposite view. This regulation places restrictions on proprietary trading and alternative investments for banks. A fear about a double dip in the United States is further holding back value creation by lowering demand for investment services in the capital markets. Systemic risk and securities volatility are further adding to investors' reservations about financial companies. But given the circumstances of emerging from a financial crisis, I find that the market has exaggerated risks largely through emotional anomalies. Goldman Sachs still remains a go-to underwriter and innovative service provider.
Many analysts and investors have also rightly pointed to the resiliency of United States capitalism and the strong business environment as potential catalysts for growth. A silver lining is that while companies may struggle to create value organically with low consumer expenditures, M&A options could provide a next-best alternative and thereby benefit firms like Goldman Sachs.
The leading investment bank has 87% of revenue in the capital markets segment for its peer group. It trades attractively at 9.6x and 6.3x past and forward earnings, respectively. In addition to these multiples, Goldman Sachs has $815.3B in cash while its market cap is $49.5B. Officers and directors also have a strong incentive to create value, as they own approximately 1.1% of the company, collectively. This is a company that I expect to positively surprise long-investors in the near future. I expect regulations to also become less stringent than anticipated, as these firms prove resiliency and a driver of long-term economic growth.
Most analysts rate the company somewhere between a "hold" and a "buy." Consensus estimates for EPS are that it will decline by 29.7% in 2011 to $9.27 and then increase by 65.8% and 7.5% in the following two years. Goldman Sachs also offers the highest dividend yield in its peer group at 1.43%. Given the macro concerns, risk-adjusted returns will be strong going forward for financial companies if they ultimately beat expectations. I rate this company more towards a "buy" given the above beliefs.
Disclosure: I have no positions in any stocks mentioned, and no plans to initiate any positions within the next 72 hours.