Savient Pharmaceuticals, Inc. (OTC:SVNT), based in East Brunswick, NJ is a biotechnology company engaged in the commercialization of Krystexxa (first and only in its class), for refractory chronic gout (RCG), an indication for which SVNT has obtained orphan drug designation. Utilizing their proprietary PEGylated enzyme pegloticase (Krystexxa), the company aims to focus on growing domestic revenues (open to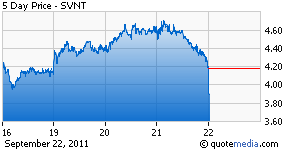 partnerships abroad) and generate positive cash flows. Savient was once a high flying biotech, and many articles were published talking about what a great investment SVNT stock was. Looking at a stock chart, Savient looks like a falling knife, which may be scaring off even the most seasoned investors. However, many of these events are readily explained by articles and press releases. So what happened?
Share Price History: Savient shares first soared approximately 30% following FDA approval (and here) and in the ensuing weeks traded in the low 20s as investors' expectations of a buyout fueled the price increase. Following 40% drop in October of 2010 after the company announced that plans for a sale had fallen through and they would be launching Krystexxa on their own, with plans for a full promotional launch in Q1 2011. Fresh blood was also brought on (CEO and executive appointments) to facilitate the launch. These developments did little to stymie the decline in the share price however, and the stock has languished over the past 10 months, recently dipping below 4.
Safety and Efficacy of Krystexxa: While not to downplay market metrics such as NPV, sales margins, and market penetration, the adoption and success of Krystexxa will depend on its results in the clinic. Krystexxa does not seek to treat the majority of gout patients, but the ones who have failed other gout treatments. The idea is simple: Krystexxa is injected every other week, and is a long-lasting (PEGylated) enzyme designed to break down urate in the blood, the root cause of gout. Chronic refractory gout is problematic for many reasons, including serious co-morbidities (metabolic and cardiovascular disorders), extreme discomfort (quality of life), destructive tophi, and chronic disability. Most of the 4-5 MM gout patients in the US experiencing gout flares will not require powerful medication like Krystexxa, but either time or current gout treatments successfully treat their condition.
According to SVNT's recent research (a quantitative conducted by an independent healthcare consultancy), approximately 120,000 patients are candidates for Krystexxa based on its current label. A look at the phase 3 clinical trials reveals that while many patients (approximately 30% of the Krystexxa arms mostly for infusion related events, 9% in the placebo arm) removed themselves from the study, the data demonstrated statistically significant reductions in plasma uric acid (PUA, the primary endpoint) that was durable in responding patients, gout flares, and overall physician assessment (subjective secondary endpoint). It is my opinion that these benefits, for the majority of patients, outweigh some of the adverse events seen with infusion site reactions and the development of antibodies to the PEG moiety (although not the active biologic), and that many patients will remain on the drug for significant amounts of time (6 months or more, but the label is not clear on when treatment should be ended).
This presentation at SVNT's adcom meeting (2009) was extremely helpful.
2nd Quarter Highlights: During the previous conference call, management released a presentation (you can view it here) and there are many positive takeaways from the report and conference call. Marketing and sales representatives (approximately 60 sales reps) have reached approximately 90% of high value rheumatologists (the primary targets, reached an average of 4 times) and penetrated significant percentages of additional physicians. The compound has reimbursement specialists in place, and is on formulary at many of the institutions targeted, and looks to increase in the coming quarters. A total of 104 new accounts were added, bringing the total to 140.
While maybe not a huge boon, the phase 3 results of the trial were recently published in JAMA, which should help with physician acceptance of Krystexxa. It is management's opinion that one factor hindering a more rapid launch was the lack of widespread education pre-launch, and they are working very hard to remedy this by presenting at rheumatology oriented conferences and even offering 2 free doses of Krystexxa to new patients.
Pipeline, Financials, and Market Size: SVNT is not currently developing any new products but is focused on commercializing their gout treatment, Krystexxa. Financially, with the successful senior convertible bond offering earlier this year, SVNT has significant amounts of cash on its balance sheet and is under no near-term pressure to raise additional capital. As of the most recent quarter, SVNT has approximately $250 MM in cash, marketable securities, and short-term investments. Cash expenses for the first 6 months of 2011 include approximately $4.4 MM of interest expense on the convertible notes, $40.5 MM in SG&A (increased headcount for the launch), and $11.5 MM for R&D. This is offset by approximately $3.3 MM in revenues of Krystexxa sales over the same 6 month period.
With a market cap of approximately $300 MM (and cash of $250 MM), the bar is low for Savient. Even 10% market penetration of the estimated 120,000, multiplied by the approximately $60,000 annual price tag (orphan biologic), and a treatment length of 6 months yields annual sales of $360 MM. Assigning a conservative 2x or 3x sales multiple yields a share price of $10-15. This I believe is a very conservative estimate, and achievable in 3 years. (Note: the senior convertibles are convertible to 20 MM shares at 11.54 in 2018, but earlier in 2015 at the option of SVNT)
Conclusion and Future Directions: Unlike many small-cap biotech companies focused on developing candidates and securing FDA approval while fighting significant cash burn, SVNT has successfully secured FDA approval and continues its ramp-up of Krystexxa. Now that SVNT's share price has fallen so far, I believe it is worth a closer look and the reduced expectations allow SVNT to potentially outperform the broader market. I attribute much of the decline to investors throwing in the towel and a lack of patience for the difficult task of building a market from scratch, even though SVNT had a late start launching the drug. As further evidence of a potential value play, insiders have recently picked up significant amounts of stock through open market purchases.
As management stated in their recent Wedbush presentation, SVNT would be open to a transaction and remains a potential M&A target from previously mentioned suitors (ABT, BMS, Roche, JNJ); although it is possible that shareholders would revolt citing opportunistic market timing by the larger firm, given that SVNT traded at over 6x its current price over the past year. Challenges remain however, and Krystexxa has yet to show significant sales and broad adoption by physicians, and there is no guarantee they will penetrate the market further.


Disclosure: I am long OTC:SVNT.

Additional disclosure: Covered call (short oct 4 call)