Shares of NPS Pharmaceuticals (Nasdaq:NPSP) have traded as high as $7.11 on Wednesday, and it continues to attract attention from institutional investors such as hedge fund managers and mutual fund managers (a.k.a. the "smart money") ahead of key Phase III trial data.
On Monday, when the stock was down to $6.34, we told our readers that Cannacord analyst George Farmer, Ph.D. had just reiterated his BUY rating on the downward trending NPSP, which develops specialty therapeutics for gastrointestinal and endocrine disorders with high unmet medical needs. He believes that new data bodes well for success in the Phase III REPLACE trial of NPSP558 for hypoparathyroidism, an endocrine disorder in which the parathyroid glands in the neck do not produce enough parathyroid hormone.
In a March press release, the company announced that the company looked forward to reporting top line results sometime this quarter. The PHASE III REPLACE trial is a double-blind, placebo-controlled study evaluating the use of NPSP558 as hormone replacement therapy in adult patients with hypoparathyroidism. A total of 135 patients were randomized in Phase III study.
In his new report dated Sept 19th, Farmer states:
We see further signals of NPSP558 promise as investigator sponsored trial data reported at ASBMR showed four-year longterm safety and efficacy for PTH(1-84), a drug identical to NPSP558. This supports positive results recently seen from a randomized study of PTH(1-84) that showed significant reductions in calcium and vitamin D supplementation, in line with goals of the Phase III REPLACE trial of NPSP558. Allowance for dose titration in REPLACE supports chances for even more compelling efficacy and tolerability outcomes, in our view. Top-line REPLACE data is expected by year-end and a potential NPSP558 filing in mid-2012.
Relatively low HPT prevalence clouds estimates of ultimate NPSP558 market potential, but we believe clinical data to date is underappreciated by the Street at current valuation. On modest penetration assumptions, we estimate ~$140M in sales by 2016.
NDA filing for lead candidate GATTEX for treatment of short bowel syndrome is expected by year-end. On compelling data to be reviewed and possibly expanded upon at Oct. 28-Nov. 2 ACG meeting, we see a strong likelihood of FDA approval in H2/12.
Valuation and risks. Our $14 price target is based on a DCF assuming $65k GATTEX pricing, estimated NPV for unencumbered Sensipar royalties, and risk-adjusted NPSP558 success. Risks include regulatory setbacks and clinical trial failures. Model changes correct for previous misinterpretation of debt restructuring impact.
A look at the BioMedReports FDA calendar shows three upcoming milestone entries for NPSP, whose shares have been trading sideways at discounted levels (currently 36% off their 52-week high) since August:
| | | | | | |
| --- | --- | --- | --- | --- | --- |
| Date | Type | Drug | Status | Medical Indication | Event |
| 4Q11 | NDA Submission | Gattex | III | Parenteral Nutrition Dependent Short Bowel Syndrome | NDA filing |
| 4Q11 | Product Status | Preos | III | Hypoparathyroidism | Phase III trial result |
| 2012 | NDA Submission | Preos | III | Hypoparathyroidism | NDA filing |
There are currently 4.5 million shares short in the stock with less than five days left to cover (Short Interest Ratio).
If the price breaks the current down-trend, it may be worth taking closer look at the shares. Until then, we recommend patience and a watchful eye as speculators may begin to take positions. Remember that there are currently no approved treatments for hypoparathyroidism, a disease that can cause serious bone, muscular and neurological symptoms. Current treatment approaches are palliative and can lead to long-term health risks. As a replica of natural parathyroid hormone 1-84, NPSP558 has the potential to address the unmet need by treating the underlying cause of the disorder rather than just managing the symptoms.
The Company's research and development pipeline includes: GATTEX (teduglutide) indicated for Short Bowel Syndrome; the previously mentioned NPSP558 (parathyroid hormone 1-84 [rDNA origin] injection) indicated for Hypoparathyroidism; PREOS (parathyroid hormone 1-84 [rDNA origin] injection) indicated for Osteoporosis; Teduglutide indicated for Crohn's Disease, Pediatric Indications and GI Mucositis; Glycine reuptake inhibitors indicated for CNS; etc.

NPSP's partnered product folio includes: 1) Sensipar® (cinacalcet HCI), indicated for the treatment of secondary hyperparathyroidism in patients with Chronic Kidney Disease on dialysis; 2) REGPARA® (cinacaclet HCl) used for the treatment of hyperparathyroidism; and 3) Preotact® used for the treatment of osteoporosis in post-menopausal women.
We still like the approval odds for SANUWAVE Health's (OTCQB:SNWV) dermaPACE® device which we first told you about in late August.
If this were a pending drug approval on a treatment to address a multi-billion dollar market, retail investors woud be as excited as the analysts who arepeople don't yet understand following the stock, but it's a medical device and perhaps people don't yet understand what it can do? This technology appears to be the best hope to date for the nearly 27 million people in the U.S. have been diagnosed with diabetes and suffer from diabetic foot ulcers. Most frequently, these open wounds cause of hospitalization for diabetics, and often lead to amputation. In this country alone, more than 80,000 amputations are performed each year. And as you know the problem is only getting bigger.
What is not to like here? Money in the bank, Impressive Phase III trial results that not only measure up, but also surpass any of the existing FDA approved technologies without bias, a management team that only got stronger on Wednesday, and keen interest from competitors in the space like Kinetic Concepts (NYSE: KCI) and Shire plc (Nasdaq:SHPGY) whose multi-billion dollar market valuations have got to be threatened by this new device.
Based on Wednesday's addition of Ron Sparks, the 34-year veteran of the medical device industry whose credntials and experience in the same space run deep and impressive, it's clear that something big is brewing at SANUWAVE.
Sparks was integrally involved in the successful launch of Dermagraft®, a cell based therapy used to treat diabetic foot ulcers. Dermagraft quickly reached revenue of $140 million in 2010. And in case you missed it, Shire just acquired that firm and technology for $750 million in cash!

If you can stomach it, take a look at page 18, 19 and 20 of the company's presentation (pdf) to see what this device can do for patients whose foot ulcers would not heal with any other treatment, anywhere.
Finally, from the high-risk/high reward rumor mill, we're hearing buzz involving the resurection of Catasys Inc. (OTCQB:CATS).
Despite the skepticism in our earlier report, it appears a combination of positive pending catalysts combined with the realization of key upcoming milestones may actually help accelerate the anticipated ascent of Catasys, Inc. from the ashes.
After some key announcements (pdf) during a presentation at last week's Rodman & Renshaw Healthcare Conference in New York City, investors have been watching the stock for new contractual activity and other anticipated initiatives which should begin to facilitate the realization of profits and turn the company's financial fortunes around. Earlier this month, the Company's Board of Directors declared a reverse stock split as part of the Company's initiatives to improve its capital markets appeal to investors.

As we told you earlier, Catasys has found it incredibly difficult to get off the starting block with previous versions of their medical treatment approach which was designed specifically to help healthcare plan providers save money.
After some internal adjustments, proven performance models have now emerged and it appears that the firm is finally beginning to convince the insurance industry that it can help solve a $21 billion problem posed by health plan members who suffer from substance abuse. Those substance dependent members cost health plans up to eight times more than other enrolled members.

Many of those costs are passed on and have caused insurance premiums to skyrocket 100% during the last 10 years. Because insurance providers are under increasing pressure to reduce costs and legislative Health Care Reform is pressuring the industry for additional price controls, Catasys executives are anticipating that additional clients will engage them and contract their unique service. Especially now that some of these firms are getting more desperate. Evan as we prepare this report, there is breaking news that employee health care benefits are expected to increase another 5.4% next year, according to an annual survey just released by Mercer.

All of these factors, plus the firm's revised business model appear to have finally put it, at least, on track to realize their long promised profit potential and since the patented, proprietary technology is currently the only solution with proven efficacy in this space, Catasys should be primed for rapid growth and expansion.

Based on discussions with several industry and Street players, we are now anticipating that Catasys will reach its recently presented profitability goals (see slides below).
In addition, the on-going development of existing client relationships coupled with a strong sales pipeline should facilitate exponential revenue growth during 2012 and beyond. Unofficially, we're hearing $18+ million in 2012, $38+ million in 2013 and somewhere between $100-$150 million in 2014 based on calculations involving the expected number of health plan members that the company discussed in their recent presentation.

If the numbers have been crunched correctly and news announcements begin to flow as expected, then we may see more investor attention toward Catasys.
Let's be honest, the stock was a dog for long-time shareholders, but if the company actually begins to attain some of its anticipated milestones in the days and weeks ahead, we may see the current market valuation begin to grow, especially since it does not yet reflect these developments.
It's all about execution at this point. Let's see if this is just more talk or if there is something to all the buzz.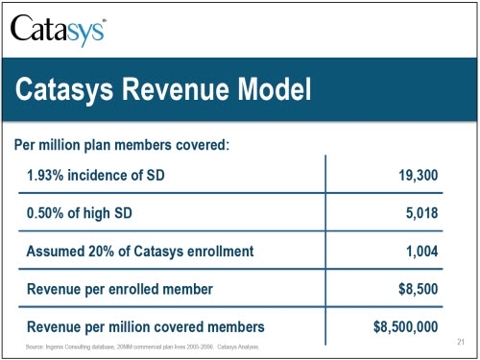 Click to enlarge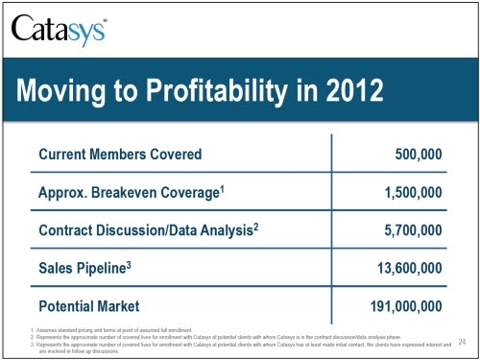 Click to enlarge

Disclosure: I have no positions in any stocks mentioned, and no plans to initiate any positions within the next 72 hours.