The media corporation Time Warner Inc. (NYSE:TWX) has received its share of criticisms from investors recently. The hesitancy appears to be grounded in a belief that the company is supposedly not well prepared to diversify in new innovative mediums going forward. How ironic that such a conglomerate would receive this type of criticism.
I believe that the future of media is in both increasing distribution and lowering costs -- the implementation of different mediums used to improve these business areas come largely as a natural process. Yes, HBO might not be sustainable in the long-run and, yes, the publishing segment will have difficulties. However, media is a fast moving business and the management of Time Warner understands this. The point is that the conglomerate has the wherewithal to expand into new distribution channels and I believe it will do so effortlessly. To the extent that the company has not transitioned well enough yet, I find that the market has already accounted for this apprehension.
Another fear investors tend to hold about Time Warner is that it will be vulnerable to a double dip. The truth is, entertainment is unpredictable as it is based on consumer psychology. Tough times may actually fuel demand, as it did during the Great Depression when films first became popular. Shareholders thus have an opportunity to benefit from high "risk"-adjusted returns in an industry that is surprisingly recession-proof. Further improving risk/reward, Time Warner offers a nice 3.13% dividend -- high for large-cap media companies.
The company currently trades at 12.9x and 9.6x past and forward earnings, respectively, and recently just under book value. Consensus estimates for EPS are that it will grow by 15.4% to $2.78 and then by 12.6% and 16.9% in the following two years. Most analysts rate the stock around a "buy".
Given the strength of the company's segments--networks, filmed entertainment, and publishing--I further see no reason to be as concerned about the "diversification" risk as the market has been. In October 2010, Warner Bros acquired 55% of the United Kingdom's Shed Media and Turner Broadcasting acquired Chile's Chilevision. Time Warner also owns approximately 70 magazines outside of the United States, which is about 3 times the amount offered domestically. Cartoon Network is also being largely distributed abroad. While this is just a start in international expansion, it reminds investors to not be overly concerned about the company falling behind abroad. Trends come and go in media and there are few barriers to entry, although the size of Time Warner certainly helps in the way of distribution.
My main concern with Time Warner then is in containing costs. Measured as a percent of SG&A, the company spends more than it needs to at 22.8% versus 18.9% and 21.3% for News Corp (NASDAQ:NWSA) and Comcast (NASDAQ:CMCSA), respectively. While high budget films always draw in attractive advertising, I do not find that this is a prerequisite to releasing enjoyable content, especially in film entertainment. Slightly more than 42% of the company's revenue comes from content -- not advertising or subscription -- produced just from film entertainment. Only 21% comes from advertising, below that of industry peers. I do not foresee the cost base improving significantly over the next two years.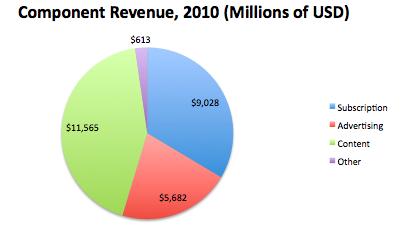 At the same time, the company syndicates approximately two-thirds of TNT and TBS' content. This has resulted in lower costs and reduces the risk of failing to predict and keep up with rapidly changing consumer interests. I further see that improved licensing opportunities will come from new distribution mediums. The company also has strong publishing brands: People, Sports Illustrated, Time, Fortune, Entertainment Weekly, among others. Although the rise of free content and internet options are making this segment vulnerable, I expect the magazines to conform to new trends through syndication in the future thereby lowering costs in the process.
With CNN, Turner Networks, rich television content, and a strong brand, I believe that the company is well positioned to exceed consumer expectations with much lower risk than what meets the eye. I forecast revenue growing by 4.5% to $28.1B in 2011, and then by 3.7% in the next year. I further remain confident that management will eventually implement the kinds of value-creating changes that investors have been calling for recently. In conclusion, Time Warner offers favorable risky asymmetry with strong long-term prospects. Accordingly, I rate the company a "buy".
Disclosure: I have no positions in any stocks mentioned, and no plans to initiate any positions within the next 72 hours.