Throughout the years, Starbucks (NASDAQ:SBUX) has grown through a practice of high pricing and market saturation. A store can often be found on the corner of almost every street in a major city. However, much of this growth has been made possible through the brand name and should that ever lose its appeal, the corporation will be likely left operating many vacant stores.
It is no secret that the specialty coffee-maker charges high prices for their products, but like any high-end company, the price implies the value and culture. At the same time, while that type of prestige pricing might work for luxury jewelers and hotels, investors should seriously question about the long-term compatibility of that policy in food and beverages. Dunkin' Donuts (NASDAQ:DNKN) offers much cheaper coffee and at quicker service. We are told, however, that the "Starbucks Experience" makes all the difference.
Perhaps that is true, but with the United States beverage retail market saturated with this vision, the company has recently had to explore difficult options that may end up cannibalizing the core business. Starbucks' Global Consumer Products Group segment offers beans and specialty coffee in grocery stores. Management argues that this segment, which accounted for 7% of sales in 2010, will eventually aid retail sales. There are many options in a grocery store and I fear that consumers may discover that the competitor products are cheaper, if only slightly worse in taste. Add high and volatile commodity prices and you have a firm that is exposed to substantial risk.
As for international expansion, it is true that the company has plenty of room to grow in this area. International sales made up only 21% of total sales in 2010, while the United States contributed 71% to the top line. Moreover, 3Q11 sales beat expectations on strong growth in China.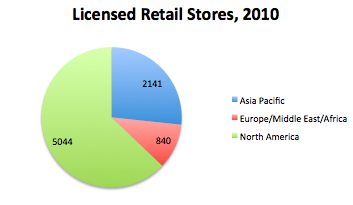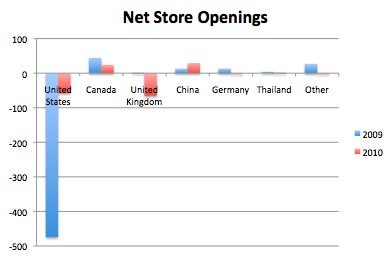 However, I believe that the market has already accounted for much of this potential. The company currently trades at 26.3x and 21.9x past and forward earnings, respectively. This pricing is slightly overvalued compared to my valuation of 10.9x EV/EBITDA in 2013 that accounts for planned international growth. Bear in mind that the European markets could very well be stagnant and slow to recover in the next few years. Also beverages are highly variable by region and thus Frappuccinos and Doubleshots might not have the sort of appeal that they do in the United States.
Accordingly, I forecast retail revenue to grow by 3.2% in 2011 to $9.25B and then by 7.3% the next year. I forecast specialty sales growing much faster at 23.3% in 2011 to $2.15B and then by 8% the next year. At the same time, I expect margins to remain roughly flat. Consensus estimates for EPS are that it will grow by 18.8%, 19.7%, and 19.2% over this same time period. Starbucks has been a strong brand over the last decade, but unless it reinvents its business in a sustainable way, its rise could be forever described as just a bubble.
Disclosure: I have no positions in any stocks mentioned, and no plans to initiate any positions within the next 72 hours.