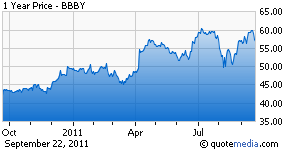 So, housewares retailer, Bed, Bath and Beyond Inc. (NASDAQ:BBBY), that also operates buybuy Baby, Harmon and Christmas Tree Shops stores, reported a strong profitable second quarter of FY2012, where the net quarter sales rose by around 8% to $2.3 billion from $2.1 billion the same quarter a year ago, and quarterly store sales rose by over 5%. Not bad! In fact, net earnings per diluted share increased to $0.94 from $0.71 same quarter the previous year.
Operating profit increased to $371 million, compared to $297 million same quarter previous year. Its operating margin of 13.79% is much better than 7.86% of Williams-Sonoma, Inc and -0.71% of Kirkland's (NASDAQ:KIRK). The company sure seems to be quite effective in maximizing efficiency of operation. From the cash flow statement, it seems the company is focusing hard on security investment as well. While wrong investment may turn out to be bad, a good investment at this moment will sure reap sweet fruits. So good going Bed, Bath and Beyond!
Even, on a year-over-year basis, the company's earnings growth is pretty good and consistent. It was $7.2 billion in 2009, $7.8 billion in 2010 and $8.8 billion in 2011. That's a pretty consistent long jumps I must say. Its quarterly revenue growth stands around 9.7%, compared to 7.3% of Macy's (NYSE:M), 4.6% of Target (NYSE:TGT) and 5.4% of Wal-Mart (NYSE:WMT). Whoa! It is beating the big boys even.
Yes, the only issue right now is the market. The U.S. market is pretty down with low consumer expenditure power, and if Bed, Bath and Beyond can tap onto the emerging market overseas, it would be positive for the company. Right now, the company mainly operates in U.S., Puerto Rico and Canada. Further market diversification is only going to do good I must say.
But right now, thumbs up to Bed, Bath and Beyond!
Disclosure: I have no positions in any stocks mentioned, and no plans to initiate any positions within the next 72 hours.