It appears the market is on its way to give back its 5% gain from last week and we will soon retest support levels on the S&P of 1120 to 1125. One stock that has held up well in the market turbulence of the last few months is Microsoft. Its low valuation, solid growth prospects and promising catalysts should let it continue to outperform the market for the near and medium term. I believe it should be a core holding in any portfolio to help navigate this volatile market.
Microsoft (NASDAQ:MSFT) – "Microsoft Corporation develops, licenses, and supports a range of software products and services for various computing devices worldwide". (Business Description from Yahoo Finance)
Catalysts:
1. Microsoft just announced it is raising its dividend payment 25% and stock will now yields a little over 3% at current price levels. While this disappointed some investors given the size of Microsoft's cash hoard and operating cash flow; it's a positive development nonetheless.
2. It is Google's turn to go under the congressional microscope. Given the regulatory scrutiny Google is facing in the U.S. and Europe, more of its management focus will be on compliance, regulation and litigation; and not growing or producing new products. This cannot but help its competitors.
3. Microsoft is experiencing stellar growth in its Xbox, Sharepoint and healthcare product lines.
4. Windows 8 seems to be well received in the developer community, and chances are good that it will be a very successful product for Microsoft when it is released.
5. Google's purchase of Motorola Mobility was a nice gift to Microsoft and should allow Microsoft to gain market share in the smart phone arena with manufacturers that will be leery of partnering with a new competitor on their OS.
Valuation:
1. Microsoft has significantly outperformed the S&P over the last three months and should continue to do so (See Chart)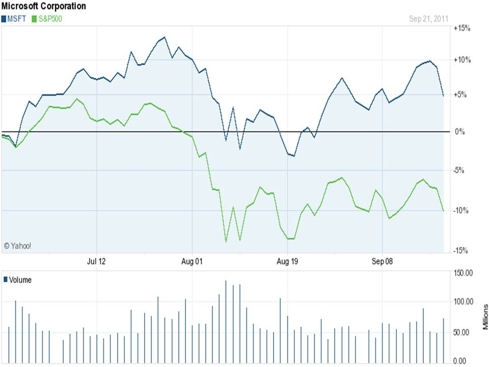 Click to enlarge
(Click to enlarge)
2. MSFT has over $50B in net cash and sells at just over 7 times this year's expected earnings after you take out the cash on its balance sheet.
3. Microsoft has beat quarterly earnings estimates each of the last 6 quarters. The average beat over analysts' consensus has been 12%.
4. Microsoft is one of four U.S. companies with a triple AAA rated balance sheet and its five year projected PEG of under 1, which is a 25% discount under its five year average.
5. MSFT is around 40% under a whole slew of Analysts' price targets. Barclays and S&P have price targets of $35 on Microsoft and Credit Suisse is at $36 on MSFT.
Disclosure: I am long MSFT.