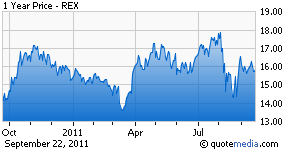 Rex American Resources Corporation's (NYSE:REX) Q3 operational results are winding down with less than two weeks left in the quarter. I believe Q3 earnings (and second half earnings for that matter) should exceed expectations by a good margin. Given the stock's low valuation, the Q3 report could be a catalyst for the stock.
Q2 REVIEW
Before looking at Q3, I think it makes sense to revisit Q2 results which were anything but straightforward. EPS from continuing operations were $0.20, which was below what I had expected. However, there were many unusual financial items in the quarter as well as some operational issues that now appear behind the company. If we strip away the one-time financial matters, earnings were about $0.15. However, if you strip away the problems with production, they were closer to $0.50.
Looking at the unusual financial items first, the company benefited from a one-time gain of close to $3 million from a prior synthetic fuel investment. Partially offsetting this was a $1.153 million non-cash impairment on the company's former distribution center in Dayton, Ohio. I'll also lump in a $757,000 interest-rate swap loss as this was not operationally driven (it's based on fluctuations in LIBOR) and because a swap representing 1/3 the total notional value expired at the end of Q2. Netting these together, EPS from continuing operations were only $0.15.
What happened in Q2? Apparently, Rex had some difficulties with its One Earth Energy plant, which is the only plant reported on a consolidated financial basis. Rex mentioned routine maintenance that I guess went very wrong, combined with three subsequent power outages. While it was not called out, the financial results suggest that at least one other plant had similar, albeit less grievous, issues.
Looking at One Earth more closely, ethanol output was under 24 mm gallons compared to 28 mm in Q1. While this certainly had a negative financial impact, the bigger issue was some higher than expected costs that I assume were related to the shut downs and restarts of the plant during the quarter. In fact, I estimate the reduced output only hurt plant operating earnings by $2 mm versus the net plant shut down costs of $5 mm. I find this encouraging as it suggests the majority of the earnings drag this quarter was temporary assuming the company avoids the mistakes that occurred around maintenance in Q2.
Q3 Outlook
With One Earth's issues apparently fixed (e.g., the plant earned $1.8 mm in July and was back to historical profit levels in August), the outlook for Q3 is much more positive. With just two weeks unaccounted for, the industry is on track for a Q3 average crush spread of about $0.20. Over the trailing four quarters, Rex has exceeded the industry spread by $0.00-$0.14, with an average of $0.10. Taking this into account, the $1.8 mm July operating income for One Earth and more modest stock buybacks (assume $2 mm, below Q2's $2.7 mm), I believe Rex is on track to earn $0.70-$0.90 in Q3. This compares quite favorably to last year's Q3 earnings of $0.38 and the current First Call consensus (one analyst) forecast of $0.44.
Valuation on Earnings
If we look at REX's value on a trailing twelve month (TTM) P/E (not my favorite metric, but probably how many investors look at it given the low number of forecasts), the stock trades at 10x. On the mid-point of my earnings forecast, TTM EPS would move up to $2.02 after Q3's report. Assuming the same multiple is kept, REX shares probably have some 25% upside from here in the near term.
But is 10x TTM the right way to value REX? My opinion is that this undervalues the company for a few reasons. First, TTM earnings do not reflect likely future earnings in my opinion. The Nugen plant was still ramping up in Q4 last year and there were obviously problems in Q2 at One Earth that I would view as unusual items (if not one-time, then certainly very infrequent). Additionally, the company continues to buy back modest amounts of stock that at the first half rate would still add 4%-5% to annual earnings growth.
This last point is very important. At the end of Q2, Rex had $84 million in corporate-level cash ($8.75/share) and an additional $12 million on consolidated company cash ($1.25/share). In my opinion, REX is not likely to speed up stock repurchases beyond the current modest rate despite its high levels of cash UNLESS it is able to start pulling in more cash from the plants it owns interest in.
The good news is that the underlying balance sheets of the plants Rex is invested in have strengthened considerably over the last couple of years. One Earth, for example, has reduced its debt from approximately $100 million at the end of 2009 to $74 million in Q2'11. Even with its Q2 problems and an estimated $4 mm in capex for corn processing technology, the plant is on track to generate over $20 million in free cash flow (FCF). Technically, about three-quarters of this FCF belongs to REX (based on its ownership structure). I believe some of the other plants have seen similar improvements in balance sheet, especially the Patriot Renewable Fuels plant. The de-leveraging of these plants and strong free cash flow does not show up in the income statement, but over time could have a big impact on Rex's cash, cash flow and share purchasing activity.
Valuation on Assets
I also look at REX shares based on their discount to asset value. On a straight book value, REX shares trade at close to a 40% discount. This seems extremely excessive given the cash flow positive nature of Rex's business and the fact that about a third of book value is in fungible corporate cash.
Beyond book value, I like to break down the assets and look at a sum-of-the parts analysis which I think justifies a much higher share price. I break down Rex into corporate cash and tax assets, net value of real estate and the value of Rex's interest in ethanol plants.
1) Cash and tax assets: $10/share. Pretty straightforward.
2) Real estate: $2/share. This is based on book value of the company's stores and former distribution center. Rex continues to slowly sell off stores at prices generally above book value (two sold in Q2 for about a 5% gain).
3) Ethanol assets: $10-$14/share. This is the most difficult value to predict with any accuracy. My $10-$14/share estimate is based on placing an enterprise value per gallon of production on the ethanol assets. $10 is based on previous liquidation prices recognized in various company bankruptcies over the last few years. $14 is based on a slight premium to the price being recognized by the market on public ethanol companies.
In total, the sum-of-the parts analysis values REX's shares at $22-$26, with low end representing liquidation value.
In summary, REX shares looked undervalued. Although this is not new, Q3 could provide a catalyst for the shares. Based on the TTM P/E, REX could grow 20% to $20 in the near term. If Q3 margins were to carry through over the next twelve months, I believe REX shares could reach $30. This is based on the same valuation multiple and supported by the company's significant underlying asset value.
Disclosure: I am long REX.